NUEVO LAREDO, Tamaulipas — Seven vehicles with gunmen clashed with Mexican military forces during a fierce battle in the the downtown streets of this border city. The skirmish took place mere blocks from the border with Texas.
The fighting occurred Thursday, shortly after 1030 a.m. in the downtown area near the intersection of Guerrero Avenue and Arteaga Street when a convoy of seven vehicles with members of the Cartel Del Noreste faction of the Los Zetas cartel clashed with Mexican military forces that had set up a roadblock of sorts, Mexican law enforcement sources confirmed to Breitbart Texas. The scene of the shootout was fewer than 10 small city blocks from the shallow banks of the Rio Grande. Gunmen riding in four pickup trucks and a white Chevrolet Suburban managed to escape while gunmen riding in black car and a white Mercedes Benz SUV stayed behind to slow down military forces. Two gunmen that had been riding in the black car died while the rest ran into the streets in an effort to mix in with downtown shoppers. Authorities arrested a cartel lookout near the white Mercedes SUV while the rest of the gunmen managed to escape.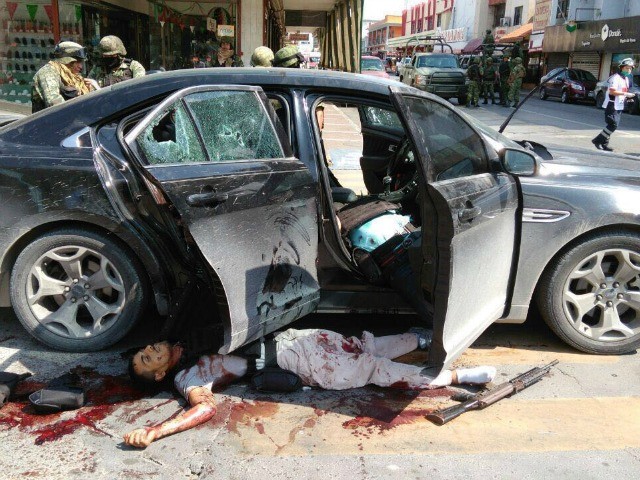 U.S. law enforcement sources consulted by Breitbart Texas confirmed that the gunfire was heard on the northern side of the border prompting, authorities to take precautions. Sources within Mexico's law enforcement described the gun battle as an average or "run of the mill" encounter. The official stated that similar gun battles have been taking place on a daily basis, however the clashes have been taking place in remote neighborhoods or rural communities and not in downtown squares or near international bridges. 
As Breitbart Texas has been reporting, Nuevo Laredo is the latest battleground in an escalating war between rival factions of the Los Zetas drug cartel. The fighting has resulted in almost daily kidnappings, beheadings, dismemberments, gun battles, drive-by shootings and other gory executions that continue to spread fear among average citizens. The increasing violence between the rival factions has forced cartel gunmen out on the open as they search for their rivals that try to enter the various, contested cities.
Editor's Note: Breitbart Texas traveled to the Mexican States of Tamaulipas, Coahuila and Nuevo León to recruit citizen journalists willing to risk their lives and expose the cartels silencing their communities.  The writers would face certain death at the hands of the various cartels that operate in those areas including the Gulf Cartel and Los Zetas if a pseudonym were not used. Breitbart Texas' Cartel Chronicles are published in both English and in their original Spanish. This article was written by "M.A. Navarro" from Ciudad Victoria and Breitbart Texas' Ildefonso Ortiz.