One of the top leaders of the Los Zetas cartel recently caught in Houston now stands accused of moving large quantities of drugs and laundering the proceeds.
As Breitbart Texas reported exclusively on September 28, agents with U.S. Homeland Security Investigations arrested Juan Francisco "Comandante Kiko" Treviño Chavez in Baytown, near Houston. The arrest came after a lengthy Homeland Security investigation into a Los Zetas drug distribution and money laundering operation that reached from the Texas border into Waco, court documents obtained by Breitbart Texas revealed.
Treviño went before U.S. Magistrate Judge Jeffrey C. Manske who ordered that he be held without bond pending a detention hearing at a later date. On Friday, Treviño's lawyer Rafael De La Garza asked for the detention hearing to the held at a later date in order to get additional witnesses and evidence.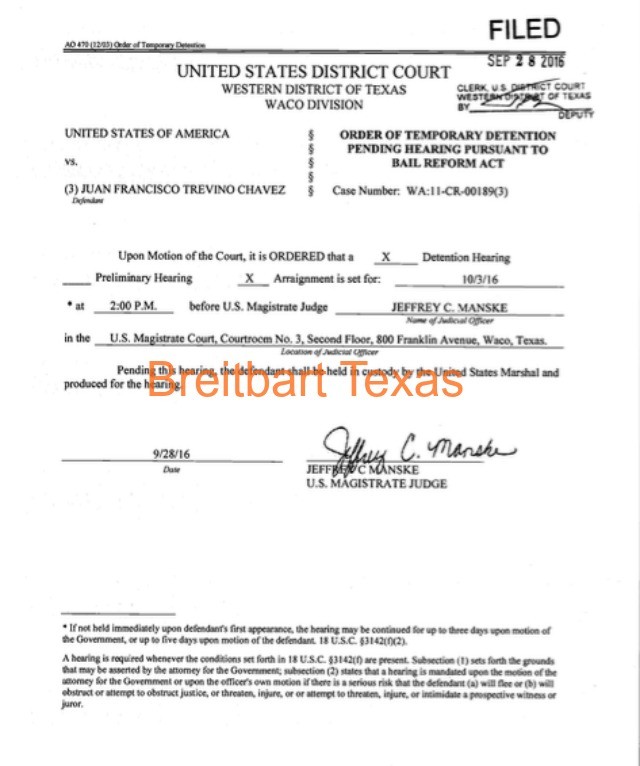 The federal case against Treviño deals primarily with the cash smuggling and laundering worth millions for the Los Zetas drug cartel. Breitbart Texas has learned through court records that in 1994, federal agents arrested Trevino in Laredo in connection with the smuggling of close to $48,000 from Texas into Mexico. In border cities, drug cartels have historically smuggled drugs and immigrants north while smuggling proceeds south using various means. For his role in the cash smuggling operation, Treviño pleaded guilty and received a 5 year prison sentence.
In recent years, Treviño had been operating in Laredo, Tamaulipas and in Monterrey, Nuevo Leon for the Los Zetas cartel. In 2012, Treviño was set to take over the Monterrey Plaza for Los Zetas but was apprehended by Mexican authorities who then released him on a technicality after a judge ruled that the case lacked evidence. Despite Treviño's role as a top Zeta, Mexican authorities do not have an open case against him in Nuevo Leon.
Treviño had inherited the control of the Los Zetas from his relative, Miguel Angel "El 40 or Z40" Trevino Morales. The Trevino faction has since been known as the Cartel Del Noreste while the other faction has assumed the name "Vieja Escuela Z" or Old School Z as well as Grupo Bravo.
As Breitbart Texas has been reporting, for more than 11 months two rival factions of the Los Zetas cartel have been fighting for control of lucrative drug trafficking routes and territories. The fighting between the two factions has resulted in a massive spike in violence throughout the Mexican state of Tamaulipas.
The Los Zetas cartel began as an enforcement wing and personal guard for the then leader of the Gulf Cartel Osiel Cardenas. At the time of their creation, Los Zetas were made up of military deserters and Mexican federal cops who switched sides seeking higher wages and power. In 2010, Los Zetas broke away from the Gulf Cartel setting off a war that continues to this day.
Comandante Kiko Indictment by ildefonso ortiz on Scribd
Ildefonso Ortiz is an award winning journalist with Breitbart Texas. He co-founded the Cartel Chronicles project and you can follow him on Twitter and on Facebook.