Special prosecutors in the securities fraud trial against Texas Attorney General Ken Paxton have asked the highest criminal court in Texas to review the Dallas Court of Appeals' order removing the judge from the AG's case.
The prosecution against the sitting AG and the costs to Collin County and potentially other taxpayers continues to rise as the criminal case and a taxpayer suit over attorney's fees are protracting.
The removal of Judge George Gallagher and the voiding of his orders by the Dallas Court of Appeals is now before the Texas Court of Criminal Appeals.
In their mandamus filed in the Court of Criminal Appeals on Friday, the special prosecutors in the case, Brian W. Wice, Kent Schaffer, and Nicole Deborde, argue that the Dallas appellate court "had a clear duty to hold that it did not have jurisdiction." They reason that because the case was transferred to Harris County, the courts of appeal in Houston had jurisdiction over any determination of whether Gallagher has abused his discretion. The Dallas Court of Appeals "repeatedly acknowledg[ed] in its opinion that jurisdiction vested in Harris County and not Collin County once Judge Gallagher transferred venue," they argue.
In their second ground, they urge that:
Texas Code of Criminal Procedure 31.09(a) gives both sides the ability to remove the trial judge after a change of venue. Because this statute has not been interpreted by any appellate court and its viability uncertain – especially when as here, the trial judge has been specially appointed – the Court of Appeals had a clear legal duty to hold that Paxton had no clear right to relief.
In mid-May, the Dallas intermediate appellate court stayed Paxton's criminal securities fraud trial after Paxton's lawyers filed extraordinary writs in the court. The issue was whether Judge Gallagher was presiding over the criminal case without legal authority to do so.
On May 30, the appellate court granted Paxton his requested relief and prohibited the judge from taking any further action in the case. The appellate court also agreed that any of the orders by the judge signed after the judge had granted the motion to transfer the case were void.
The special prosecutors had filed a motion to transfer venue urging they could not get a fair jury in Collin County – the county seat where the popular tea party Republican lives. As reported by The Texas Monitor and other publications, including the Dallas Morning News, a change of venue is rarely granted in criminal cases.
Gallagher granted the prosecutors' motion to transfer the case on March 30 and then moved it to Harris County in Houston. Harris County is a politically "purple" county and conservative Collin County is a solid Republican jurisdiction.
Paxton's lawyers argued that Judge Gallagher lost jurisdiction to act in the case because Paxton and his lawyer did not give consent for him to continue as judge over the case. Article 31.09 of the Texas Code of Criminal Procedure requires this consent after a case is transferred to another county, they argue.
The judge also issued a gag order preventing either side or their lawyers from talking to the media. Anthony Holm, a former spokesman for Paxton, released this statement after the rulings:
Today's ruling is the latest in a pattern of injustice against Ken Paxton and his family.

The examples are too great to list yet include an activist showing up at the home and work places of grand jurors in an effort to help secure an indictment, or the original judge's recusal due to judicial misconduct concerns harming Mr. Paxton, or the special prosecutor's very curious "handshake deal" by which they are paid more than Collin County regulations, and state law appear to allow and have now billed Collin County roughly $1 million without yet even having a trial, or – perhaps worst of all – one of the three special prosecutors being publicly labeled in December by federal prosecutors as an "unindicted co-conspirator" to the Bandidos motorcycle gang's racketeering trial, including murder and drug charges, currently happening in San Antonio.

It's long past time for Ken Paxton to receive fair treatment under the law, yet Ken Paxton and his family continue being victimized by the system.
Paxton filed a motion advising the judge that he did not consent to Judge Gallagher presiding over the cases in Harris County. Gallagher responded the same day by entering a scheduling order and notifying the parties via electronic mail that he intended to commence the jury trial on September 11, 2017, in Harris County.
Breitbart Texas has followed the civil and criminal proceedings against Paxton since rumors of a potential indictment were raised in July 2015. AG Paxton was indicted by a Collin County grand jury almost two years ago for felonies – two counts of securities fraud and one count of failing to register with the Texas State Securities Board.
The acts alleged to have been committed took place before Paxton became attorney general, and the issue was raised by Paxton's opponent in the AG Republican primary race – Texas State House Representative Dan Branch. Paxton was a state senator at the time.
Grassroots activists and other Republicans have called the attacks on Paxton a political witch hunt by "Texas mainstream GOPers."
A mail piece hitting Judge Gallagher was circulated in late April. It alleged that "Gallagher Has A Long History of Abuse and Manipulation," and quoted from appellate opinions reviewing the judge's decisions.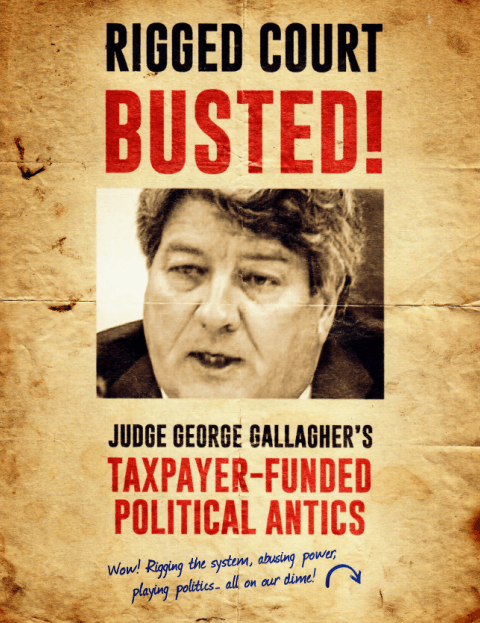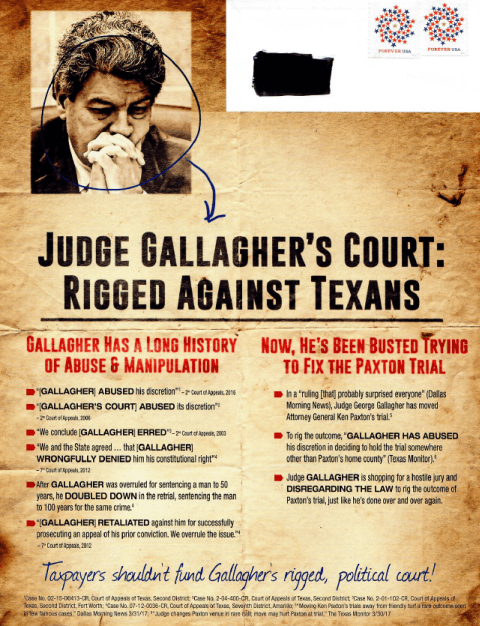 In March, a federal district judge nominated by President Obama dismissed a civil securities fraud case filed by Obama Administration lawyers.
Special prosecutors have reportedly been paid $354,000 and submitted bills for $575,000.
Another lawyer hired to represent the prosecutors in the attorney's fee lawsuit, David Feldman, has been paid over $80,000 by Collin County for his representation. Feldman is best known to conservatives as openly gay Houston Mayor Annise Parker's city attorney. He subpoenaed five pastors during the Houston Equal Rights Ordinance (HERO) litigation. The ordinance involved the right of men to use women's bathrooms and other LGBT issues. Houston voters defeated the measure by a vote of 61 to 39 percent. Cris Feldman, David Feldman's partner, and son, is best known for his role in getting U.S. House Majority Leader Tom Delay indicted.
Feldman and the prosecutors are billing for their legal representation at $300-an-hour.
Lana Shadwick is a writer and legal analyst for Breitbart Texas. She has served as a prosecutor and associate judge in Texas. Follow her on Twitter @LanaShadwick2.