MONTERREY, Nuevo Leon — An internal dispute within cartel-linked groups tasked with fuel theft in this border state led to the murder of three men in a span of five hours.
Nuevo Leon authorities continue looking into the murder of 40-year-old Roberto Carlos Ramirez Reyna outside of a convenience store in China, Nuevo León.
A convenience store surveillance video obtained by Breitbart Texas reveals the moment an unidentified gunman wearing a cowboy hat walks up to Ramirez and fires multiple times with a handgun. The shooter then goes to a nearby vehicle where he retrieves rifle and fires once more at his victim.
Authorities were able to recover six 9mm and 14 .233 shell casings from the scene. Hours after that attack, a former cop and a cartel member known as "El Pelon" were gunned down while riding in an SUV near General Bravo, Nuevo León.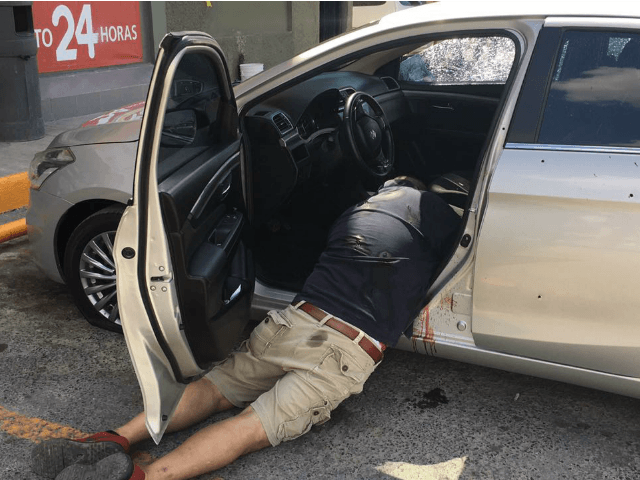 A law enforcement official revealed that the rifle used in the first homicide is likely linked to the recent triple murder of other fuel thieves. Authorities believe the three murders are all linked. In recent years, Mexican drug cartels have tapped into fuel lines run by PEMEX, Breitbart Texas reported. The stolen fuel is then sold on the black market.
Editor's Note: Breitbart Texas traveled to the Mexican States of Tamaulipas, Coahuila, and Nuevo León to recruit citizen journalists willing to risk their lives and expose the cartels silencing their communities.  The writers would face certain death at the hands of the various cartels that operate in those areas including the Gulf Cartel and Los Zetas if a pseudonym were not used. Breitbart Texas' Cartel Chronicles are published in both English and in their original Spanish. This article was written by Nuevo Leon's Tony Aranda.