The Freedom Rally planned for Saturday in San Francisco was called off Friday night after Patriot Prayer's founder Joey Gibson said he feared for the safety of those attending the event.
"At the end of the day I had to make that decision because it just felt like it was a set up — the way everything was set up," Gibson said from an undisclosed location where he spoke with a handful of reporters on Saturday.
"All these random people mixed together — I just felt like it was going to be a huge riot," Gibson said, adding that the police had fenced off Crissy Field where the group had a permit to hold the rally and would only let about 50 people inside the perimeter, then they would allow the admission of others, who would have had to pass by Antifa counter-protesters that would be allowed to gather outside the fence barrier.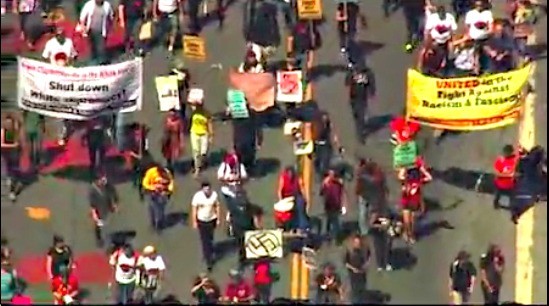 Gibson said he felt it would be "dangerous" for people to attend the rally.
Gibson had planned instead to hold a small press conference at Alamo Square Park but canceled that too after Antifa crowds started to gather.
Despite the cancelations, Antifa protesters gathered at Alamo Square Park.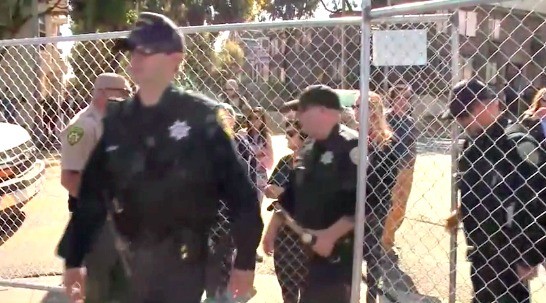 "Demonstrators shut down a major San Francisco freeway off-ramp Saturday and scuffled with police at the edge of Alamo Square Park during a day of protests," the local CBS affiliate reported.
"At least one person was detained outside Alamo Square as demonstrators gathered to disrupt a press conference by the alt-right group Patriot Prayer," CBS reported, noting that the conference had been called off hours earlier.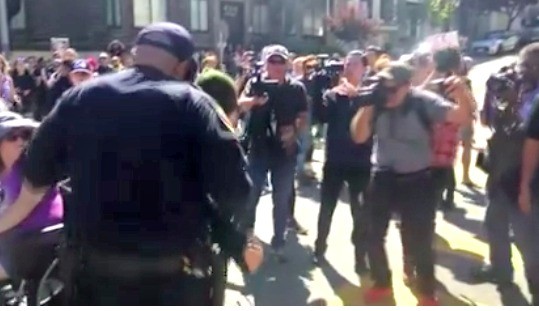 At around 1:30 p.m. PDT a group of protesters blocked the Central Freeway off-ramp into San Francisco's Western Addition, backing up traffic on Highway 101, according to CBS.
Gibson and his group has been labeled white supremacist and racist by the media and political figures, including San Francisco Mayor Ed Lee, who took part in a rally on Friday.
"Now ya'll know that some people are coming in tomorrow to our city," Lee said. "You know as well as I do that they have a message that we don't believe in — a message of hate."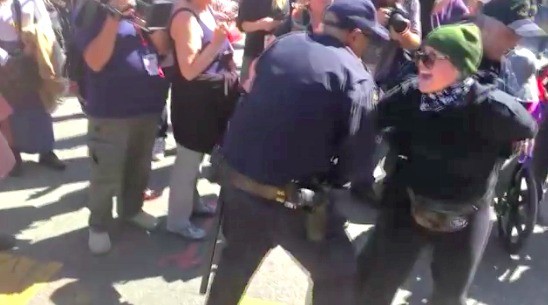 "And we've seen across this country how that message can easily translate into violence," Lee said. "San Francisco is a city of love and compassion."
"We are at the forefront of another social movement that says, 'Not in our America,'" Rep. Jacki Speier (D-CA) said at the event. "We are not going to allow hate to infect us and become a cancer in this country."
"Love will win," Speier said.
But even after Gibson canceled the event, one Democrat said the cancelation showed the "true colors" of Patriot Prayer and deemed the shift to another park for a press conference an "illegal" protest.
"Today the right-wing extremist group Patriot Prayer — with a history of violent rallies — showed its true colors by canceling, at the last minute, its permitted rally at Crissy Field and scheduling an illegal un-permitted rally at Alamo Square," State Senator Scott Wiener (D-SF) said in a statement.
Gibson has publicly denounced white supremacy and Nazism and was profiled in an article on the Southern Poverty Law Center's website, which infamously puts conservative and Christian groups on its "hate map" because of their traditional views on marriage, family, and other social issues.
Neither Gibson nor Patriot Prayer are listed on the "hate map."
At the press conference Gibson said that, in fact, it is Antifa that is instigating violence at otherwise peaceful gatherings in support of liberty and free speech.
"When are these politicians, these corrupt, establishment, these corrupt, career politicians going to start to speak out against Antifa?" Gibson said at the press conference.
"We cannot allow these extremists to run around unopposed," Gibson said. "It's ridiculous."