'X-Men: Days of Future Past' Eyes $100 Million Debut
The Hollywood Reporter puts it exactly right: Memorial Day weekend is Hollywood's Super Bowl weekend, the official launch of summer that offers three leisurely days for teens eager to get out of the sun and get their blockbuster on to do just that.
"X-Men: Days of Future Past" is getting INSANELY good reviews: 94% fresh at Rotten Tomatoes! If that number holds, that's better than the very well-received "Captain America: The Winter Soldier" (89%) and "Godzilla" (74%). Director Bryan Singer's return (he left after 1 & 2), will also rank as the best reviewed of the 14 year-old franchise, thus far.
"Days of Future Past" opens everywhere tonight at 10 p.m. and will have to top $105 million to beat the franchise record, currently held by "X-Men: The Last Stand." If anyone thought the series was petering out after "X-Men: First Class" opened to just $55 million, those concerns should be washed away by Tuesday.
One concern for 20th Century-Fox, though, has to be that it took the return of the aging and increasingly (I assume) expensive cast-members to open this big.  The new cast in "X-Men: First Class" delivered a hit but here in North America it grossed less than its three predecessors and worldwide it beat only the original.
Perhaps, the baton was a little fumbled and "Days of Future Past" is about trying to make a smooth recovery.  
If "Days of Future Past" is as good as its reviews, that will give the Summer of 2013 a blazing start as far as quality action tentpoles. "Godzilla" and "Captain America 2" are terrific films, "The Amazing Spider-Man 2," not so much. Still, a .750 batting average is damn good.
China's Communist Plot to Shape the Message of American Movies
If China's box office can reach $7 billion by 2021, where will the American box office be? In 2013, the U.S./Canada market topped out at just under $11 billion. That was only a 1% increase over the previous year. The only thing keeping these numbers from declining are the inflated ticket prices for IMAX and 3D.
Movies in North America are not a growth business. The real money here is in television. But if you are determined to expand the profits of the film business, you have to get into these emerging markets.
American films will only get a percentage of that $7 billion (China has its own emerging film business), but that's the problem: what will Hollywood do to get bigger and bigger pieces of that pie?
The problem with China is that their version of an MPAA is a State Board that censors any content that doesn't please The State. The problem with Hollywood is that all their talk about hating the old Production Code and the 50's Blacklist is bullshit. They are caving to China's censors like the hypocritical, greedy leftists they really are.
Gee, it all sounds like a brilliantly simple Communist plot to gain a foothold of control over the content of American films, doesn't it?
'Midnight Rider' Victim's Family Sues Everyone — Good!

While working on a biopic about Gregg Allman, Sarah Jones, a young camera assistant, was filming on railroad tracks and killed by a speeding train. She was required to be on or near the tracks in order to film a scene; a dream sequence involving a bed laying across railroad tracks.
The accident took place on February 20 and the family has just filed a wrongful death lawsuit against everyone: the production company, the producers, director, writer, Allman, the distributor, and the various owners of the tracks and the land the tracks sit on.
The suit claims that while the production was setting up, two trains passed but the crew was still assured they would have 60 seconds notice to get off the tracks. Any oncoming train, they were told, would whistle 60-seconds in advance of reaching the crossing. Apparently, that didn't happen. It was more like 30 seconds. The train hit the bed and turned its metal frame into shrapnel. Several crewmembers were hurt. Jones was hit with the shrapnel, the force of which threw her into the train.
Sarah Jones was 27.
How in the world was this allowed to happen? This wasn't some fly-by-night guerilla film crew. William Hurt was the star, Allman is on board, and the distributor is Open Road.
Among other things, the suit asks a very simple question: Why weren't people stationed a mile or two up the tracks to warn the crew well in advance of any train's arrival at the scene of the shoot? This should have been done as an extra precaution regardless of what anyone believed had been done in advance of the shoot to ensure the safety of the crew.
The lawsuit might sound like a money-grab shotgun blast, but who is to blame? Was the director told by the assistant director that people had been deployed to signal a coming train? Had the assistant director been told by the location manager that no trains were scheduled between a certain time. Was the location manager told by the train company that… and on and on.
I have been on numerous film sets — as a guest, an employee, and as someone in charge. I've been on guerilla sets and I have been on major studio shoots. Film sets might vary in size and scope but one quality they share in common is all the dangerous moving pieces: people, electricity, equipment, cables… Movie sets are like construction sites in that way and another shared quality (at least on the sets I've visited) is a major concern for safety.
You take great care to ensure no one bumps their head or trips. The thought of placing people, props and equipment on train tracks without being annoyingly anal about safety precautions is simply beyond comprehension.
Does the New Roger Ebert Documentary Explain Where The Hate Came From?

It's been over a year since the death of Roger Ebert, who was probably the most influential film critic in history. The new Ebert documentary "Life Itself" (also the title of Ebert's own 2011 memoir) just screened at Cannes.  The reviews have been, as you would expect, glowing. The words being tossed about are "frank" and "moving."
—
—
I wonder, though, if the documentary bothers to explain or even captures the profound change in Ebert after he emerged from his 2006 sick bed.
Before then, I loved Ebert because like me he loved movies and was no snob. I didn't always agree with his opinions, but usually that was when he gave lousy commercial movies better reviews than I thought they deserved. He was generous that way; never gripping his Pulitzer and looking down his nose at movies everyday people loved.
After that horrible bout with cancer and a long and grueling hospitalization, Ebert's love of movies didn't change (if anything he became too generous with those four stars), but his attitude towards those he disagreed with politically sure did.  He launched out of that hospital bed with a mile-wide mean streak. What had to be a long-simmering hatred boiled over completely, and like a man who knew he didn't have long to live, he left nothing on the field. 
I was a little heartbroken to discover Ebert hated me so much; and to discover he could a humorless, four-star jerk.
How Modern-Hollywood Would Destroy 'Beau Geste' with Political Correctness
After four long days of house painting, even though the weather was nice and I had a couple hours of sunlight left after work last night, I couldn't drag myself out there. I was fried, burnt, exhausted, wiped, and whipped. I needed movies, stat. Preferably two; in the dark, in the quiet with junk food. Movies are how I recharge. I'm better now, thanks for asking.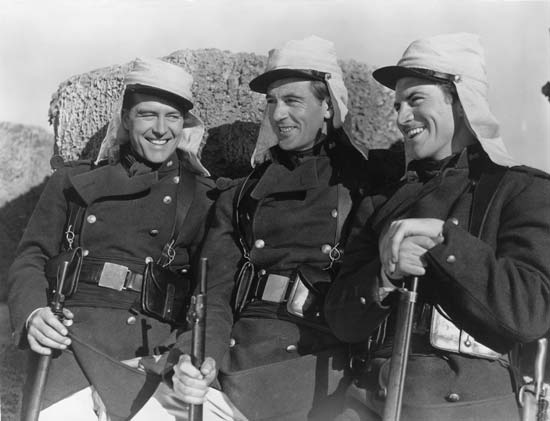 The first movie I screened was William Wellman's "Beau Geste" (1939), a top-shelf adventure film starring Gary Cooper, Ray Milland, Robert Preston, and Susan Hayward. The real star, though, is Brian Donlevy as Markoff — the sadistic sergeant in charge of the foreign legion troop our three male stars (who play brothers) join for reasons not explained until the very end.
After the movie, thanks to a puppy that requires an absolutely perfect spot to squat upon, I had plenty of time to consider the unlimited ways today's Hollywood would bungle a remake.
It would all come down, of course, to the waves of murderous Arabs who attack the small, isolated desert fort the brother's legion is charged with defending. In Wellman's film, the Arabs are faceless, nameless. Their only function is to add action and tension, and to put pressure on the characters.
The "pressure on the characters" part is the most important because "Beau Geste" is tale of honor and sacrifice. And faced with almost certain death at the hands of this enemy, we discover not only what our three main characters are made of, but the supporting characters, as well. This is what the movie is ABOUT — and in the end what a movie is ABOUT is the only thing that matters.
The announcement of any modern-day remake would immediately mean the terrorist-backers that run CAIR would be on the Offended Hotline screaming at relevant studio executives and crybabying to legions of sympathetic reporters.
Then the studio would cave and the remake would go forward but with a ton of useless "context" that has nothing to do with "the story." The waves of faceless, nameless Arabs would now be given faces and names. We would have to know their story. We would have to be told why they are fighting.  We would learn that they are in some way the victims of the Imperialist French.
And this would repeatedly jump the story off its thematic track and inevitably turn an exciting 110-minute movie into a leaden, episodic 147-minute movie.
Even if the studio set "Beau Geste" in the distant future and on another planet, someone somewhere would demand the moral relativism that takes the focus off the main story to "explain" why the aliens aren't all bad and the humans aren't all good.
Take your personal politics out of it; this is how political correctness undermines art. The plot of "Beau Geste" is simple and therefore exciting and compelling. The story also serves the central theme, which is to focus on the honorable, brave, and noble ways the brothers carry themselves under extreme conditions.
"Beau Geste" is ABOUT how to be a Good Man. It is not about how men really were or are. It is about how men SHOULD BE. That's not hypocrisy, it is aspiring, and aspiring towards an ideal is what many films from the Golden Age are about.
If remade today, not only would the central theme be obliterated in an intentional mess of  complicated relativism, the art would suffer: the movie just wouldn't be as good.
And that, I think, is a generous interpretation of how Hollywood would mangle this classic.
That puppy takes forever to poop.
This was last night's second film. Mean movie, but in an awesome way.
Quick Hits
Singer Files Dismissal, Lawyer Claims Accuser Passed Lie Detector Test
James McAvoy Wants People to Stop Asking About His Flirtation With Priesthood
'Batman v. Superman' Movie Gets a Title: 'Dawn of Justice'
Early Emmy drama odds breaking 'Breaking Bad's' way
'Godzilla': 5 Things Roland Emmerich's 1998 Version Did Better
Home Video News
From a press release From Paramount:
JACKASS PRESENTS: BAD GRANDPA .5
Outrageous, Unrated Film Debuts Exclusively on Digital June 3, 2014
Blu-ray™ Arrives July 8th, Including Over 40 Minutes of Additional Outtakes, Interviews and Pranks
Johnny Knoxville is back as everyone's favorite octogenarian in the outrageous follow-up to the Academy Award®-nominated blockbuster Jackass Presents: Bad Grandpa.  An all-new and unrated movie crammed full of never-before-seen pranks, JACKASS PRESENTS: BAD GRANDPA .5 arrives exclusively on Digital June 3, 2014 from Paramount Home Media Distribution. 
Send tips, requests to jnolte@breitbart.com
Follow  John Nolte on Twitter @NolteNC