Facebook has announced a new gender-neutral pronoun for its Swedish language version to coincide with the start of the biggest gay pride festival in Scandinavia.
English-language users can already select a "custom" gender, giving them up to 71 options including "intersex", "asexual", "polygender" or "two-spirit person". They can also choose to be known by the gender-neutral pronoun "they".
However, users in Sweden have until now been limited to just male or female. That has now changed, with a whole host of new Swedish expressions including "transkille" (trans guy), "icke-binär" (non-binary) and "pojkflicka" (tomboy).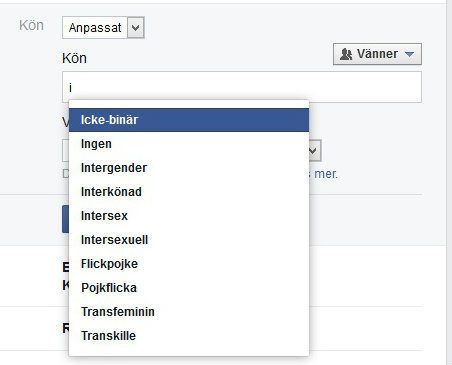 The list of alternative genders was compiled with the help of gay and trans rights group RFSL. Emelie Mire Åsell, who sits on the group's governing board, told the Local: "It started with us having a conversation with Swedish Facebook where they said that we would be better at compiling a list with various gender alternatives. This is the first thing we do together to improve Facebook for trans people and we will keep discussing the issue."
The gender-neutral "hen" pronoun, roughly translating as "it", is now also available. Users can choose to be identified by the pronoun, for example, when friends are prompted to "Add 'hen' as a friend" (as opposed to 'him' or 'her'.)
Sweden has long been regarded as one of the most socially liberal countries in the world, becoming the first to allow transsexuals to legally change their gender back in 1972.
"Hen is a very important word that has grown huge and that really says something about you," Åsell added. "People were extremely positive when we told them of this change and more than 1,000 people helped us compile the list which demonstrates the huge commitment concerning this issue."
Follow Nick Hallett on Twitter:

Follow @NickJHallett

or e-mail to: nhallett@breitbart.com