There is a tendency in 'new media' circles to just pump out stories without thinking, accompanied by 'clickbait' headlines like: "OMG You Won't Believe What Happened at the INSANE Notting Hill Carnival!" (you will) and: "This Man Took His Girlfriend to Barbados… You Won't Believe What Happened Next!?" (You will… he proposed). But the Independent newspaper has taken such pandering to the lowest common denominator to new extremes today.
I succumbed, as we all have a tendency to do from time to time, to their clickbait tweet: "There's something very wrong with this Daily Express front page". Partly because I like it when media organisations have a pop at one another, and party because I'm a news nerd, and I hadn't seen the Express front page today… and I wanted to.
But what I was met with was pure and utter gibberish. Like, some real, hardcore, slap-you-in-the-face-with-a-tin-of-ethically-sourced, dolphin-free tuna gibberish. And the story is now "trending" at number one on their i100 page. Which is basically their "Buzzfeed-style" website. (I bet that phrase was even used in the i100's founding documents). It's just ahead of "Half of Republicans somehow still think Barack Obama is a Muslim".
Your reporting is like… really independent, the Independent.
There's something very wrong with this Daily Express front page http://t.co/wNUDJVCLuD pic.twitter.com/CroscA0ZIq

— i100 (@thei100) September 2, 2015
Anyway – here's what they lured me into. A piece by Evan Bartlett, who at the time of writing had a mocking tweet about U.S. Presidential Candidate Donald Trump embedded as his "pinned tweet". It was headlined: "Maybe the Daily Express should treat human beings the same way it treats dogs" and moaned:
Wednesday morning's Daily Express front page carries an alarming health warning story about fizzy drinks (nothing out of the ordinary there), coverage of the "migrant crisis" (nothing out of the ordinary there) and a story about an abandoned dog.

Hang on, what was that? An abandoned dog? That's right, the Express tells the "moving story" of Maggie, who they label "Britain's unluckiest dog".

The "loveable" whippet-cross was kicked out of her home as a one-year-old, has faced years of hardship and just wants a safe place to see out the rest of her years. Fair enough we say, good luck to Maggie.

But compare and contrast that with the dehumanising description of the "chaos" caused by thousands of refugees who have been forced out of their homes, faced perilous journeys and now want somewhere safe to resettle.

The Express talks of asylum seekers laying "siege" to a train station in Budapest, speaks of "biblical proportions" of people on Europe's doorstep and ties in Nigel Farage's anti-immigration rhetoric which effectively questions if everyone fleeing war should actually be welcome.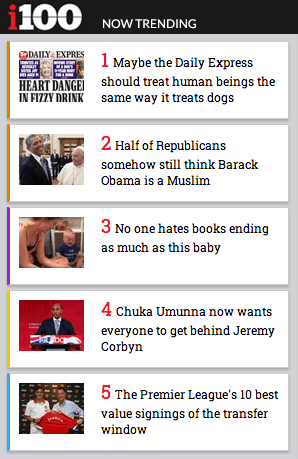 Of course, when you only have to file 200 words and a picture, it allows for some seriously lazy thinking. It also allows you to write something deeply disingenuous  and dismiss it as "only a short one". I've heard journalists do this before. "No worries, it was only a nub." Except clearly, if the i100's ranking system is to be believed, the "article" is gaining traction this morning.
So what's wrong with it? Well I probably don't have to tell you. But for Evan Bartlett and his ilk's sake, I'll explain.
Firstly, the Express is a tabloid. As such, it picks populist things to sell to its readers on the front page. Not like the Independent has ever done that though, right? But you don't hear me complaining, "OMG. Why doesn't the Independent treat transexual Syrian migrants like it treats Justin Bieber?!"
But Bartlett, supposedly "independent" lays out his political biases by declaring the Express to be "dehumanising" because of its reporting on the Calais chaos. How is the Express supposed to "humanise" this human crisis that obviously involves humans? Bartlett told me on Twitter: "millions of individual human beings each with their own stories, why not tell one of those instead?"
He's also told Twitter about how he doesn't think 700,000 people coming to Britain in the last year is "mass immigration" while copying in Labour leadership candidate Yvette Cooper. So far, so independent.
But the Express has been telling this story for years. Maybe not each one of them individually (maybe they have, I don't know?) but rather warning over the EU's common asylum policy and the centralisation of powers to the European Union that even major European lawmakers are now accepting is at fault for the crisis in Europe. Barlett though, doesn't want you to get to the root of the problem like Tony Abbott did in Australia and stop the boats and therefore stop thousands of people dying. He wants the status quo to continue, if not ramp up. His last line?
We just want to live in a world where the Express is nice to Maggie and humans. Is that too much to ask for?
In the world? No. But the Independent in a UK paper, as is the Express. Is it too much to ask that the United Kingdom throws open its doors to all potential migrants from war-torn countries? Yes, yes it is.
Unless Bartlett wants to accomodate the 17 million Syrians, 6.5 million Eritreans, and 32.5 million Afghanis in his studio flat in Hoxton (I assume) – then it ain't gonna happen. And the Express, though not my paper of choice, is simply reflecting the British public opinion on the matter, which tabloids are wont to do.
But that doesn't make a nice little clickbaity story with a picture of a doggy does it, Barlett? You hypocrite.