I have just arrived in Paris for the COP21 climate conference.
Even though I have arrived at the beginning, I know exactly how it is going to end in two weeks' time: with fudge, compromise, and a great big lie that something useful has been achieved — followed by aching disappointment.
How do we know COP21 is doomed to fail? One answer to this is China — as shall I report in more detail shortly.
The other main answer, as I explained on Sirius XM this morning, is that we have been here many, many times before: in Cancun, Bali, Lima, Copenhagen, Warsaw, Durban — to name but a few of the locations chosen by the United Nations for its climate jollies.
Every one of these has followed exactly the same trajectory. It goes like this. (with thanks to Andrew Montford, Josh and the Global Warming Policy Forum)
Hope: in which activists, celebrities and politicians around the world pronounce that they are expecting great things from what will surely be a breakthrough event.
'Our partners are planning a 'Caravan of hope' where campaigners from across Africa will travel through 10 nations en route to Durban. (Durban 2011)

'. . . the hope is that some tough decisions will be made at the upcoming international climate talks in Doha.'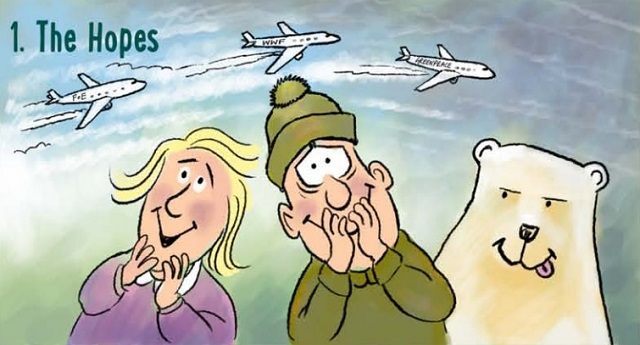 Last Chance: when experts solemnly assure us that this is the last chance we have got to save the planet.
'. . . the World Council of Churches general secretary, Reverend Dr Olav Fykse Tveit, called the United Nations UNFCCC COP 17 meeting a "last opportunity for the international community to be responsible in addressing climate change".

Last chance: Change needed for climate negotiations in Lima 2014. . .A repeat performance next year would be disastrous, not just for the progress of these negotiations, but more importantly for vulnerable communities everywhere and the natural world on which we all depend. . . ' (Lima 2014)

The next climate summit in Paris (COP21) may be the "last effective opportunity" to negotiate arrangements that keep human-induced warming 'to a limit safe for humanity, while protecting the poor and the vulnerable from ongoing climate change that gravely endangers their lives'. (Paris 2015)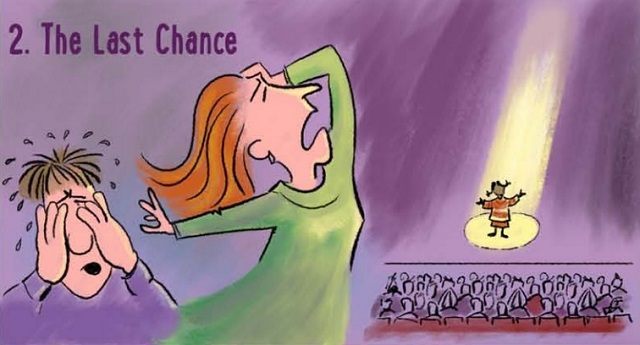 Time is Running Out
'Science is telling us that time is running out':
UN climate chief warns the world is 'playing
with fire' unless agreement on climate change
is reached at international summit. (Paris 2015)

'Scientists warn time is running out to tackle climate change' (Lima 2014)

'Time is running out to counter adverse impacts of climate change: Christiana Figueres'. (Warsaw 2013)

'Time is not on our side; report after report has shown this. This is not a trade discussion and we cannot wait until the next meeting or the meeting after that to take action. Time is running out for the planet.' (Durban 2011)
The Circus
'Scarlett Johansson, Helena Christensen and Bill Nighy are among celebrities who are petitioning negotiators at next week's climate change summit in Cancun, Mexico. (Cancun 2010)

'Archbishop Desmond Tutu, Scarlett Johansson and Annie Lennox. . . said leaders meeting for UN climate talks in Poznan, Poland, this week must step up their commitment.' (Poznan 2008)

'. . .world-famous celebrities will attend the upcoming UN climate change conference scheduled to start in Durban later this month. . .including Arnold Schwarzenegger and British billionaire Sir Richard Branson. Other celebrities also planning to attend include Leonardo DiCaprio, Angelina Jolie and U2 frontman Bono.' (Durban 2011)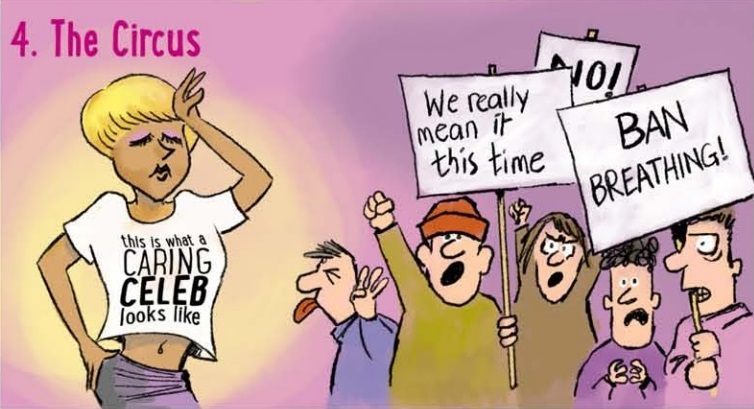 The Deadlock
'Deadlock looms over CO2 cuts as Durban summit begins.' (Durban 2011)

Deadlock over Kyoto means Cancún talks have little to show after two weeks. . . turning into a never-ending global talking shop, say many of the ministers involved. (Cancun 2010)

'US bids to break Copenhagen deadlock'. (Copenhagen 2009)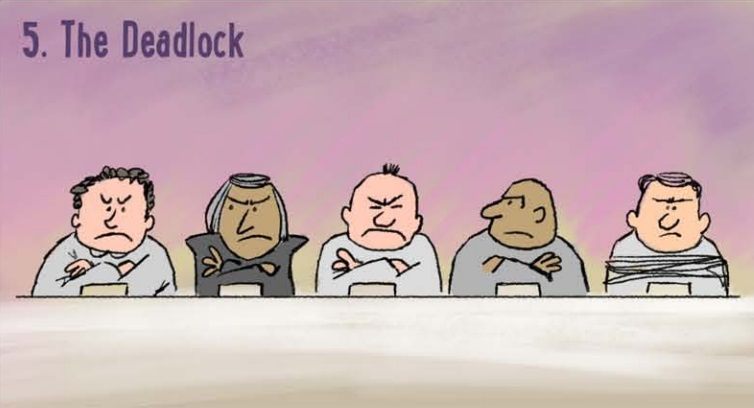 The Breakthrough at Five Past Midnight
'. . . the United States, China and several other countries reached an 'unprecedented breakthrough' Friday to curb greenhouse gas emissions. . . (Copenhagen 2009)

'A compromise deal for a new international climate change agenda was agreed at the UN summit in Bali today. The move was hailed by environment secretary, Hilary Benn, as "an historic breakthrough" (Bali 2007)

Cancun climate breakthrough: It's not perfect, but it's a deal'. (Cancun 2010)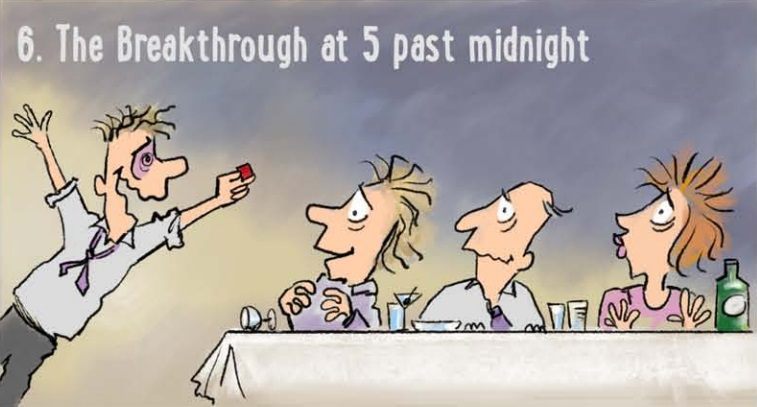 The Cold Light of Day
'Last year's talks in Cancun, Mexico, left open the most difficult issue of whether to extend emissions limits in Kyoto or start afresh with a new treaty'  (Cancun 2010)

The UN climate talks in Durban followed a familiar script of inaction (Durban 2011)

'. . .for all the blustering commendations from politicians accompanying the 11th-hour 'Doha Climate Gateway', the outcome was disappointing' (Doha 2012)

'The Peru meeting was nothing much, it disappointed me. I think there was a lack of courage. They stopped at a certain point.' (Lima 2014)

In other words, as they say here in Paris: plus ça change plus c'est la même chose.
The more it changes, the more it's the same old thing.