Senior sources inside the UK Independence Party (UKIP) have told Breitbart London that their only Member of Parliament, Douglas Carswell, faked his attendance in Oldham for the recent by-election in which candidate John Bickley came second to the Labour Party.
Mr. Carswell, who has again today opened up a leadership challenge against his party's boss Nigel Farage MEP, is claimed to have only visited the constituency once, though repeatedly tweeted a number of different photos over the course of a matter of weeks to make it look like he had been to Oldham more than once.
A senior UKIP source told Breitbart London at the time: "He's never here. He's been here maybe once. There was even some talk about him carrying around a spare shirt and tie so he could change and make it look like he was here more often. I don't know if that's true, but it's what people are saying. His social media proves he's a fake".
Mr. Carswell's Twitter account appears to mention his attendance at the Oldham by-election nine times over the course of two weeks, though every picture that he tweeted shows Mr. Carswell in the same black coat, blue jumper, blue shoes, dark blue jeans, and blue checked shirt.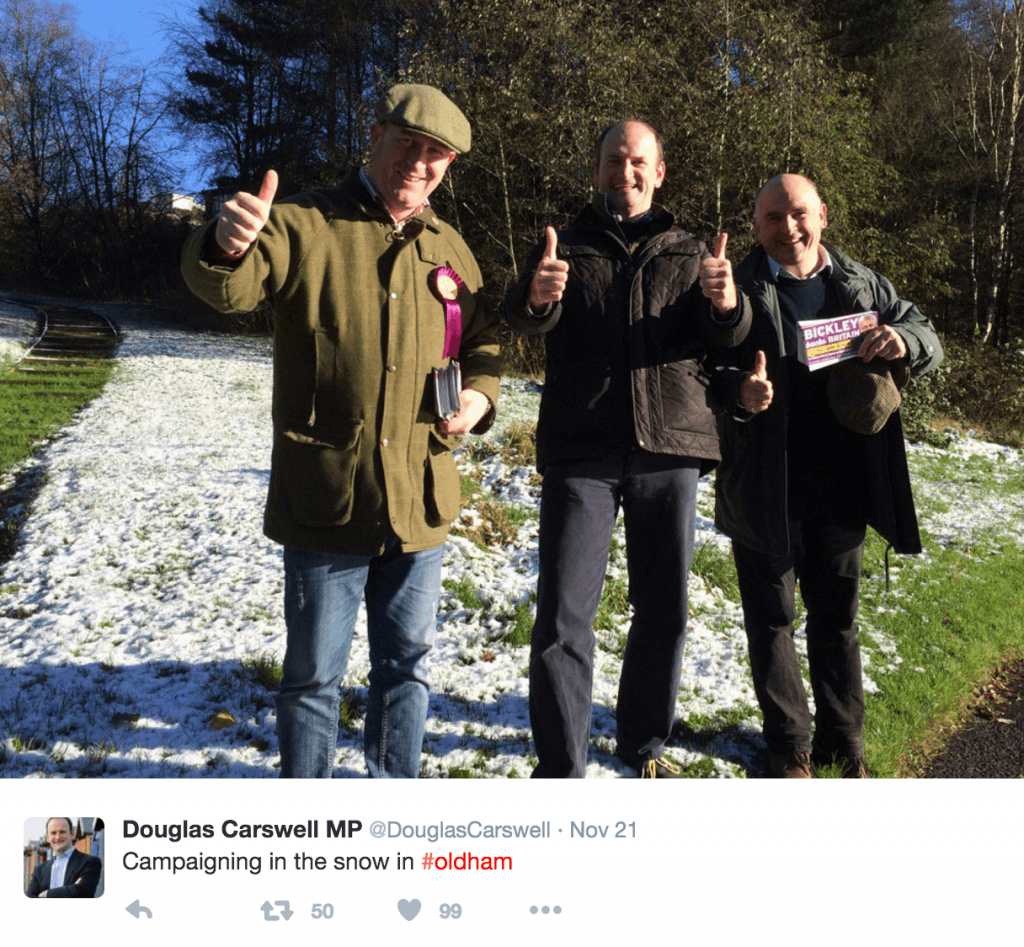 Those standing with and around Mr. Carswell in all the images also appear to be wearing all the same clothes over the course of two weeks of tweeting. Some of his tweets even mention "last week" as a time period for his campaigning activity.
On the day of the election itself, he tweeted a picture of him on a doorstep with a leaflet, with the text: "Campaigning earlier in Oldham" though UKIP's ground operation confirmed to Breitbart London that Mr. Carswell was neither there on the day, or in the days preceding the vote, and that "earlier" is believed to have been a reference to two weeks prior.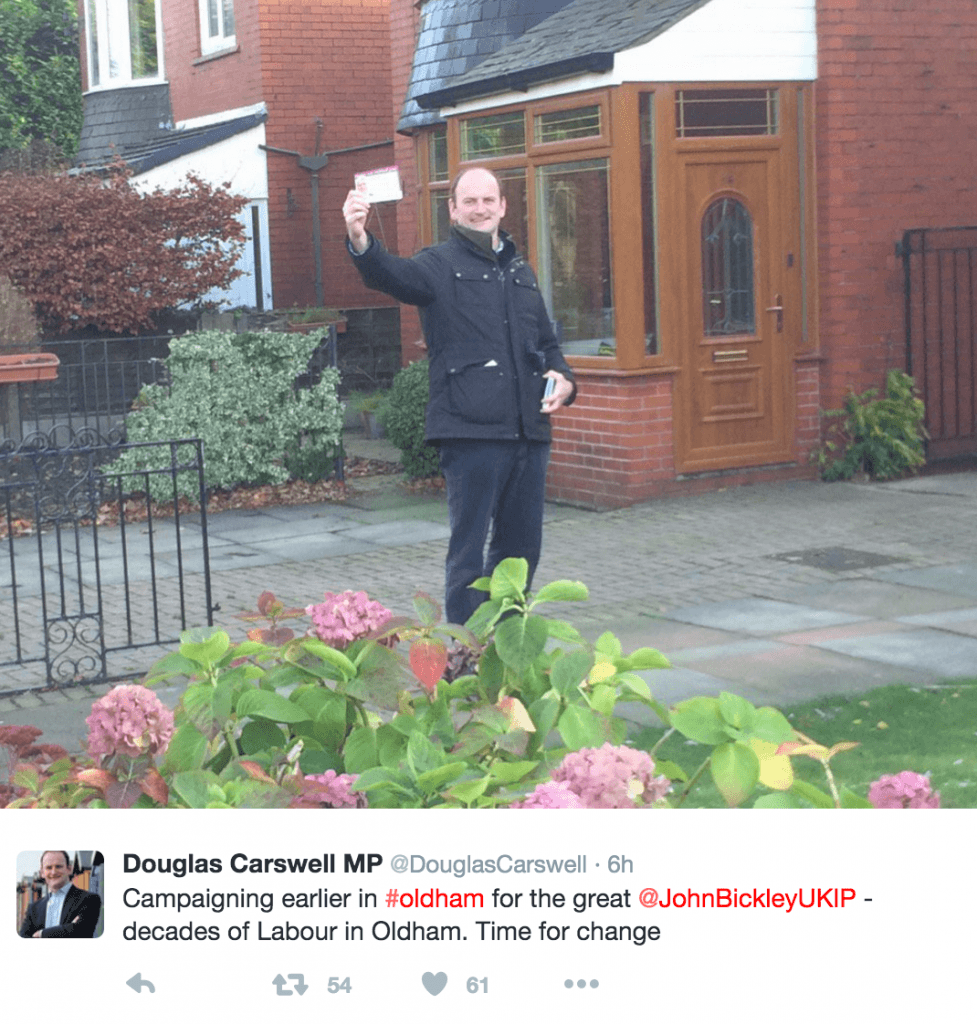 Breitbart London approached Mr. Carswell for comment, though received no reply.
While Mr. Carswell's alleged lack of attendance in Oldham would certainly not have made a huge difference for the party, his other actions and tweets during the by-election period may have cost the party votes.
On the eve of the by-election, Mr. Carswell tweeted a picture of former British Prime Minister Margaret Thatcher to his followers, with the strap line, "What would she do?"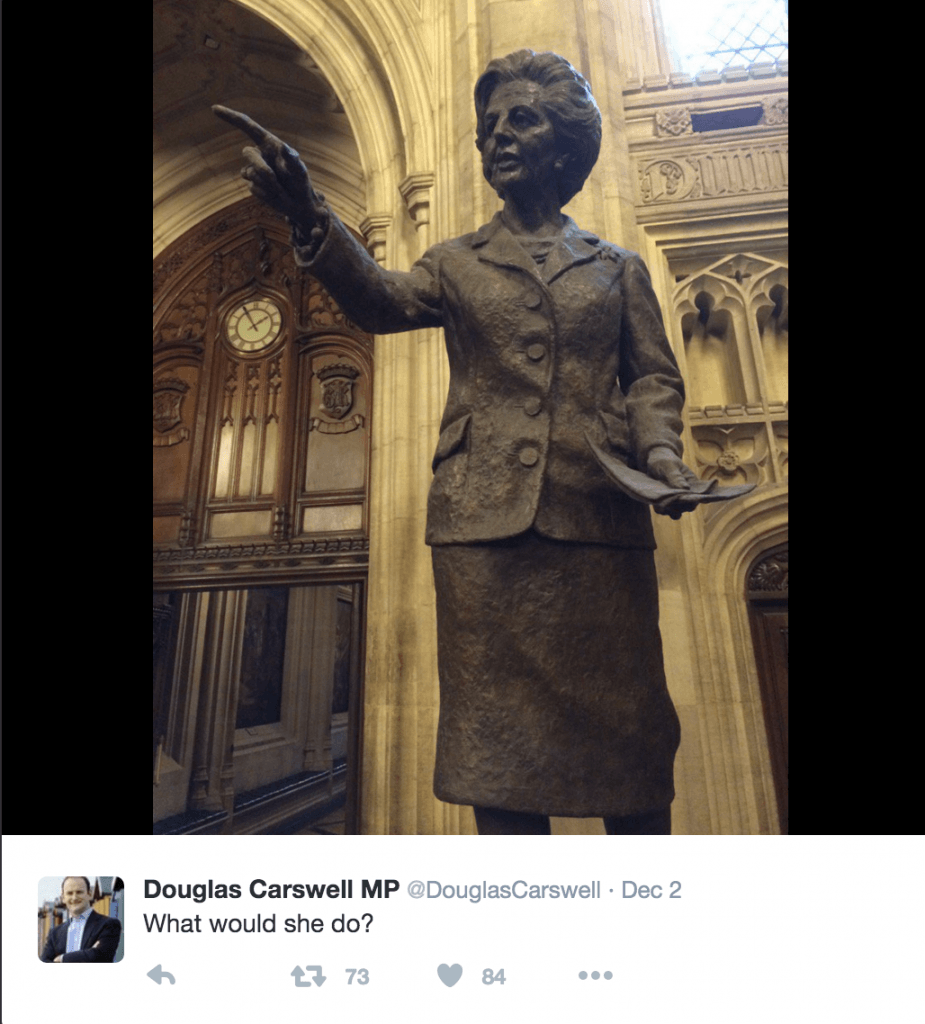 Mrs. Thatcher, though widely revered as one of Britain's greatest ever leaders, is hardly popular in northern constituencies like Oldham West and Royton. The UKIP source told Breitbart London, "He knew exactly what he was doing".
Mr. Carswell has been told by Mr. Farage today to "put up or shut up" in response to his claims that UKIP needs a "fresh face" as leader.
Mr. Farage said of Mr. Carswell, who was behind a failed leadership coup in May this year: "He's been having a go at me every single day since the General Election. It's just that he's been doing it in private, briefing members, officials or the press or anyone who cares to listen… He's trying to sow division where none exists… Douglas frankly must put up or shut-up".