A Scottish Council has given local government workers the power to create fake Facebook accounts, befriend citizens and spy on them for the prevention of "disorder" and "perceived mischief".
East Lothian Council, near Edinburgh, made the chilling revelation in a detailed 'Surveillance through Social Media Policy' document, explaining how they would spy on citizens.
So-called "investigating officers" are permitted to utilise social media for surveillance by creating "a covert identity using a false name" and "entering into a personal relationship with the third party/group member" or "visiting/viewing third party accounts or groups".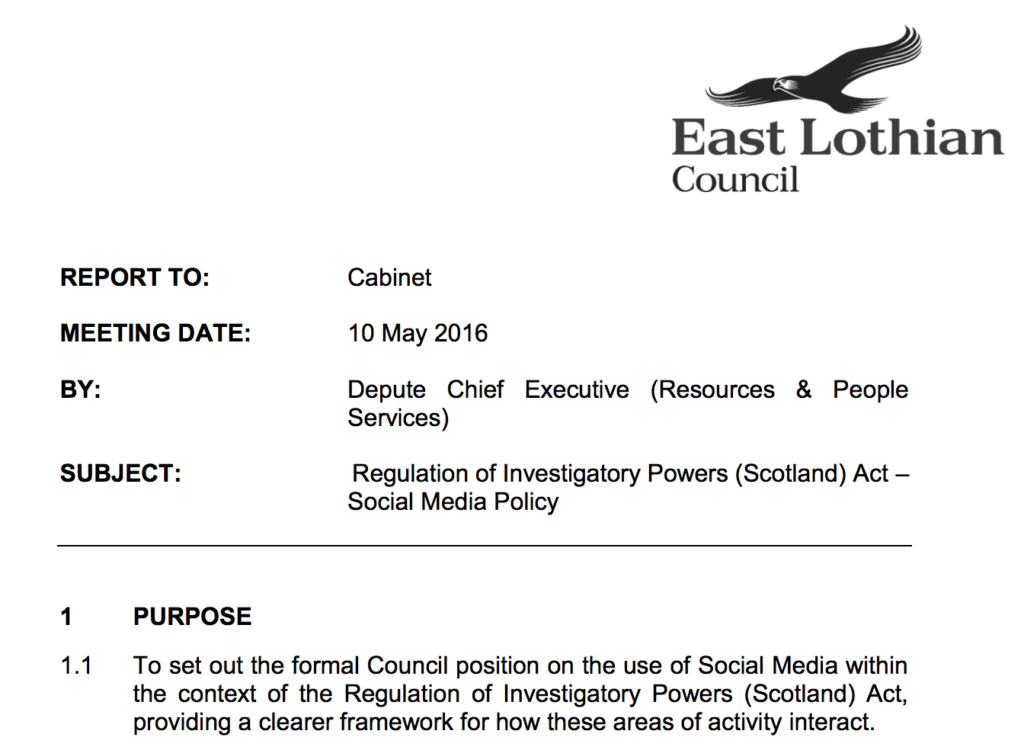 "In some circumstances" spying is also permitted "through the officer's private or departmental identity", as well as "through a covert identity using a false name".
"To investigate a service user whose Facebook account is protected by privacy settings, the investigating officer will have to send the service user a 'friend request'", the document advises.
Adding: "If the officer frequently or regularly views/visits the same individual's profile this must be considered as targeted. However if the service user posts publicly, they can have no expectation of privacy".
According to the document, "investigating officers" will need to obtain "authorisation" before befriending people "covertly".
In a statement handed to The Register, the council insisted they would only spy on local people "for the prevention and detection of crime or disorder, for public health or for public safety", or however those parameters are interpreted.
The council claims to have a "very high threshold" for using the powers, which had received "cross party support".
They stated that they would aim to "Balanc[e] the size and scope of the operation against the gravity and extent of the perceived mischief", and "cause the least possible intrusion on people and protect their privacy under the Human Rights Act".
Like to be part of Council's web team? We're looking for a new Web Officerhttps://t.co/TqH21RNuaF pic.twitter.com/EaXahTIZ6u

— East Lothian Council (@ELCouncil) April 26, 2016
"Most Scottish councils have policies for surveillance through social media already in place and, like East Lothian Council, have no intention of ever using these powers", the council added in the statement.
It is true that police and local authorities across Scotland are prodigious spies and censors of social media.
In April this year, Greater Glasgow Police threatened social media users, ordering them to be "kind" and not "hurtful" unless they wanted to "receive a visit… this weekend".
Police Scotland also investigated the provocative, conservative commentator Katie Hopkins for an "offensive" joke about a Scottish nurse being treated for Ebola.
In February this year, Scottish Police arrested a 41-year-old man under the Communications Act after receiving a report of a supposedly "offensive" comment made on Facebook regarding Syrian migrants arriving on the Isle of Bute.
And earlier this week, a Muslim Police Chief Inspector for Greater Manchester has indicated that, according to his understanding, "freedom of speech does not mean freedom of offending culture, religion or tradition".