Britain's Prime Minister David Cameron and the 'Remain' campaign are only targeting one specific demographic to register to vote in Britain's referendum on the European Union (EU), Breitbart London can reveal.
Last week, Breitbart London alleged that the government was spending copious amounts of tax payer money trying to get young people to vote in the referendum, considering they are more naturally likely to vote 'Remain'.
https://twitter.com/RaheemKassam/status/740269678711431168
Despite the dismissive messages from Remain campaigners, Breitbart London can reveal that in fact, Mr. Cameron is only targeting 18-35-year-olds exclusively on Facebook in order to get a huge voter registration bump in favour of the outcome he prefers: a vote to stay in the EU.
Facebook sponsored adverts, which have accounted for a huge percentage of those registering to vote on the UK government website, reveal that Mr. Cameron is using his own tax payer funded Facebook page to target younger voters.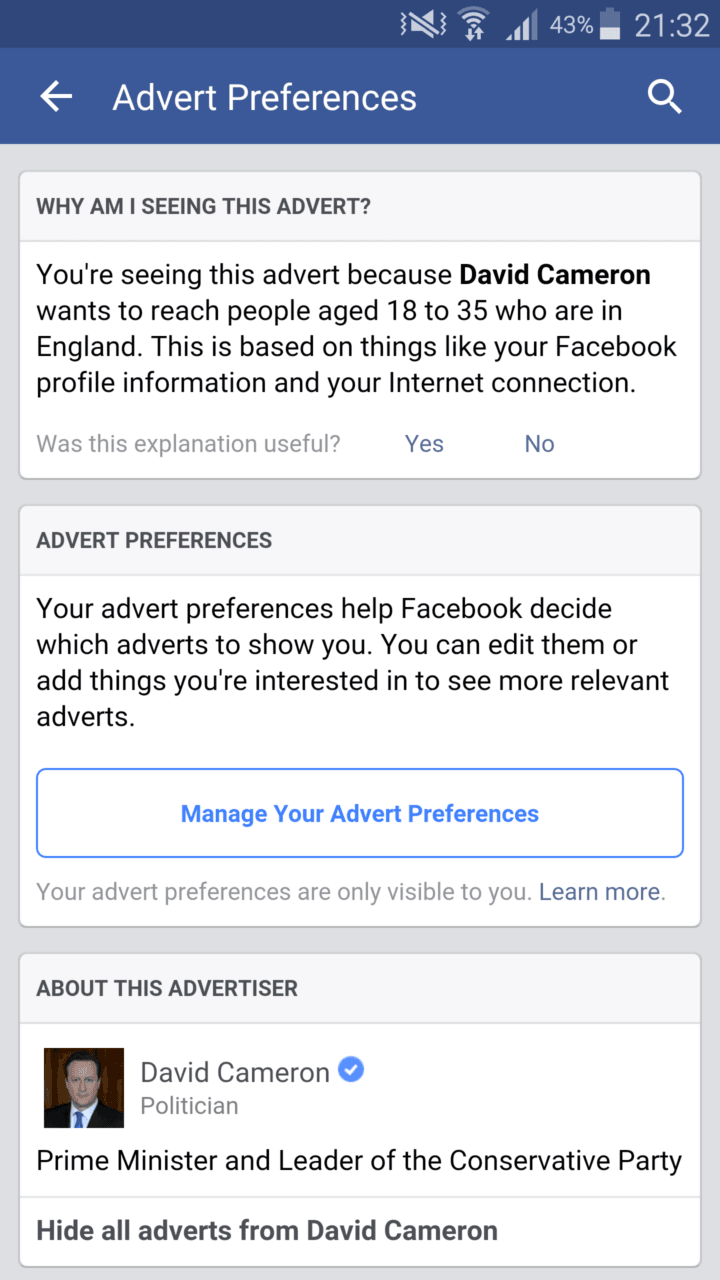 This means Mr. Cameron, his government, and the Remain campaign are not only ignoring anyone older than 35, but that their claim to simply be trying to register as many people to vote as possible is a verifiable lie.
On Friday, Facebook prompted "Register to vote".
Maybe coincidence, but here's how voter reg stats changed. #euref pic.twitter.com/ZjOdHfbv3l

— dan barker (@danbarker) June 5, 2016
The screenshot proving the claim reveals: "You're seeing this advert because David Cameron wants to reach people aged 18 to 35 who are in England. This is based on things like your Facebook profile information and your Internet connection".
The ad itself reads: "Deadline Extended: You can register to vote until midnight tonight".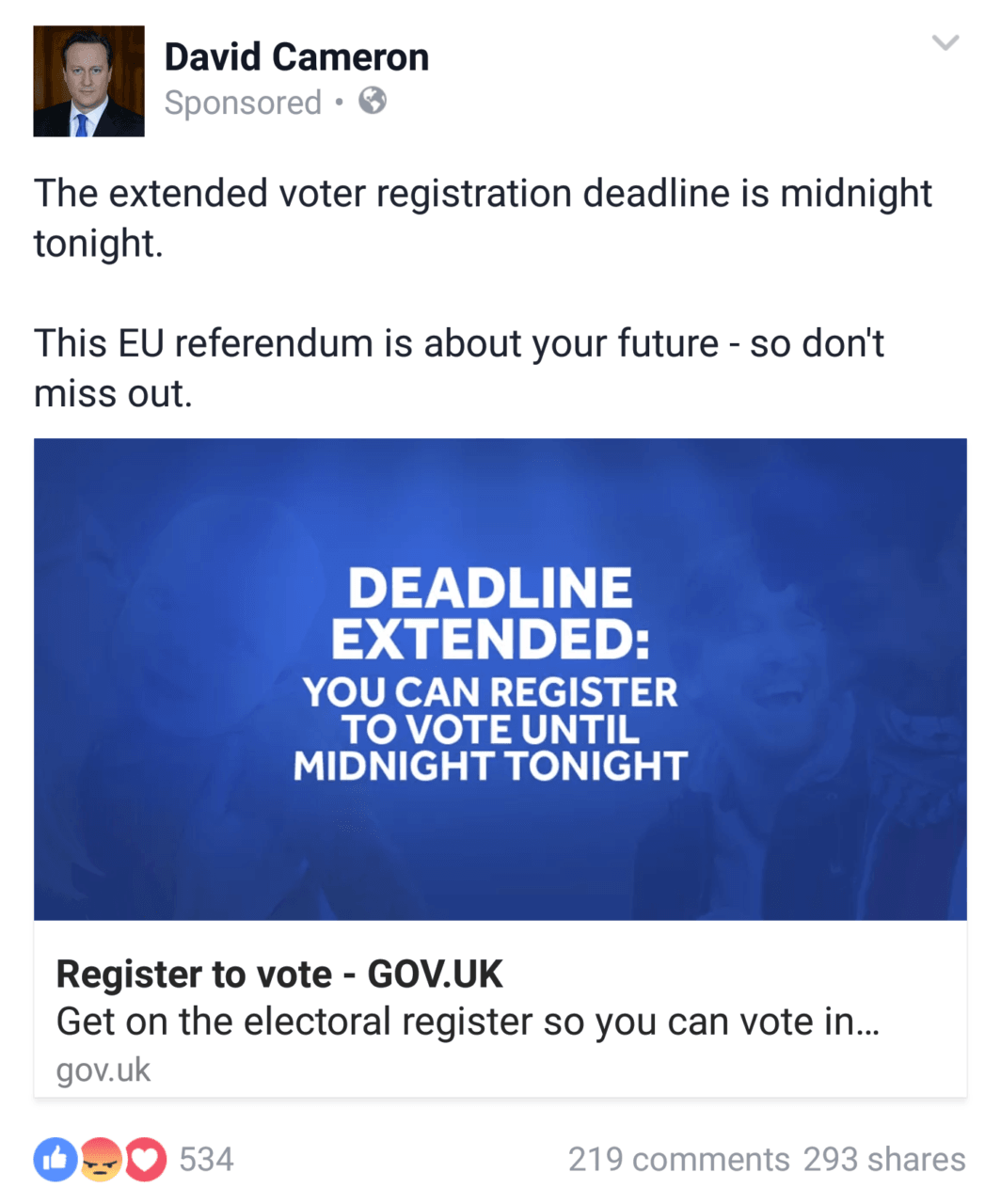 The link takes people to the UK government website which has seen a 2.5 million surge in voter registrations in the past 30 days – higher than at any previous General Election.
And while no one has said that people should not register to vote of their own accord, Remain campaigners are hiding behind their extra government funding and the targeted ads by attacking Leave campaigners as being "anti-democracy".
A spokesman for the Leave.EU campaign told Breitbart London: "The motives behind extending the deadline were already questionable, but to spend tax payers' money in this period targeting young people specifically is beyond contempt. It shows you the depths dodgy Dave and the Remaniacs will go to stitch up the vote".
Traditionally, younger voters are more inclined to vote to Remain in the European Union than leave. Recent YouGov polling reveals that those under the age of 24 are likely to vote 'Remain' by 64 per cent to 18 per cent, with 5 per cent saying they would not vote, and 13 per cent remaining undecided.
Of the age group 25-49, Remain has the backing of 44 per cent of voters, with just 35 per cent saying they'd vote to leave (six per cent would not vote, and 14 per cent are undecided).
The British government has undertaken a massive voter registration campaign, as has the Labour Party and a number of left-wing, pro-EU outfits such as the BBC, Facebook, local councils, Bite the Ballot, 38 Degrees, the Green Party, and more.
Questions will now be asked as to why the government is only using tax payer money to target one demographic that benefits the Remain campaign.
Campaigners have told Breitbart London they expect Members of Parliament to demand to know how much the government has spent on total on this blitz. The figure is expected to stretch into the millions of pounds.