Boris Johnson stole the debate last night with his closing speech urging voters to make Thursday Britain's 'Independence Day ' — a rousing call for democracy, self-belief and sovereignty which was booed by Remain supporters.
Throughout the BBC's debate on membership of the European Union (EU) Boris Johnson was attacked by the Remain team. His successor as Mayor of London, Labour's Sadiq Khan, was particularly vociferous, accusing his predecessor of running "Project Hate" and telling "big fat lies".
At one point David Dimbleby — the presenter charged with keeping the debaters and Wembley Arena's 6,000 strong audience in control — even felt the need to tell Mr. Khan to "cool it".
Khan the brawler. Does he cover up his aggressive tendencies?

— Dusty Bin (@tm014d1009) June 21, 2016
Mr. Johnson's Conservative Party colleague and Member of the Scottish Parliament, Ruth Davidson, was equally vociferous with her broadsides against Mr. Johnson. As well as reciting the Remain campaign's talking points at length, the Scottish Tory leader accused him of not caring about Britain's workers.
In a recurrent theme, Mr. Johnson responded: "They are back to Project Fear within moments. They have nothing positive to say."
Mr. Khan and Trades Union Congress General Secretary Frances O'Grady claimed that only the EU guarantees workers' rights from being curtailed by Tory governments.
Leading Labour Brexiteer Gisela Stuart struck back: "The most important right is the right to a job and as long as we are shackled to a failing Eurozone, liable to bailout after bailout, we will not succeed."
Ms. Davidson was so frustrated by her Leave opponents at one point that she was driven to state: "It's not the Boris show."
'it's not the Boris show' says Ruth who undermines her already weak gag by then addressing her question to Boris.

— Martin Hoscik (@MartinHoscik) June 21, 2016
Unfortunately for her, Mr. Johnson was given the final word which he used to deliver a rousing speech setting out the "very clear choice between those who speak of nothing but fear about the consequences of leaving the EU, and those on our side who speak of hope." He concluded:
"They say we cannot do it. We say we can. They say we have no choice but to bend down to Brussels. We say they are woefully underestimating this country and what we can achieve. If we vote to leave and take back control, I believe this Thursday could be our country's Independence Day."
This won the loudest most sustained cheers of the night, and the only standing ovation. Remain supporters in Wembley Arena were so enraged they felt the need to boo and jeer.
Outside the Arena their response was no more edifying, with comedian Robert Webb writing off Leave supporters as "thick" in a tweet he has since deleted.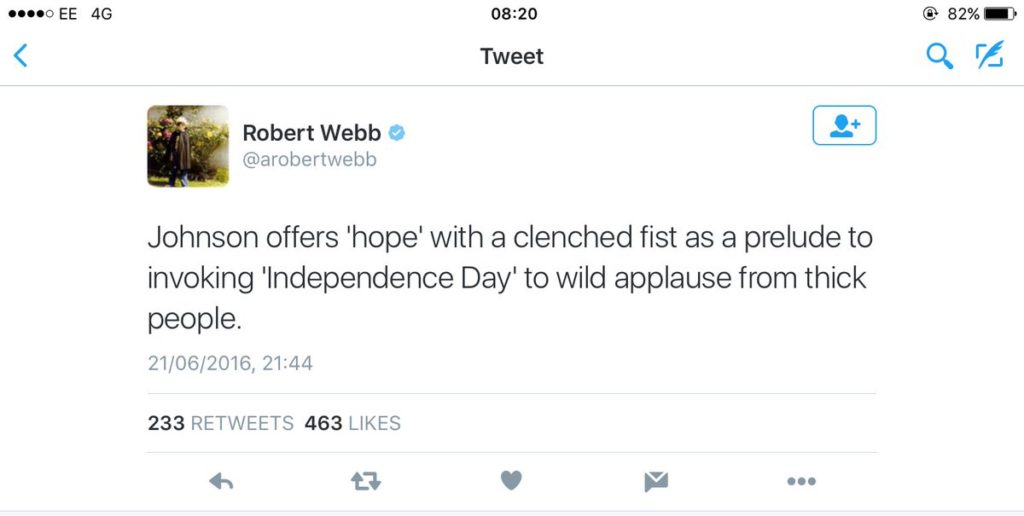 Follow Sarkis Zeronian on Twitter:

Follow @SarkisZ

or e-mail to: szeronian@breitbart.com