An "operation go topless day", planned after a topless woman in France was assaulted on the beach by "clothed holiday makers", has been cancelled because of fears of disruption and "racist remarks and violent reactions".
The clothed gang was said to be "act[ing] provocatively" around some of the many naked women on the beach last Friday, in La Teste-de-Buch near Arcachon, France Bleu radio reports.
One of the youths insulted a woman as she played table tennis with her young son. After she replied, the incident quickly escalated and she and her husband were allegedly punched in front of their three children.
Police rushed to the scene and other people on the beach confronted the men, telling them to either "get nude or get lost".
It has been asserted that there are no "community or religious connotations" to the incident, and Charente Libre reports that the husband has insisted that there was nothing "racist in this matter".
Despite this, the incident quickly sparked outrage and was held up as a demonstration of the "loss of liberties" in France.
It took place, of course, in the context of the two weeks of relentless "Burkini" controversy in France, whereby around a dozen local authorities banned head-to-toe Islamic swimsuits after a summer of Islamist terror attacks.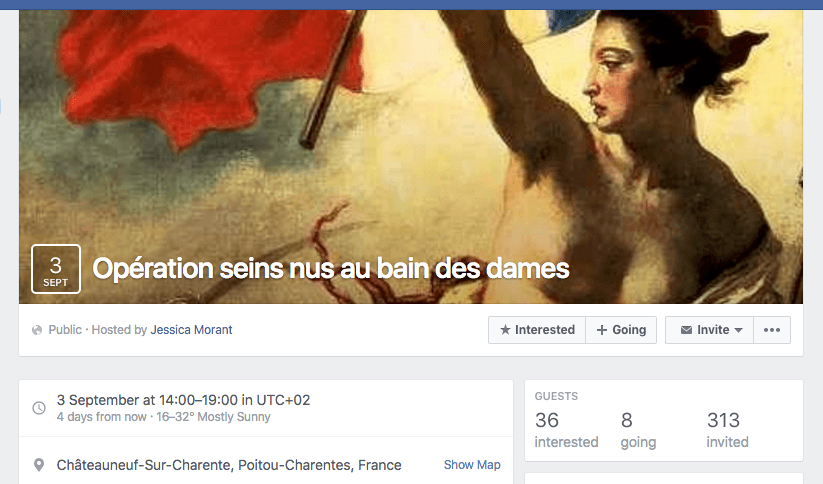 A Facebook group was created on Saturday after news of the topless woman being attacked broke, and a "peaceful protest" was planned.
Organisers said they were "raising awareness… of the freedom of women to control their own bodies" and "condemn[ing] violence and supporting women's choices".
"So obviously, women and men who want to join us and bare their breasts are welcome," they added. However, frightened by "racist and violent reactions", the organisers cancelled it soon after.
A new event was promptly set up, promising to "not let them dictate our [event] with intolerance and racist behaviour!"
One Jessica Morant added on Facebook: "I created a new event because we will not be pushed around by extremists! Our bodies belong to us!"