The British government will on Monday seek to overturn a ruling that it must obtain parliamentary approval before triggering Brexit, in a highly-charged case in Britain's highest court.
For the first time ever, all 11 Supreme Court judges will convene for the four-day hearing which threatens to upset May's timetable for leaving the European Union.
---
UPDATE 1700 GMT As Court Rises for the Day, MPs Debate Brexit
MPs are currently debaing a government motion to trigger Article 50 by the end of March 2017.
---
UPDATE 1425 GMT As others focus on the legal intricacies, the Telegraph takes a different angle
---
UPDATE 1415 GMT Schedule for the rest of today
Court has resumed from lunch. Dominic Chambers QC is concluding his remarks on behalf of hairdresser Deir Dos Santos.
At 2.30pm when David A Scoffield QC will argue on behalf of Northern Ireland campaigners Stephen Agnew and Raymond McCord. They claim the Northern Ireland Assembly needs to give consent before Article 50 can be triggered.
At 3.15pm James Wolffe QC, Lord Advocate of Scotland, will argue on behalf of the Scottish Government that the Scottish Parliament needs to give consent.
---
UPDATE 1405 GMT Parliament will get a vote on Brexit deal
Brexit Secretary David Davis says Parliament WILL get a vote on the final deal once it is secured.
---
UPDATE 1400 GMT
Spotted outside the Supreme Court this morning.
Photo by Getty
---
UPDATE Wednesday 1030 GMT
The court begins day three. Lord Pannick continues to present the case for the anti-Brexit side.
---
UPDATE 1700 GMT
The court rises for the day
---
UPDATE 1515 GMT Here are Lord Pannick's 7 Reasons Why He Thinks the Government is Wrong
Pannick's Reason 1: The referendum act doesn't give ministers prerogative to trigger Article 50 – doesn't mention it at all

— Dominic Casciani (@BBCDomC) December 6, 2016
Pannick's Reason 2: Ministerial prerogative is used to enter into treaties (such as EU membership) but can't be used to change constitution

— Dominic Casciani (@BBCDomC) December 6, 2016
Pannick's Reason 3: Gov must demonstrate Pary expressly handed over powers to ministers to supercede legislation. It hasn't over Brexit.

— Dominic Casciani (@BBCDomC) December 6, 2016
Pannick's Reason 4: Parliament did not intend the 1972 Act to create ministerial prerogative power to sweep away EU membership

— Dominic Casciani (@BBCDomC) December 6, 2016
Pannick's Reason 5: Ministers can't use prerogative (executive power) to frustrate legislation

— Dominic Casciani (@BBCDomC) December 6, 2016
Pannick's Reason 6: None of the European Union-related acts created over 40 odd years give ministers power to trigger Article 50

— Dominic Casciani (@BBCDomC) December 6, 2016
Pannick's Reason 7: Only an Act of Parliament can take away the rights linked to the EU that have been created since 1972 membership

— Dominic Casciani (@BBCDomC) December 6, 2016
---
UPDATE 1455 GMT Government case finished, respondents begin
Lord Pannick, QC for Gina Miller, is now speaking.
He says he has seven reasons why the government is wrong. This could be a long afternoon.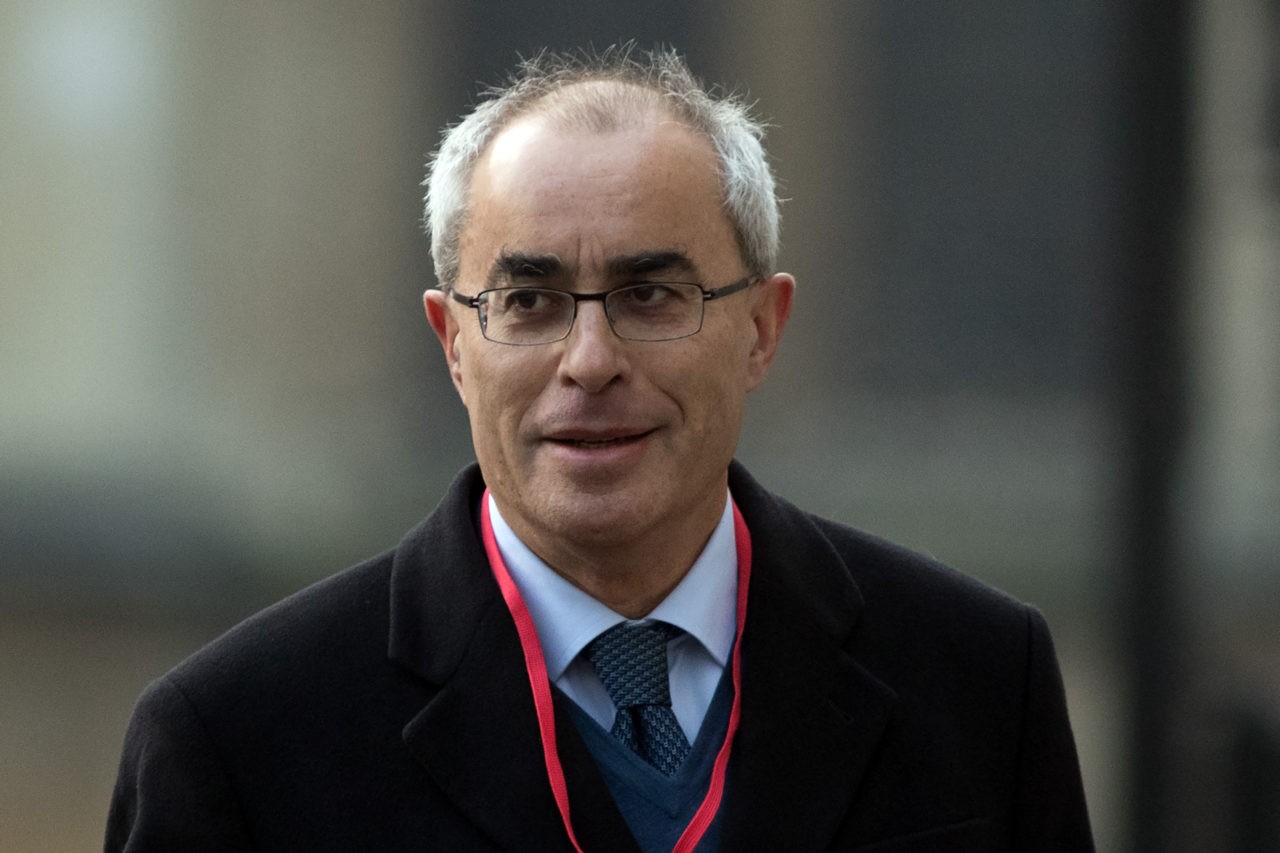 ---
UPDATE 1430 GMT Lord Keen, Advocate General for Scotland, is speaking
Lord Keen represents the UK government in Scotland, rather than the Scottish government. He is arguing that the Scottish parliament has no veto over Brexit as foreign affairs were never devolved to it.
---
UPDATE 1300 GMT Photographs from this morning
Photos by Getty:
---
UPDATE Tuesday Morning
The court has begun sitting again for day two. The government is continuing to present its case.
---
UPDATE 1630 GMT
The court has risen for the day. The case continues tomorrow morning.
---
UPDATE 1620 GMT – For the confused, here's how the Supreme Court judges are actually chosen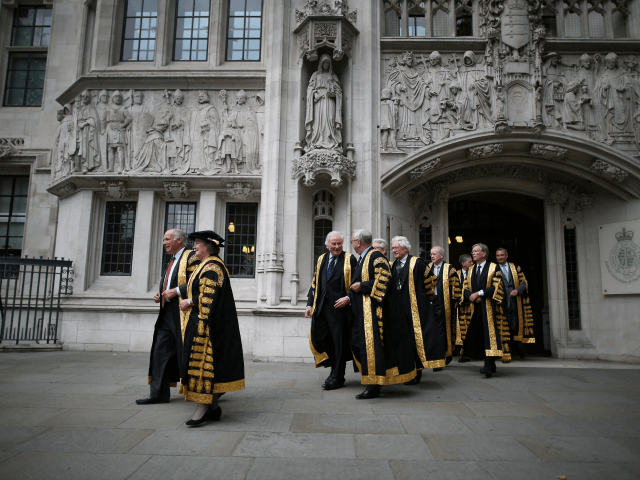 The UK Supreme Court is a new invention, having only existed since 2009 after being established by the 2005 Constitutional Reform Act.
Before then, Britain's most senior judges sat in the House of Lords, where they were known as Lords of Appeal in Ordinary (or "Law Lords" for short). All judges appointed to the court are still awarded peerages, although they are not allowed to sit or vote in the House of Lords during their tenure.
New appointments are not subject to anywhere near the same scrutiny as U.S. Supreme Court justices, facing no questioning or confirmation vote by any elected body.
Instead, they are chosen by a Selection Commission, headed by the current President of the court, alongside another senior judge and representatives from the judiciaries of England and Wales, Scotland, and Northern Ireland.
The court is therefore selected largely by the legal establishment, with public scrutiny over appointments near impossible, especially as it does not even publish the Selection Commission's deliberations.
---
UPDATE 1540 GMT – This is the crux of the government's argument today
James Eadie is arguing there's no legal difference between ministers being empowered to tweak relationship with EU and exiting it completely

— Dominic Casciani (@BBCDomC) December 5, 2016
---
UPDATE 1520 GMT – Judges say 'huge difference' between changing rules and leaving club
Government QC James Eadie is feeling the heat as he faces 11 Supreme Court judges.
The BBC reports:
EadieQC under pressure. Lords Wilson, Mance & Sumption challenge him over assertion that ministers have power to sweep away EU membership

— Dominic Casciani (@BBCDomC) December 5, 2016
Lord Mance says there's a "huge difference" between changes to the rules of the club and deciding not to be a member of the club.

— Dominic Casciani (@BBCDomC) December 5, 2016
---
UPDATE 1500 GMT – As lawyers debate the finer points inside…
Protesters wave some colourful placards outside.
---
UPDATE 1450 GMT – 'Euro Act Does Not Remove Royal Prerogative'
Government QC James Eadie has continued his case, saying that the European Communities Act 1972, which took Britain into what was then the EEC, did not restrict the government's ability to invoke the Royal Prerogative to take Britain back out again.
However, in response the judges have asked why if joining the EEC was a joint effort between Parliament and the  executive, leaving cannot be.
---
UPDATE 1420 GMT – More photographs from outside the court
By Rachel Megawhat for Breitbart London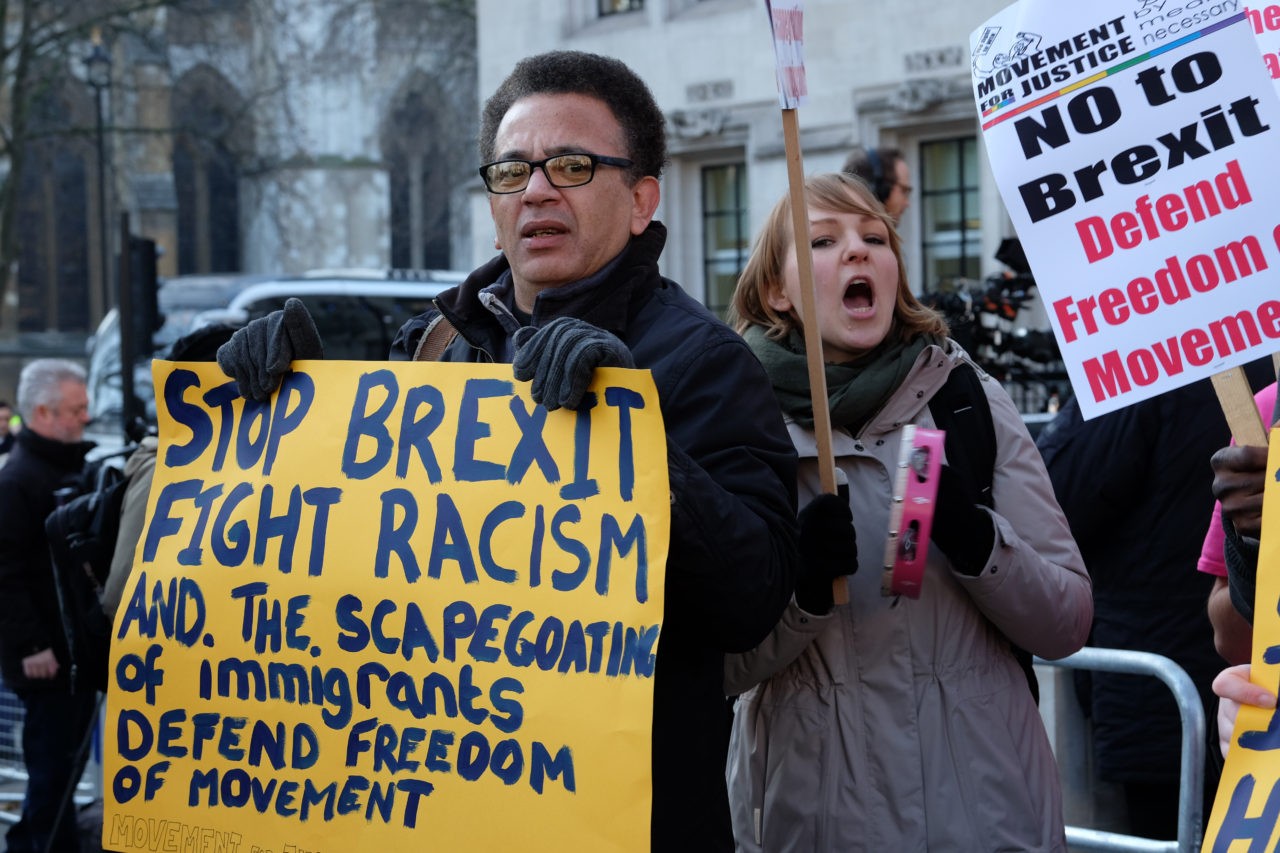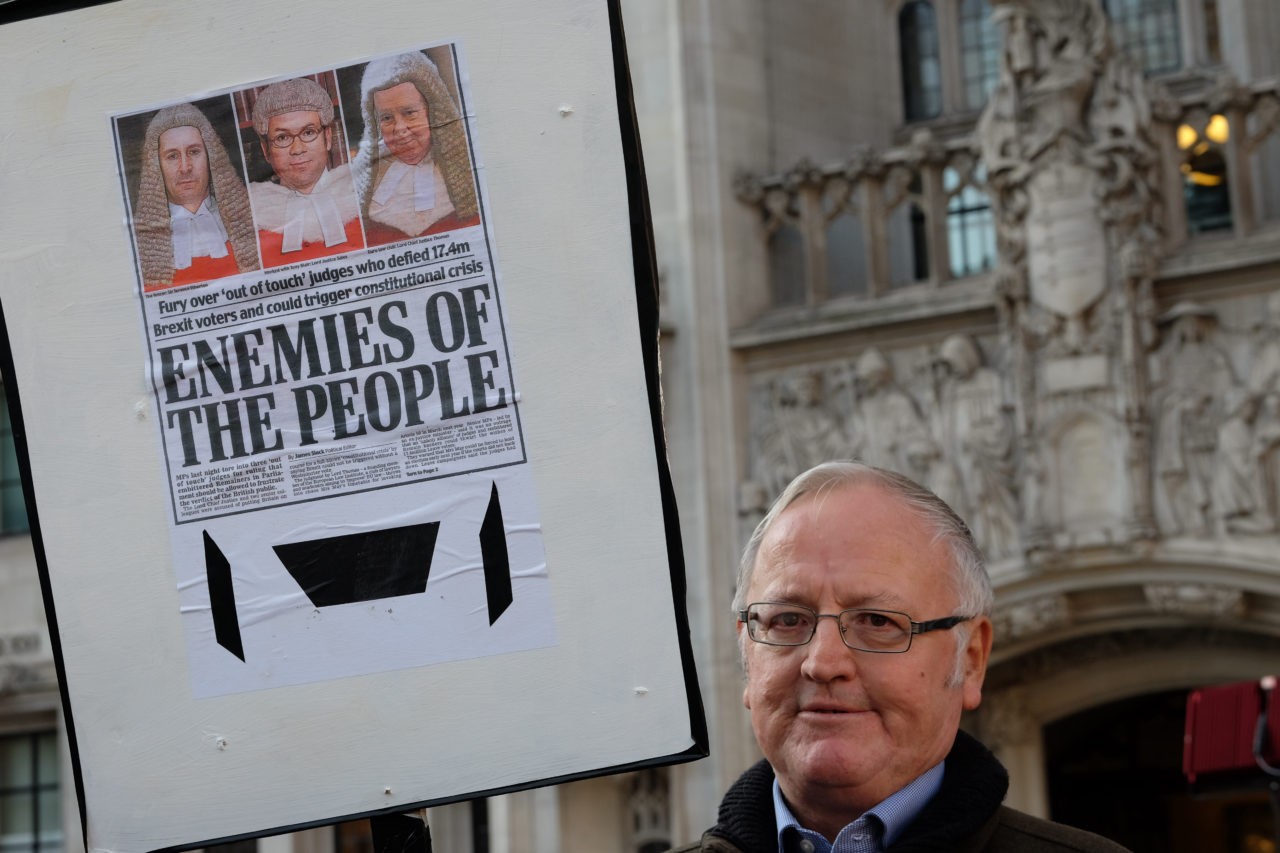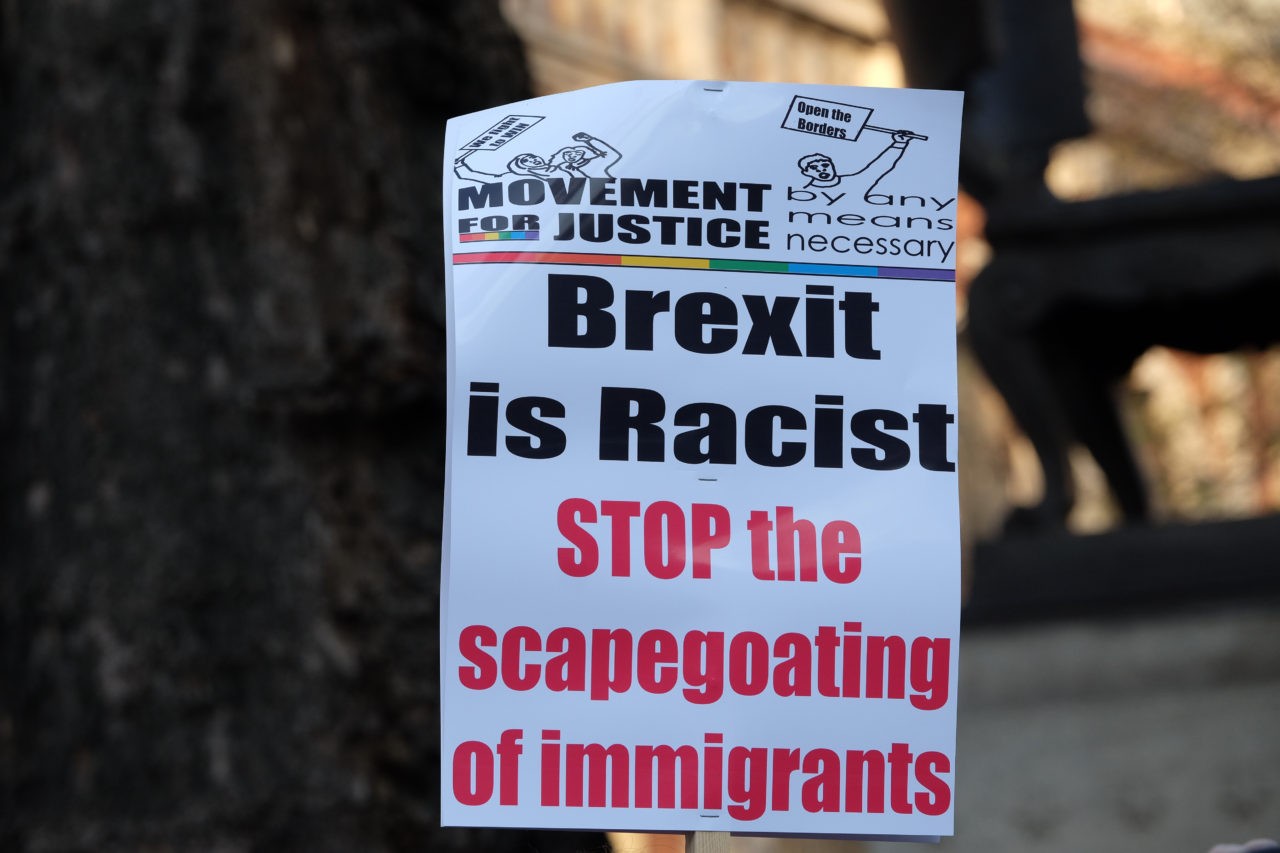 ---
UPDATE: 1415 GMT
This is without a doubt the biggest UK court case to ever be televised.
TV cameras, photographers and audio recording are traditionally not allowed inside UK courts. This case is a rare exception.
---
UPDATE: 1400 GMT – Our photographer has been outside
Photographs by Rachel Megwhat for Breitbart London: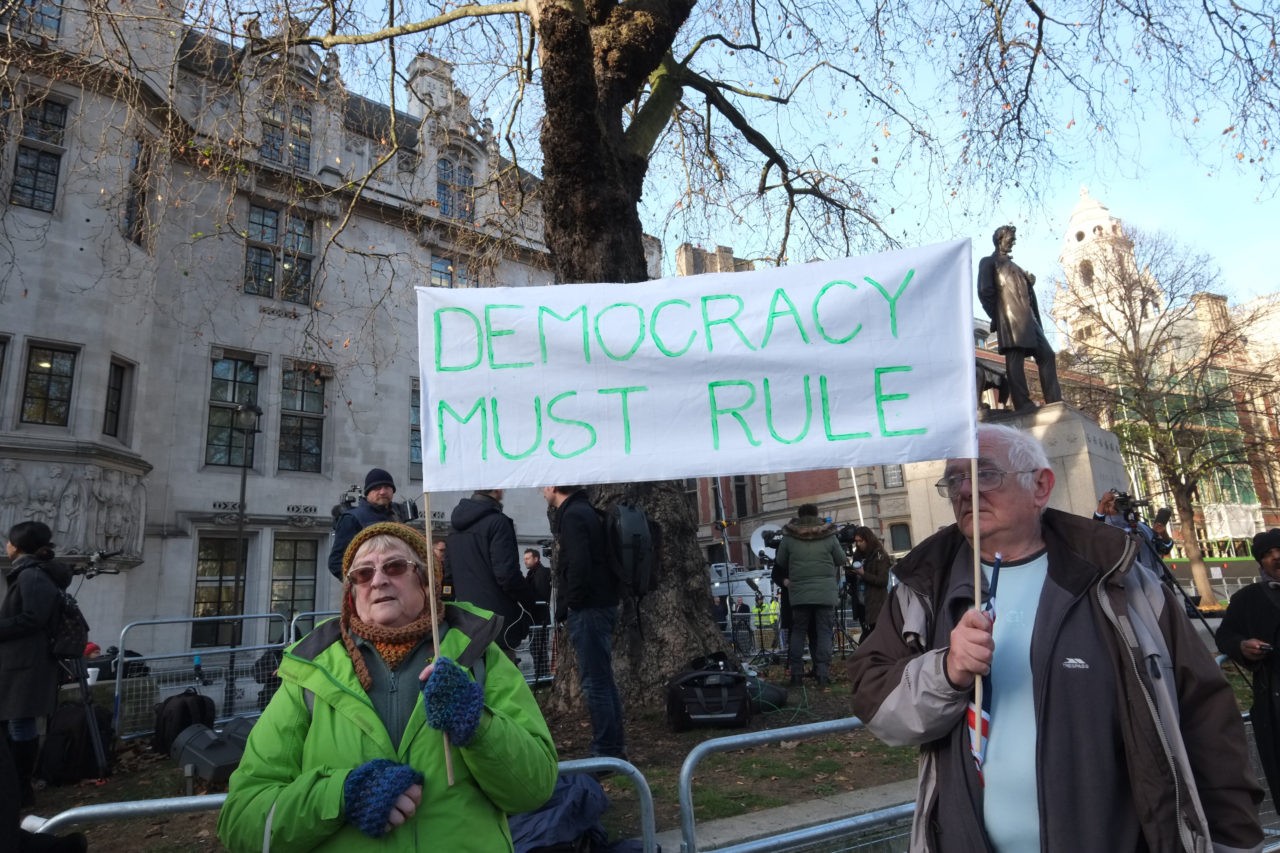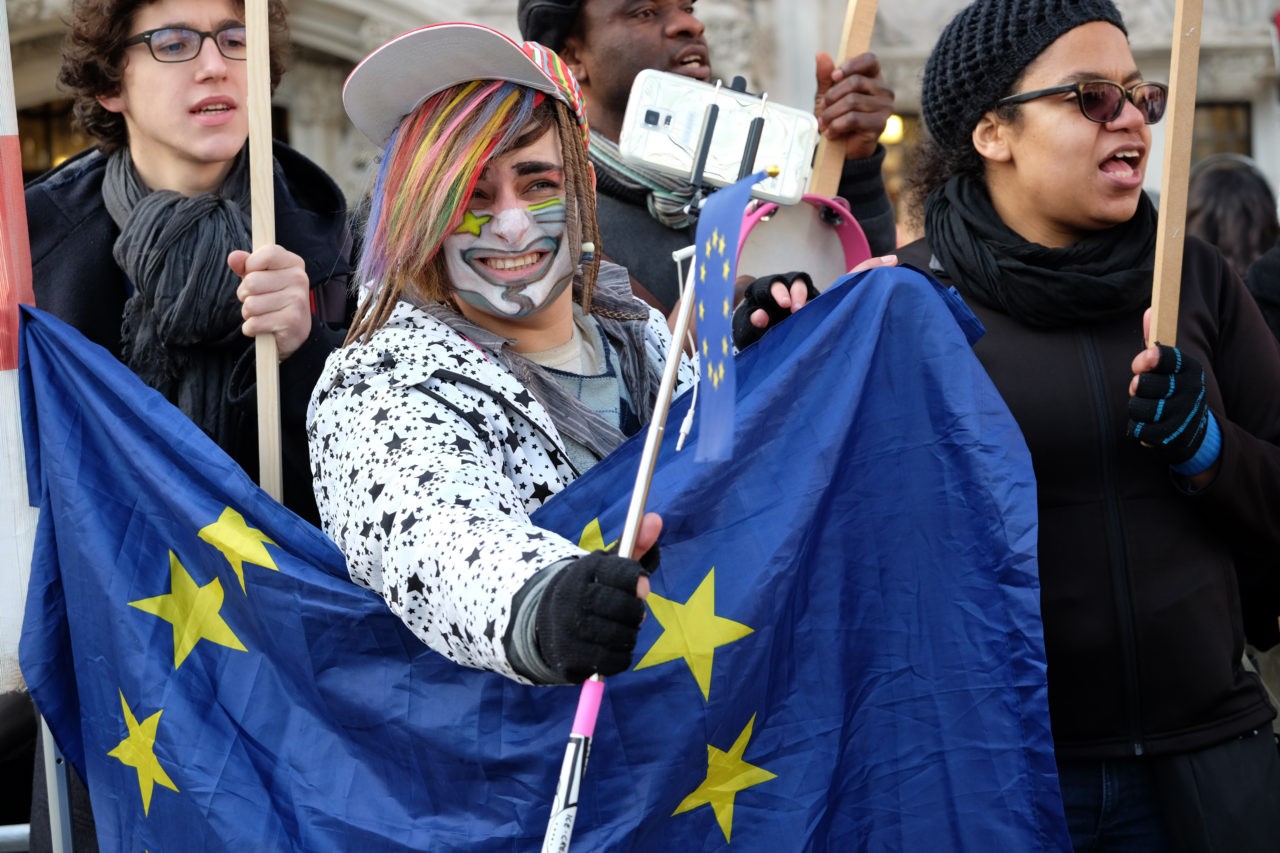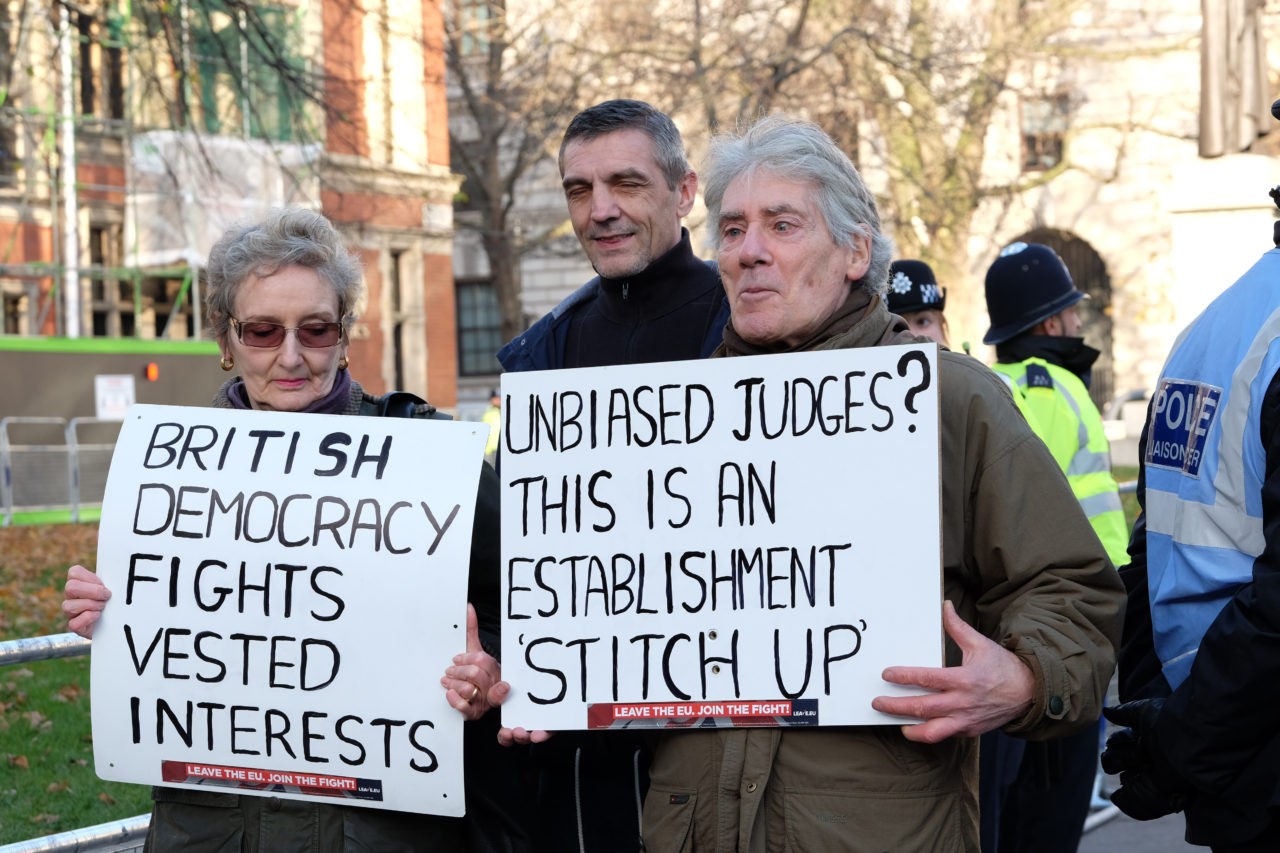 ---
UPDATE: 1215 GMT – 'Government has right to trigger Article 50'
Also speaking for the government, James Eadie QC said the prerogative powers that the government hopes to use are "a long-standing, well-recognised set of powers firmly established in our constitutional arrangements" that are "fundamental to our constitution and essential to effective government".
---
UPDATE: Midday GMT – Attorney General says High Court made wrong decision
Representing the British government, Attorney General Jeremy Wright said the High Court made the wrong decision.
He said that parliament will have already been "fully and consciously involved" when the government triggers Article 50, and that the government's use of the Royal Prerogative will therefore be lawful.
He added there was "great constitutional significance in which there is understandable and legitimate interest both inside and outside this courtroom".
---
AFP Reports
The High Court ruled last month that the government did not have the executive power alone to invoke Article 50 of the European Union's Lisbon Treaty, formally starting the exit negotiation process.
The decision enraged Brexit supporters and some newspapers who accused judges of thwarting the will of the 52 percent who voted "Leave" in a June 23 referendum.
A parliamentary vote on Article 50 could open the door to pro-Europe lawmakers delaying or softening Britain's withdrawal from the bloc.
May's government will set out its case Monday in an appeal of the High Court decision, with a verdict expected in January.
Attorney General Jeremy Wright, the government's chief legal advisor, will argue that the government has constitutional authority over foreign affairs, including the right to withdraw from treaties, under so-called "royal prerogative powers".
– Referendum a 'footnote' –
In papers submitted to the Supreme Court ahead of the hearing, Wright said High Court judges were "wrong to relegate, almost to a footnote, the outcome of the referendum".
Claimants in the case, led by investment fund manager Gina Miller, argue that triggering Article 50 would strip British citizens of certain rights established under European law — which they say only parliament has the power to do.
Britain's foreign minister, Boris Johnson, voiced confidence in the government's case Sunday, telling the BBC's Andrew Marr Show: "There is no history in any EU negotiations or any EU treaty talks of the House of Commons doing anything to fetter the discretion of the government."
However, legal expert Michael Zander, a professor at the London School of Economics and Political Science (LSE), said the government had little chance of winning, describing the original ruling as "unanimous and very strong".
"In my view, the government could be looking at losing 11-0," he wrote in legal magazine Counsel.
– Timetable at risk –
If it does lose, the government is expected to introduce a short bill — reportedly comprising just three lines of text — which it will seek to push rapidly through parliament to authorise the triggering of Article 50.
May has insisted a parliamentary vote on the legislation would not disrupt her plans to trigger Article 50 by the end of March 2017.
However, the opposition Labour Party delivered a blow to the government Saturday when it announced it would seek to amend any bill, potentially delaying the process.
Labour leader Jeremy Corbyn said the amendment would ensure that Britain retains access to the European single market and protect workers' and environmental rights.
"When the Article 50 debate comes up, we will put forward an amendment to it, which will be on the issues of market access and protections. We want those to be part of the negotiation," Corbyn told Sky News.
He denied that the party was seeking to prevent the government invoking Article 50 altogether, adding: "We are respecting the result of the referendum. It might not be the one we wanted but it's the one we've got."
A spokesman for May's Conservative Party accused Labour of attempting to "frustrate the will of the British people by slowing down the process… and trying to tie the government's hands" in Brexit negotiations.
May faces a further potential complication at this week's hearing from representatives of Scotland, Wales and Northern Ireland who will argue that Article 50 also needs to be approved by the devolved parliaments.
Such a ruling could further derail the prime minister's timetable and set up a stand-off between the nations.