Leader of the Welsh nationalist, socialist Plaid Cymru party Leanne Wood has doubled down in the face of online backlash after she called Thursday's Jihadist attack in Barcelona "right wing terrorism", answering critics by insisting the Islamic State themselves are "far right".
Attempting to build a moral equivalence between domestic Western right wing politics and imported Jihadist terror, socialist Wood rebranded the Islamic State as "far right" shortly after her original tweet, when it became clear the attack had been an act of Muslim terror.
The term "far right" is becoming increasingly common in political discourse, especially in the United States, where it is leveled at President Trump and his supporters by critics and some sections of the media.
14 were killed in Thursday's attack after a hired truck ploughed into crowds at a popular Spanish tourist spot.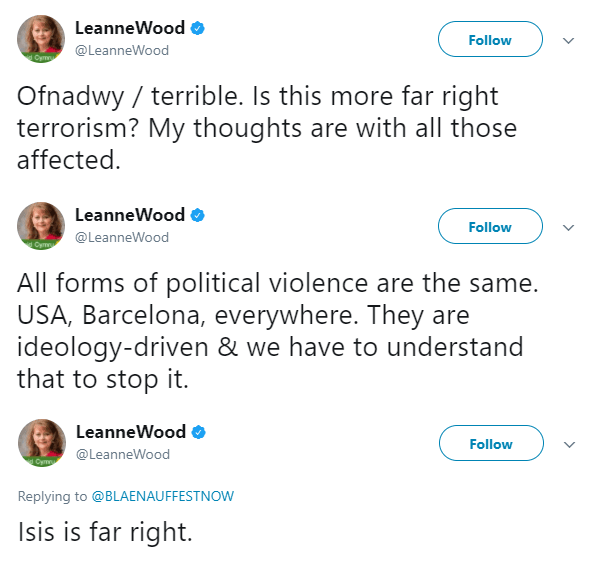 Expressing her surprise at the negative reaction to her baseless speculation as the attack unfolded on Thursday, Wood, who is a prominent critic of Israel and Gaza supporter, took to Facebook to offer a more nuanced hot take on the situation. Despite having more than 140 characters to articulate her position, the nationalist leader who wishes to see the British monarchy deposed and Wales separated from the United Kingdom as an independent republic, the post did not distinguish politics and religious violence.
The remarks by the British politician follow other similarly misguided hot takes on the Barcelona attacks, which saw four terror incidents play out over the course of two days. CNN anchor Wolf Blitzer caused a social media storm when he asked on a live broadcast whether the attack was a "copycat version of what happened in Charlottesville, Virginia".
Blitzer came under heavy fire on social media after the remark, and it is not clear whether he was unaware of the long standing precedent of Islamist attacks utilising motor vehicles in Europe.
The Barcelona attack, identified as an act of Islamist violence, came after a series of other Jihadist attacks using automobiles to kill Westerners in European cities. July saw the London Bridge attack, in which three Islamic extremists drive into a crowd of pedestrians before going on a knife rampage killing eight people and wounding dozens of others.
LATEST: Spanish media reports 'several dead', 'hostages' taken by killers in Barcelona terror attack https://t.co/lLrXBAfYTv

— Breitbart London (@BreitbartLondon) August 17, 2017
This followed a similar attack in April when an Islamist hijacked lorry a Stockholm, and ran down pedestrians on a shopping street, killing four including an eleven-year-old girl. This followed another attack in London in March when another rented vehicle slammed into pedestrians along Westminster Bridge. Five were killed, including a police officer.
In December 2016, an illegal immigrant Islamist hijacked a large truck in Berlin and drove it through a Christmas market, killing 12. This came after another hired truck attack in Nice, France on Bastille Day in July. 86 were killed.
Follow Oliver Lane on Facebook, Twitter: Follow @Oliver_Lane

or e-mail: olane[at]breitbart.com