The doctor who shook the hand of GOP frontrunner Donald J. Trump on stage as he rallied supporters in Anaheim, California, is part of a 2,000-strong "Chinese-Americans for Trump" organization with 15 chapters across the country.
"I was standing in the front, close to the stage wearing the 'Chinese-Americans Love Trump' tee-shirt," Dr. Ling Zeng told Breitbart News. A member of Trump's event staff approached her and asked her to come onto the stage at the May 25 event. 
The short encounter with Trump made a deep impression, she said. "He has a warm and strong energy. I was excited to see him."
"When he shook my hand he looked into my eyes and made real contact," she said. "Then he stopped to read my shirt and went back to the microphone and yelled out to the crowd: 'Chinese-Americans!'"
Zeng, who is a doctor of Chinese medicine and the owner of a San Diego clinic, said she is counting on Trump to end President Barack Obama's Obamacare infrastructure. She said she's seen the quality of medical care decline in the last five years. One of her friends, another doctor, stopped practicing medicine rather than deal with the hassles of Obamacare. "Obama is ruining our medical system," she said. 
Zeng was at the rally with 10 other members of the group, led by Tian "Tian-Tian" Wang, a Los Angeles-based real estate investor. "I used to be a Jeb Bush fan — for like three days — then, when I saw Trump on YouTube — there were a lot of parodies and people making fun of him — but, I kept watching," Wang said. "I kept watching for five hours and I thought: 'This guy is for real. He speaks for me.'"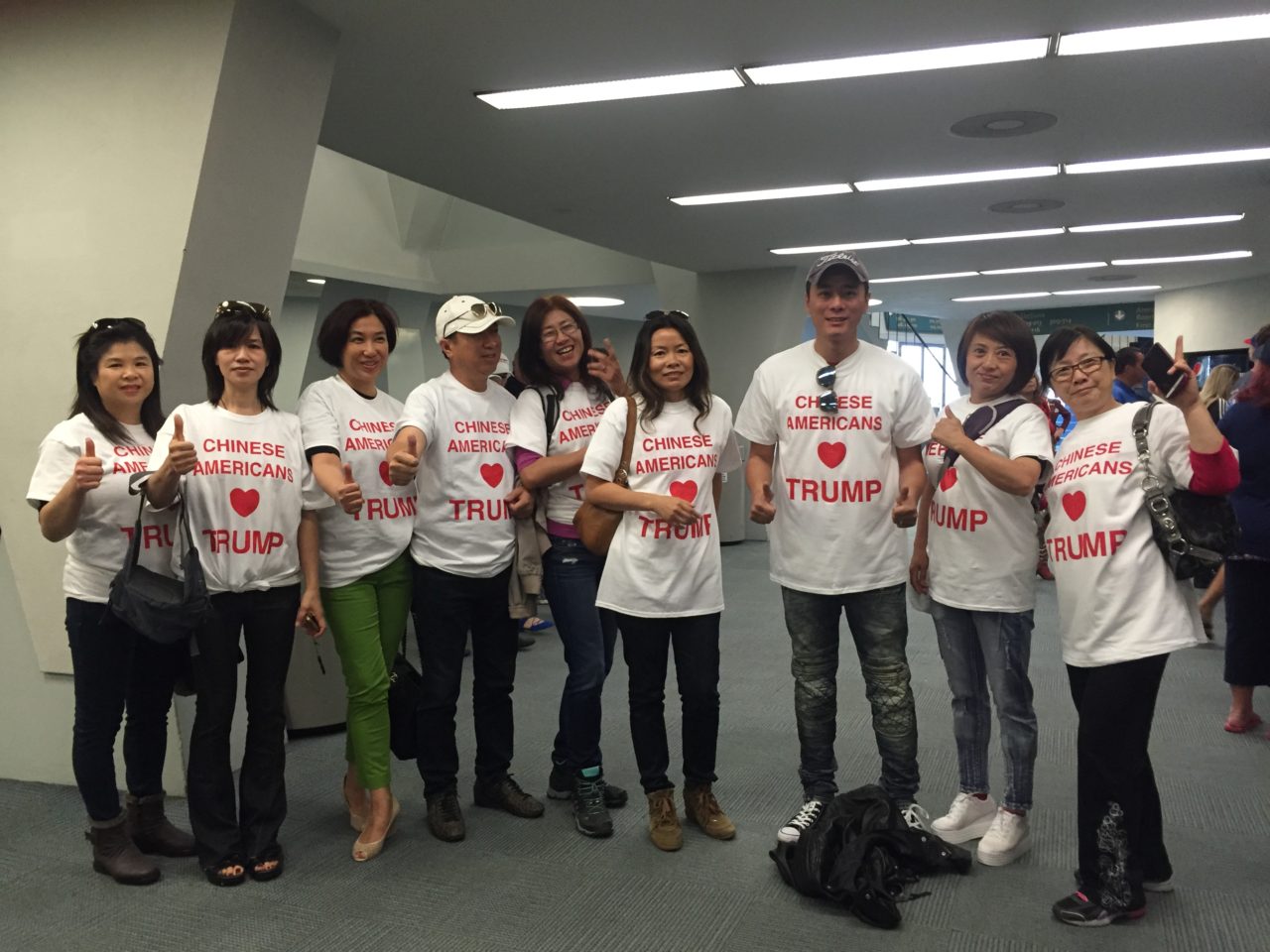 Wang said he started talking to his friends about Trump and the reaction was always negative. "But, then, I showed them what Trump really said compared to what the media said he said and I have never failed to convert someone," he said.
Chinese-Americans for Trump began with a few friends in Los Angeles and it is now an online community of 2,000 Chinese-Americans in 15 cities, he said. The largest chapter is Los Angeles with 700 members. "By January, we had 100 members and it kept growing, especially after Ted Cruz got out."
Yan "Grace" Zui, said she flew to Anaheim from Chicago, where she is the leader of that 400-strong chapter. "We all get together on the WeChat app—we meet online every day any time of day."
Wang said his group has a good relationship with the Trump campaign and there are plans to have a private meeting with the New York billionaire in the next few weeks.