"Undemocratic" masked, left-wing activists shouted down and physically disrupted Nigel Farage's planned visit to Northampton, forcing it to be cancelled.
The UKIP leader had been due to speak in Northampton town centre yesterday afternoon as part of his Brexit Bus Tour.
Users of social media claimed the masked activists were from hard left 'anti-racists' groups Hope Not Hate and Stand up to UKIP. UKIP MEP Roger Helmer, who represents the East Midlands constituency in which Northampton sits, also said they had been carrying eggs that they planned to hurl at Mr. Farage.
"How come people who call themselves 'Hope not Hate' adopt aggressive Fascist tactics, and oppose free speech?" he wrote on Twitter.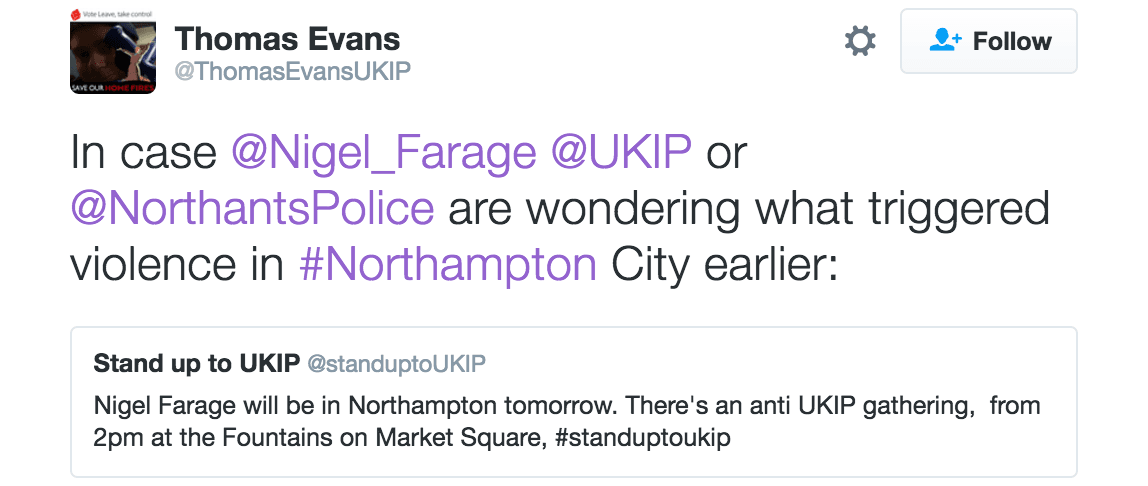 There were angry exchanges between approximately 80 UKIP supporters and a group of 40 aggressive protesters prior to the UKIP leader's planned arrival in the Market Square.
One banner read "f*** off Nigel," and the protesters shouted slogans such as: "Say it loud, say it clear: refugees welcome here". They also accused UKIP supportersof being "ignorant," and some UKIP supporters called the protesters "nasty".
"Some masked anarchists turned up, and we were advised it was going to turn ugly and nasty and not become a credible debate – which is a great shame," Mr. Farage told Northampton News from a pub to where he was diverted.
He described the actions of the masked thugs as "undemocratic," adding: "I don't like the Prime Minister very much, but I do listen to him with respect before I give my answer. The whole point of a referendum is we should be having a debate, and not having people drown out debates."
Have been busy spreading the pro-Brexit message here in Northamptonshire. #BrexitBusTour pic.twitter.com/QJcq7P4Y3S

— Nigel Farage (@Nigel_Farage) May 31, 2016
At the pub, he told reporters he was "sorry" to supporters who had missed the planned talk in the town centre.
Speaking to a crowd of 50 who had made it inside, he joked: "It's tradition in UKIP if we have a little bit of difficulty with aggravation and anarchists and have had to retire to the pub, and we have done it again."