Canadian journalist Ezra Levant visited Muslim neighborhoods in Paris to get a sense of public opinion there, finding that many blame Jews for the Islamic State (ISIS/ISIL) terrorist attacks on November 13, which left 130 people dead.
As Levant notes, the Muslims he interviewed do not "have long beards or traditional clothing."
The first man he interviews owns a Turkish restaurant and insists the world cannot call ISIS Muslims.
"I don't know how we can define this war," said the first man, when asked if the West can the war against terrorism. "Because it is international, it is not a fixed enemy. They are everywhere. It's hard to win a war like that, it's not easy."
The next man interviewed also said Muslims did not do this, but instead blamed the international Jewish community for having founded and organized the Islamic State.
"They are political acts," he stated. "They are political actions, or Jewish actions, I don't know. Jews. It's not Muslims."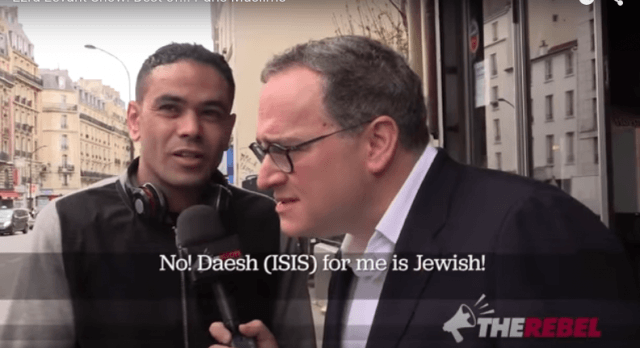 Levant appeared taken aback and asked him if the Jews conducted the terrorist attack.
"Maybe Jews, but Muslims is a no," continued the man. "For me, Muslims don't do things like that."
His comments become more anti-Semitic as the interview continues:
Interviewee: No! Daesh (ISIS) for me is Jewish! Daesh is a Jewish organization.

Levant: Daesh (ISIS) is Jewish?

Interviewee: It is an American organization.
Levant could not believe what he was hearing and asked the man to explain his beliefs.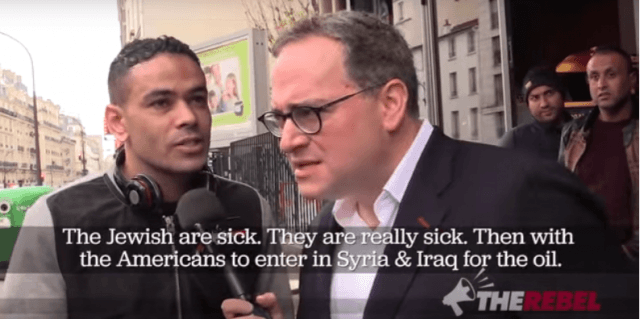 "The Jewish are sick," he said. "They are really sick. Then with the Americans to enter in Syria and Iraq for the oil."
He continued: "Because the Muslims don't do that, you see? The Muslims don't do this. The Jews entered in Syria. Here in Paris, the terrorists are not Muslims."
A friend of the man then interjected, agreeing that Jews are terrorists. Another claimed that Muslims are always the victims of terrorist attacks. But then Levant reminds them of the World Trade Center attacks on 9/11 and asks them if the Jews and Americans were behind it.
"The United States, Daesh (ISIS) is an organization that follows the United States and the Jews," replied the man.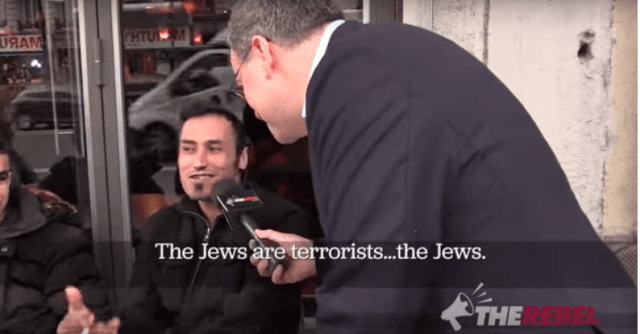 In 2005, the U.S. State Department reported that the Jewish population of Syria is only at about 80. The number dwindled to 50 by December 2014. The last Jewish family in Aleppo fled to Israel in October.
Violence against Jews in France has been on the rise in recent years, even though the country is home to Europe's largest Jewish population. Many French Jews have found sanctuary in Israel following a string of anti-Semitic attacks. An attack at a Kosher market days after the mass murder of staff at the offices of satirical magazine Charlie Hebdo pushed hundreds to move out. Even though they find themselves attacked by Palestinians in Israel, most say they have no regrets making the big move.
"It's not like in Paris, which I don't recognize anymore," said Sandrine Cohen. "Here, though, we feel free."
PBS visited Garges-Lès-Gonesse, nine miles north of Paris, a month after the Kosher market attack. The local synagogue calls the police at least a few times a week. Molotov cocktails and rocks are often thrown at the building from apartment blocks nearby. In 2012, Mohammed Merah killed a Rabbi and his two sons in Toulouse. A Rabbi told PBS he experiences anti-Semitic behavior, including a time when a car tried to run over him and his wife.
"I believe that the trauma, which Europe has experienced after the Holocaust, is starting to fade out," said Rabbi Shneur Kesselman. "I don't think this is any new form of anti-Semitism, I think it's a different face, a different cover, but it is the same old Jew hatred."
Levant told other Muslims that he found some of their brethren blaming the Americans and Jews for the attack. These men brushed off the thoughts as "conspiracy theories."
"You cannot know those kinds of things, these people [the terrorists] are crazy, they are psychopaths," said one.
This group of men all denounced ISIS and said they do not follow the Koran.
"It is forbidden in Islam to kill their neighbor," he said.
Levant only interviewed men in these neighborhoods. He occasionally saw women, but they refused to speak to him and appeared busy, in contrast to the leisurely activities of the men.
"Taking it easy, like these fellows were, seemed to be an activity reserved for men only," he commented.