At least 80 people , including 10 children, have died and dozens were injured during Bastille Day celebrations in Nice, France after a truck ran into a large crowd.
Police are treating the incident as "an attack" and French President François Hollande declared it an "undeniable" terrorist attack.
The suspect has been named locally as a 31-year-old French-Tunisian called Mohamed Lahouaiej Bouhlel. Witnesses claim he shouted "Allahu Akbar" – which means God is greatest in Arabic – before opening fire on officers.
Update 2110 BST (1610 EST)
CBS News is reporting that University of California at Berkeley student Nick Leslie, 20, has been unaccounted for since the Thursday night massacre. Leslie was participating in Berkeley's "Entrepreneurship and Innovation in Europe" program.
Two other students from the program suffered broken legs in the attack, while a third has a broken foot. The program is scheduled to last until July 24, but CBS says three of the students have elected to come home to the U.S. early.
Update 2100 BST (1600 EST)
Steaming-hot loads of moral equivalence are delivered by Muslim journalist Roshan M. Salih, and by Peter Chen at Australia's "The Drum":
France is an Islamophobic nation with a hugely destructive foreign policy and these horrible attacks are a terrible blowback #NiceAttack

— Roshan M Salih (@RmSalih) July 15, 2016
Chen: "We can call this radical Islamic terrorism if we can call civilian casualties of drone strikes radical Christian terrorism" #TheDrum

— ABC The Drum (@ABCthedrum) July 15, 2016
"308 people died in a car bombing in Baghdad this month & no-one said Baghdad is under siege" Peter Chen #TheDrum pic.twitter.com/Dp0v8X1WDg

— ABC The Drum (@ABCthedrum) July 15, 2016
Update 1930 BST (1430 EST)
The latest from elsewhere at Breitbart News…
Sky News Pins Blame for Nice Attack on 'Disenfranchisement': A Sky News correspondent asks a human rights activist about the "sense of disenfranchisement" among North African communities in France.
The Automobile Is Becoming the Weapon of Choice for Islamist Killers: A crowning achievement of Western civilization becomes an affordable, readily-available, highly effective weapon against its own people.
Update 1910 BST (1410 EST)
The UK Independent is reporting that the attack on Nice would have been even more horrendous, but for the heroic actions of an as-yet unidentified man who threw himself into the cab of the truck when it struck an obstacle, and wrestled with the murderous driver, who was armed with a revolver.
"A person jumped on to the truck to try to stop it," reported an eyewitness. "It's at that moment that the police were able to neutralize this terrorist. I won't forget the look of this policewoman who intercepted the killer."
Update 1900 BST (1400 EST)
The BBC quotes former French Europe Minister Pierre Lellouche, who participated in an inquiry into last year's Paris attacks, strongly criticizing France's response to the terrorist threat. He dismissed the extended state of emergency declared by President Hollande as a "joke."
"We need much better intelligence, much better coordination of intelligence inside France, among Europeans, with our neighbors controlling our borders – particularly the Turks. This is not happening fast enough," Lellouche told the BBC.
Lellouche made the devastating observation that "a violent tactic from the Syrian civil war has now come to the streets of Nice," so "the Middle East and Europe are now part of what he calls the same strategic space," as the BBC put it after interviewing him.
Update 1711 BST (1211 EST)
Black Lives Matter activists are angry at white Nice victims for stealing the limelight:
Black Lives Matter Activists Angry Dead 'White People' In France Stealing Their Limelight https://t.co/vxNUR9HHaQ pic.twitter.com/Tn0ze1Q5H4

— Breitbart London (@BreitbartLondon) July 15, 2016
Update 1649 BST (1149 EST)
This is a photograph of the attacker:
#France#NiceAttacker Identified As A 31-Year-Old #Tunisian-Born #French National Mohamed Lahouaiej Bouhlel. pic.twitter.com/BNPV3xCqIM

— Conflict News (@C___News) July 15, 2016
Update 1623 BST (1123 EST)
#NiceAttack UPDATE: 10 children or adolescents among the 84 killed. Driver shot at 3 police officers.

— BakersfieldNow (@bakersfieldnow) July 15, 2016
Update 1614 BST (1114 EST)
The French Prosecutor has given an update at a press conference.
The Guardian reports:
The death toll remains 84, he says, and "202 people were injured including 52 who are now in critical care".

"Among these 52 people 25 are still in intensive care," he adds. He says the numbers are preliminary and they could increase.

"The terrorist who drove the truck as you know was shot to prevent him from committing more criminal action."

"They have managed to neutralize this person, thus avoiding further victims. I would also like to pay tribute to all state services who were mobilized following this attack." He thanks doctors and other emergency providors.

He says that authorities are now in the process of identifying the dead, "which is painful for the families of the victims".

"All has been done to activate procedures during the attack."
Update 1606 BST (1106 EST)
.@rihanna cancels Nice gig out of respect for victims #NiceAttack https://t.co/hjAdvtitCk pic.twitter.com/UbOIMKLwBn

— ITV News (@itvnews) July 15, 2016
Update 1603 BST (1103 EST)
Foreign Secretary @BorisJohnson meets Foreign Office staff coordinating support to Britons following #NiceAttack pic.twitter.com/97CM1EeM2r

— Foreign Office (@foreignoffice) July 15, 2016
Update 1540 BST (1040 EST)
Breitbart Jerusalem has more on how Arab social media has reacted to the attacks:
JAFFA, Israel – Reactions to the truck-ramming terror attack in Nice on Thursday, which left more than 80 people dead and 100 injured, dominated Arab social media.

Some Islamic clerics denounced the attacks, to the protest of others.

Salman Alodah, a leading Islamic cleric, tweeted: "May the curse of Allah, the angels and the people come upon that murderer… Here and everywhere, an unwarranted killing, carried out by a man who hated life and humanity."
1537 BST (1037 EST)
Nice truck attacker was from Tunisian town of Msaken – Tunisian security sources https://t.co/E2WZJjQ99C pic.twitter.com/HD2m66b8sF

— Reuters UK (@ReutersUK) July 15, 2016
Update 1528 BST (1028 EST)
Young man 'died protecting pregnant wife' in #NiceAttack https://t.co/r8o2F3k40I pic.twitter.com/0dtlVRFmVH

— Daily Mirror (@DailyMirror) July 15, 2016
Update 1521 BST (1021 EST)
Breitbart Jerusalem says that a top Salafist jihadist based in the Gaza Strip has claimed more "brothers" are planning attacks.
Abu Alayna Al-Ansari, an IS loyalist, said he believes the attack was a "classic lone wolf" operation, inspired by the jihadi Abu Mohammad al-Julani, the IS spokesperson, who called upon young Muslims from around the world to carry out attacks such as Thursday night's.

Ansari is a well-known Gazan Salafist jihadist allied with Islamic State ideology.  In previous interviews, Ansari seemed to be speaking as an actual IS member, repeatedly using the pronoun "we" when referring to IS and even seemingly making declarations on behalf of IS.
Update 1513 BST (1013 EST)
#BREAKING Ex-wife of France truck attack suspect held for questioning: police

— AFP news agency (@AFP) July 15, 2016
Update 1505 BST (1005 EST)
Australia's Daily Telegraph has a powerful front page: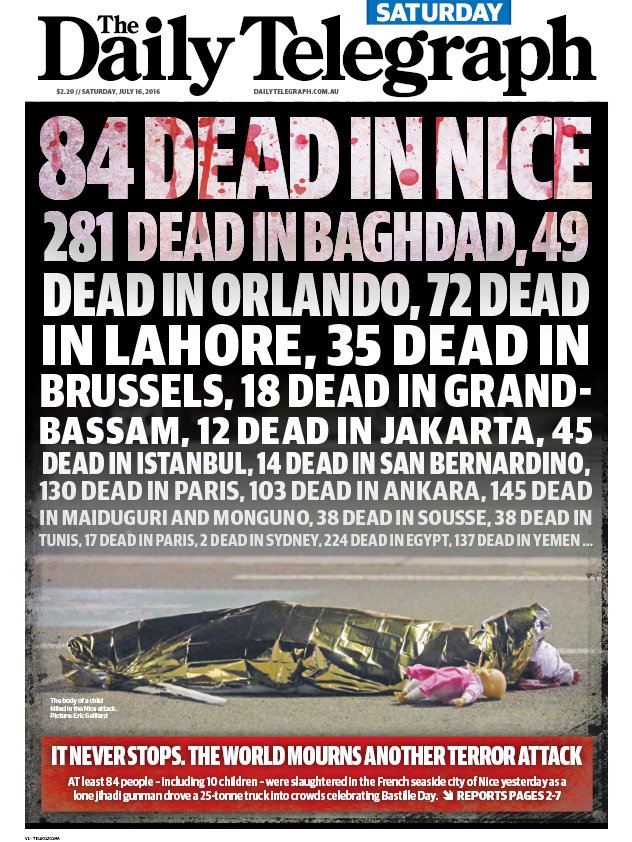 Update 1503 BST (1003 EST)
Here are the latest figures from the attack:
#Nice attack latest:
– 84 dead
– 188 admitted to hospitals
– 48 in critical condition
– 25 in intensive carehttps://t.co/IqTZGeOAeO

— ABC News (@ABC) July 15, 2016
Update 1455 (0955 EST)
Nice is the 12th Islamist attack in France since January 2015. Here is a list of the most recent attacks:
Flashback: Dozen Terror Attacks In France Since Charlie Hebdo Slayings https://t.co/xOte29CaGc pic.twitter.com/R1k9dJNaFG

— Breitbart London (@BreitbartLondon) July 15, 2016
Update 1435 (0935 EST)
French President Hollande addresses the nation, saying:
"There are 50 other people who are still receiving emergency treatment. They are between life and death. Amongst the victims are French citizens as well as foreigners, who came from all continents. And there are a number of young children who came to watch fireworks with their families, who have been struck down just to satisfy the cruelty of one individual or possible of a group."

"We have visited scores of injured, who have horrendous images in their heads. They are suffering more because of the psychological trauma. Even people who have no signs of physical injury, will carry throughout their lives the trauma of the horrific images they saw."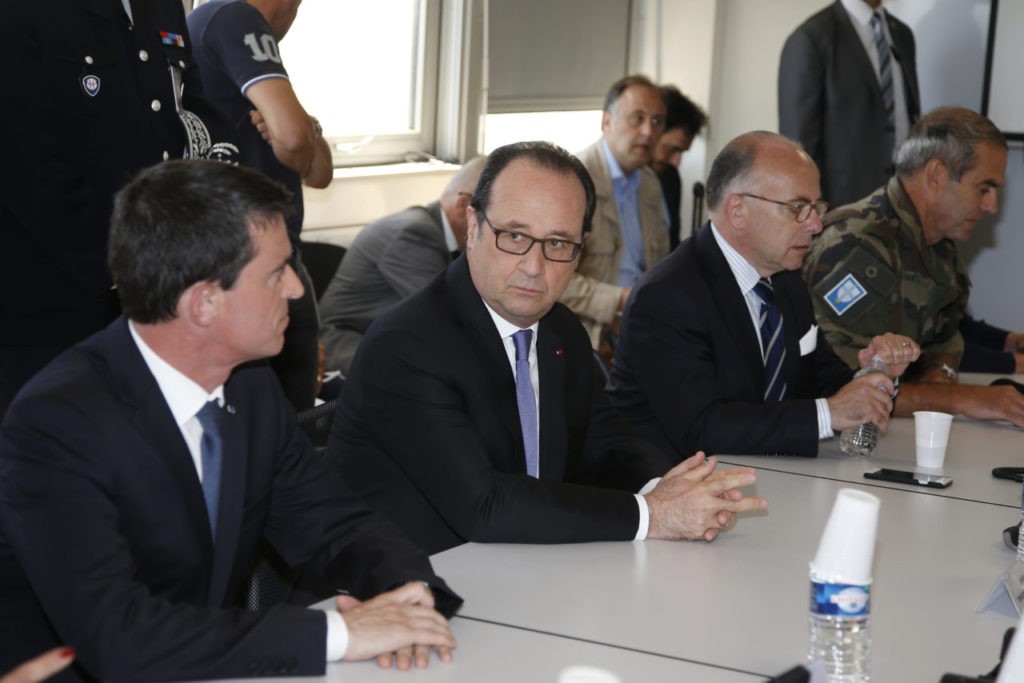 Update 1432 BST (0932 EST)
AFP reports 50 people remain in a "critical" condition.
"As I speak 84 people are dead, and around 50 are in a critical condition between life and death," French President Hollande said after visiting a hospital in the French Riviera city.
Update 1411 BST (0911 EST)
Footage has emerged of a motorcycle trying to stop the truck:
Update 1355 BST (0855 EST)
UKIP criticises British PM Theresa May for not taking a more hands-on approach in response to the Nice attack.
Mike Hookem MEP, the party's defence spokesman, said:
"My thoughts go out to the friends and families of those who died and of course it is heartbreaking that there are young children involved but these terrorists have no limits to their murder.

"Once again this highlights the foolishness of open borders with not only 1.8 million migrants coming in but free movement of weapons probably including those which were found in the cab of the lorry.

"As Home Secretary Mrs May oversaw the collapse in funding and support for the UK border force and I would have thought as a new prime minister hitting the ground running, ,making COBRA her first responsibility.

"She should have used it to show her intention to get a grip of this crisis.

Mr Hookem said he thought the criticism of the new Prime Minster over her twitter response was "shallow" saying, "What we need is actions not words."

"Mr Cameron may well have responded on twitter but what we really need is to have better border security and to raise the level of the alert.

"But fundamentally what we are desperately in need of a strong border force with investment in people and technology."
Update 1348 BST (0848 EST)
Dr Sebastian Gorka and Oliver Lane were on Breitbart News Daily on Sirius XM this morning to talk about the Nice attack.
Update 1335 BST
King Salman of Saudi Arabia has sent a message to French President François Hollande, insisting that his nation stands with France against terrorism in all forms. 
#KingSalman to #Hollande: #SaudiArabia stands with France against terrorism in all forms. https://t.co/8BSGnXXonK pic.twitter.com/dNT9ewwFzm

— Al Arabiya English (@AlArabiya_Eng) July 15, 2016
Update 1331 BST
(REUTERS) Germany Boosts Border Controls With France After Nice Attack
Germany will boost border controls at airports as well as road and rail crossings into France after the truck attack in Nice, the Federal Police said on Friday.

"In coordination with the French security authorities the federal police are strengthening their control in the area of cross-border traffic into France," the police said in a statement.

At least 84 people were killed and dozens more were injured after a gunman drove a truck at high speed into crowds celebrating Bastille Day in the southern French sea resort.
Update 1327 BST
The Daily Mirror is reporting that "witnesses" have claimed the driver and suspected terrorist shouted "Allahu Akbar" – which means God is greatest in Arabic – as his vehicle came to a stop, before opening fire on officers.
Update 1258 BST
Nice airport evacuated:
Nice airport being evacuated #cbc pic.twitter.com/fgn2jEVgHo

— Thomas Daigle (@thomasdaigle) July 15, 2016
Troops inside Nice airport. Luggage claim area has been evacuated, no one being allowed inside #cbc pic.twitter.com/bIclHFp4Og

— Thomas Daigle (@thomasdaigle) July 15, 2016
Update 1252 BST
Airline stocks have fallen after the attack. The Evening Standard reports:
The horrific Nice massacre struck airlines and tourism stocks hard today, leaving easyJet floundering at the bottom of the FTSE 100 as investors absorbed the impact of another terror attack in Europe.

About 15% of easyJet's total seat capacity involves flights that begin or end in France. 

After the atrocity in Nice that killed more than 80 people celebrating Bastille Day, the budget carrier, which is also the largest airline at Nice airport, flying 3.7 million passengers to and from it each year, saw its shares slide 45p, or 3.8%, to 1126p.
Update 1250 BST
Pope prays for victims
I pray for the victims of the attack in Nice and their families. I ask God to convert the hearts of the violent blinded by hate.

— Pope Francis (@Pontifex) July 15, 2016
Update 1246 BST
#BREAKING Two Americans killed in Nice attack: US official

— AFP news agency (@AFP) July 15, 2016
Update 1239 BST
54 children in hospital
10 children killed by terrorist in Nice. 54 more in hospital.#PrayForNice
Read more:https://t.co/zUaeImigg7 pic.twitter.com/Edg3WHmD7w

— Western Morning News (@WMNNews) July 15, 2016
Update 1222 BST
British police to review security at big public events, such as sporting events and music festivals:
UK police to review major events over next week after #NiceAttack, to ensure "appropriate security" in place https://t.co/Of25B65XlZ

— BBC News (UK) (@BBCNews) July 15, 2016
Update 1210 BST
A Saudi-funded mosque opened in Nice just two weeks before last night's attack. Read more at Breitbart London:
Saudi Funded Mosque Opened in Nice Two Weeks Before Attack https://t.co/XIGANv6wbp pic.twitter.com/OwOHLrAKiW

— Breitbart London (@BreitbartLondon) July 15, 2016
Update 1204 BST
A memorial has sprung up in Nice.
Pictures from Getty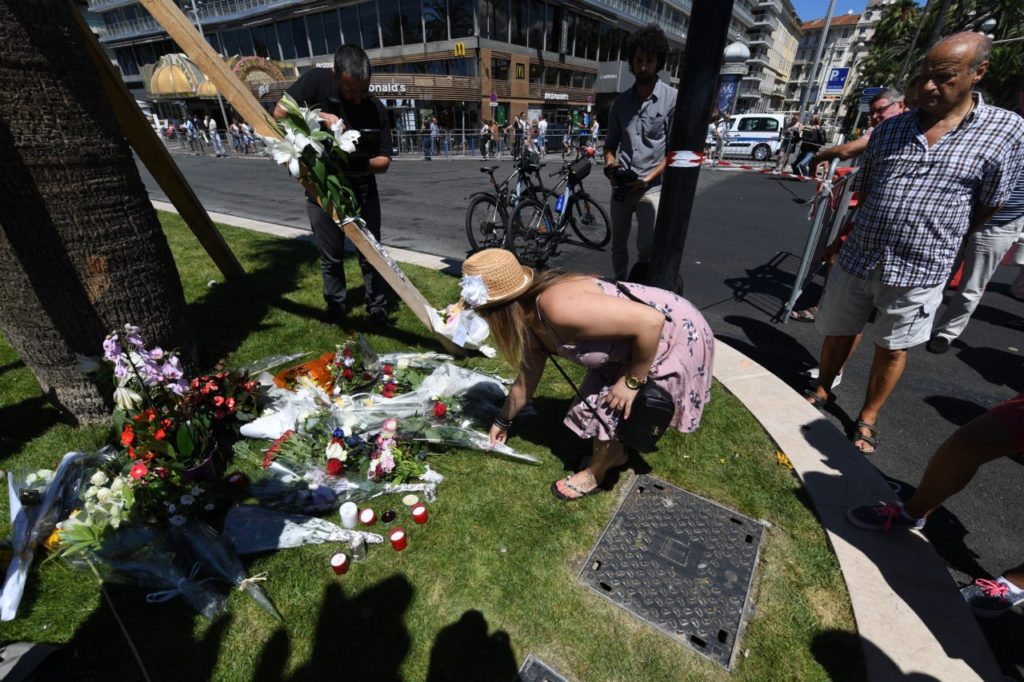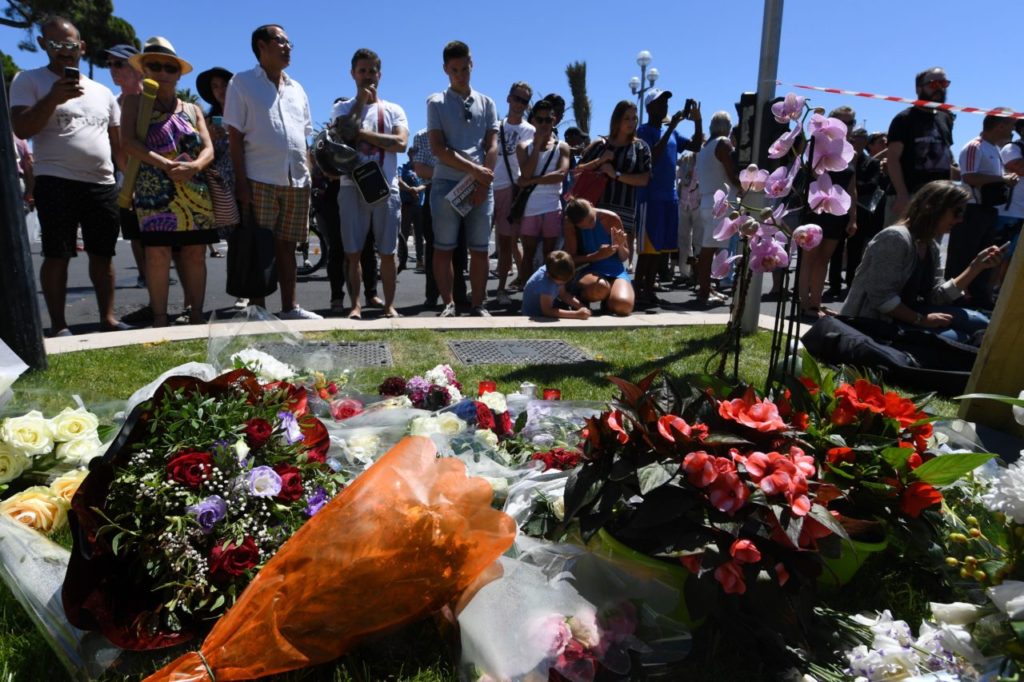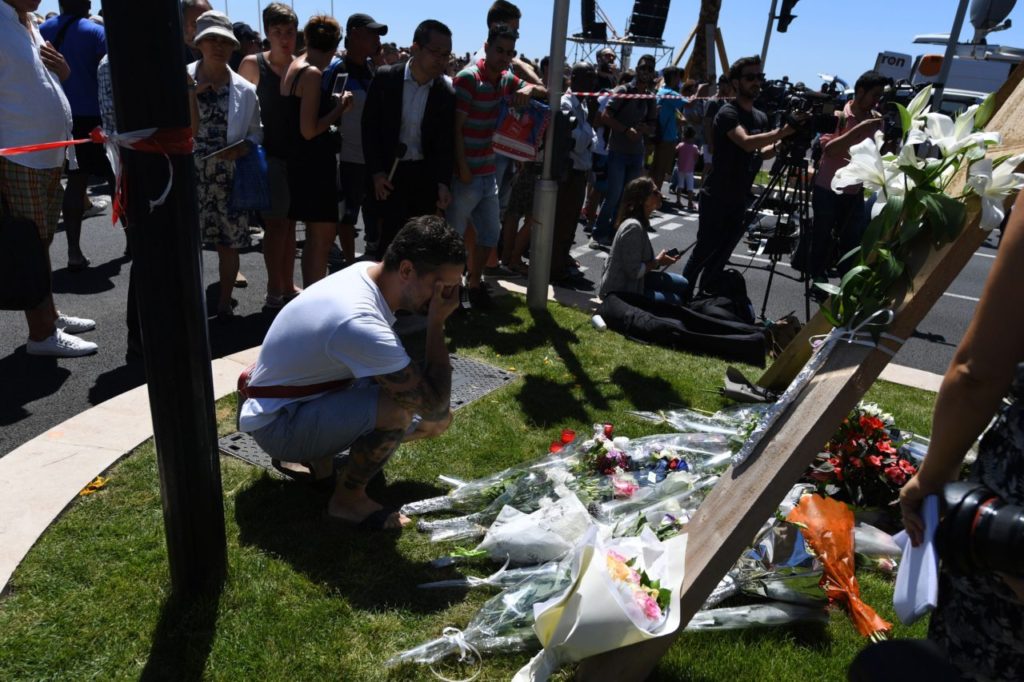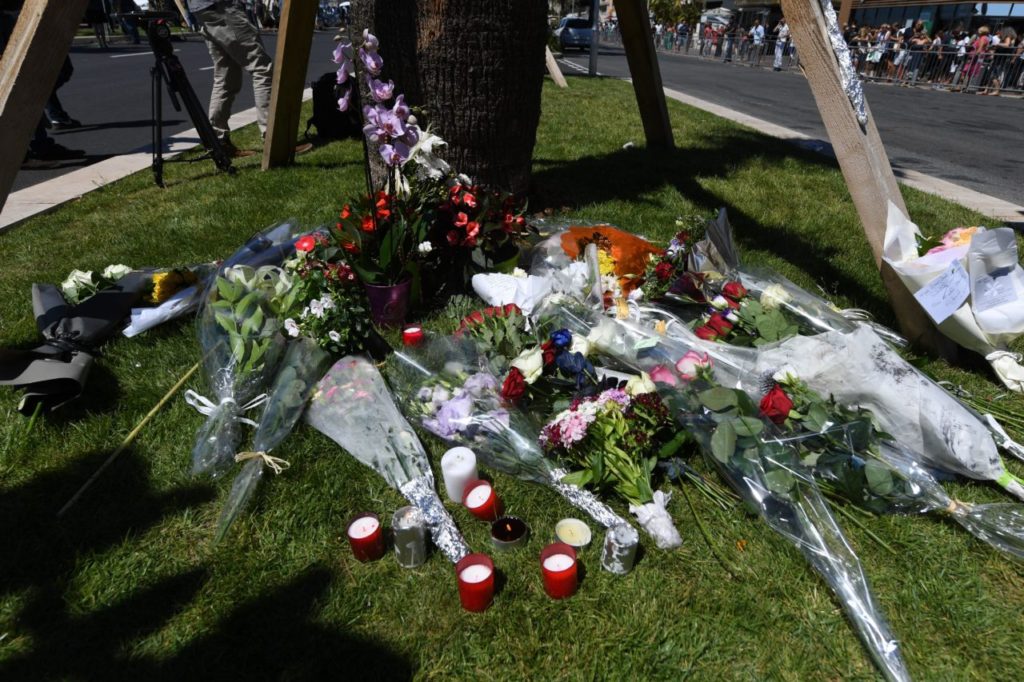 Update 1155 BST
Footage has emerged of police shooting at the truck:
Update 1145 BST
Here is the full text of Theresa May's statement:
"I am shocked and saddened by the horrifying attack in Nice last night. Our hearts go out to the French people and to all those who've lost loved ones or been injured.

"While the full picture is still emerging, it seems that at least 80 people are feared dead and many others have been injured. These were innocent victims enjoying a national celebration with their friends and families.

"We are working urgently to establish whether any British nationals were caught up in the attack. Our ambassador is travelling to Nice today with consular staff and they will be doing all they can to help anyone affected.

"I have asked my deputy national security adviser to chair a COBRA meeting of senior officials, to review what we know and what we can do to help, and I will speak to President Hollande today and make clear that the United Kingdom stands shoulder to shoulder with France today, as we have done so often in the past.

"If, as we fear, this was a terrorist attack, then we must redouble our efforts to defeat these brutal murderers who want to destroy our way of life. We must work with France and our partners around the world to stand up for our values and for our freedom."
Update 1138 BST
Marine Le Pen speaks out:
"Nothing that we have proposed has been put in place. Considering the new nature of terrorism which is now a terrorism of opportunity, that's to say without hierarchical structure, the urgency is to attack the ideology on which this terrorism is based.

"And in this space, nothing has been done, absolutely nothing – no reintroduction of double punishment, nor depriving people of nationality, nor the closure of salafist mosques… nor the banning of certain organisations. In truth we are not at war. For the moment, we are in a war of words."
(translation from The Guardian)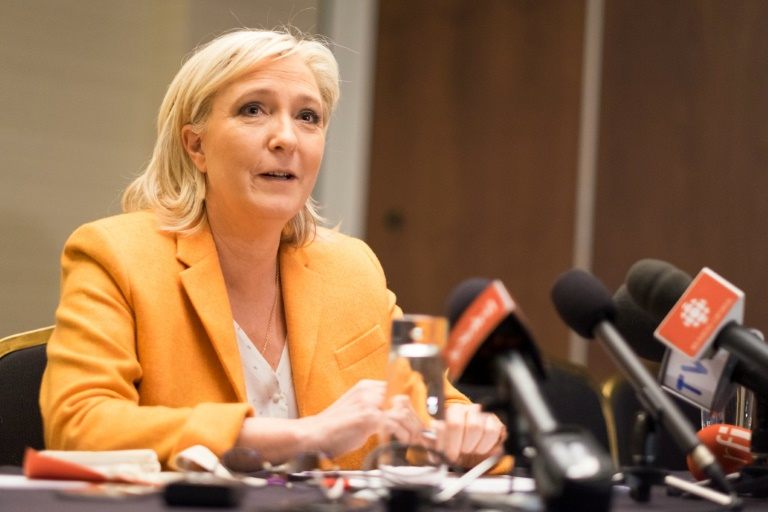 Update: 1130 BST
The Guardian reports:
A label on the side of the truck suggests it was hired from Via Location.

A spokeswoman for the company said she could not discuss the matter, citing an instruction from the interior ministry.
Update: 1108 BST
French Prime Minister Manuel Valls says France must learn to live with terror:
France must learn to "live with terrorism", French PM Manuel Valls says after #NiceAttack https://t.co/UVBb4u9oF3 pic.twitter.com/gVRUmzQEts

— BBC Breaking News (@BBCBreaking) July 15, 2016
Update: 1106 BST
Prime Minister Theresa May condemns the attack:
#Breaking PM Theresa May says Britain must redouble its efforts to defeat "brutal" terrorist "murderers" after "horrifying" #NiceAttack

— Press Association (@PA) July 15, 2016
She has called an emergency COBRA meeting.
Update: 1100 BST
France's ambassador to the UK spoke on the steps of the French embassy in London.
"All our thoughts are with the victims and the families of the victims," she said.
She also thanks the British government and UK politicians for their words of support, pointing out that Boris Johnson, the new Foreign Secretary, was at the embassy yesterday for Bastille Day.
"France is a strong country, it is resilient country, it is united country. We are determined to fight against terrorism. And we will be strong than terrorists."
Update: 1041 BST
Former Prime Minister David Cameron condemns the attack:
A sickening and dreadful attack in Nice. I know we stand with the French people and share their values. They shall never defeat us.

— David Cameron (@David_Cameron) July 15, 2016
Update: 1039 BST
The UK's department for local government is also flying its flag at half mast:
Today DCLG's flag is at half-mast in support of Nice #NiceAttack pic.twitter.com/vE0A50FoQx

— Ministry of Housing, Communities and Local Govt (@mhclg) July 15, 2016
Update: 1027 BST
The attacker has been named as Mohamed Lahouaiej Bouhlel. He was 31 years old and born in Tunisia. He was known to police as a career criminal, but not known to intelligence services. He reportedly carried grenades in his truck, suggesting he was planning a even more elaborate attack:
INFO @Nice_Matin. Mohamed Lahouaiej Bouhlel a été identifié comme le chauffeur du camion https://t.co/m0GJEUosT9 #AttentatNice

— Nice-Matin (@Nice_Matin) July 15, 2016
Update: 1019 BST
London Mayor Sadiq Khan pledges a safety review of the UK capital in the wake of the attack in Nice:
Sadiq Khan: London safety review following Nice attack https://t.co/5hxMyCg6HF #NiceAttack pic.twitter.com/kexwTmMSuu

— ITV News (@itvnews) July 15, 2016
Update: 1015 BST
Reports state that one British citizen is among the dead in Nice. Details of other nationalities to follow:
#NiceAttack: 1 British citizen is among the dead, @BBC reports. More updates: https://t.co/aH2Be4aJX5 pic.twitter.com/T7AJlDo6W8

— DW News (@dwnews) July 15, 2016
Update: 1010 BST
A half-mast Tricolour flies above No.10 Downing Street today, the official London residence of the British Prime Minister Theresa May.
Update: 0950 BST
France has declared three days of national mourning in the wake of the Nice attacks from Saturday, and the national state of emergency which has been in force since the Bataclan attacks has been extended until at least October, Prime Minister Manuel Valls announced. He said France should not be "destabilised" by the attacks.
Update: 0935 BST
Some of France's front pages today:
Update: 0915 BST
Breitbart London reported Tuesday on the remarks of the head of the French security service Director General Patrick Calvar who said if there was another Islamist Terror attack against his country he foresaw a "civil war" coming. Predicting what he called "far-right" groups would begin reprisals against Muslims in France for the attacks, he said: " You will have a confrontation between the far right and the Muslim world – not the Islamists, but the Muslim world".
A police source said the Director General feared another big terror attack particularly because it would prove to the French people that their government lacked the resources or ability to stop terrorism, leading to a rise of vigilantism.
Intelligence Chief: Another Terrorist Attack Could Spark Civil War https://t.co/u6rKCSaV1x pic.twitter.com/8ciQFndrFt

— Breitbart London (@BreitbartLondon) July 12, 2016
Update: 0850 BST 
French news agency AFP has released an infographic of the many terror attacks that have struck France over 2015 and 2016:
#NEWSGRAPHIC Major attacks in Paris 2015 and 2016 @AFP pic.twitter.com/p2MLtBXOfZ

— AFPgraphics (@AFPgraphics) July 15, 2016
Update 2:21AM EDT (07:21 BST)
#BREAKING: Nice truck attack death toll rises to 84: interior ministry

— AFP news agency (@AFP) July 15, 2016
Update 1:22AM EDT
"Again the French plunged into horror. Thoughts for the victims. The fight against Islamic fundamentalism must start MLP #Nice"
A nouveau la France plongée dans l'horreur. Pensées pour les victimes. La lutte contre le fondamentalisme islamiste doit démarrer MLP #Nice

— Marine Le Pen (@MLP_officiel) July 15, 2016
https://twitter.com/pnehlen/status/753735861397782528
Update 11:22PM EDT
Nice truck 'attack': 'I saw bodies flying like bowling pins' https://t.co/EVcUCIlHPk pic.twitter.com/Gr2Coe8Bfa

— The Local Europe (@TheLocalEurope) July 15, 2016
AQAP called for jihadists to run over infidels. Inspire magazine in 2010. See screen shot. pic.twitter.com/Lqq1JzNFjD

— Pete Hoekstra (@petehoekstra) July 14, 2016
Update 11:00PM EDT
HELP. MY UNCLE ADAL WAS IN #NIZA, WE CAN'T CAN'T FIND HIM 😭😭😭 pic.twitter.com/RprhsqCA8g

— Marlboro Rojo (@ElEPTWAN) July 15, 2016
My brother Juan was killed in the attack. #Niza #PrayForNiza pic.twitter.com/8CUIrLAmeL

— 🇲🇽 (@SanitarioD) July 15, 2016
Pro-#ISIS image shows #ISIS commander, Shishani –reported killed yesterday: "Blood of our leaders is light & fire" pic.twitter.com/xfl131VrBg

— Rita Katz (@Rita_Katz) July 15, 2016
11.14 #French #IS video "What are you Waiting For?" French Foreign Fighters called for killing w/ cars pic.twitter.com/tdUxhPBiWp

— TRACterrorism.org (@TRACterrorism) July 14, 2016
#IS affiliated Telegram posting unofficial CGI propaganda on #Nice pic.twitter.com/0sgLCwlbUe

— TRACterrorism.org (@TRACterrorism) July 14, 2016
Update 10:48PM EDT
#IS affiliated Telegram accounts posting images of #Nice #France

— TRACterrorism.org (@TRACterrorism) July 14, 2016
An #ISIS Twitter account is linking #NIce's Truck attack to the death of Omar Shishani pic.twitter.com/vXfGZwJajs

— Mohanad Hage Ali (@MohanadHageAli) July 14, 2016
#nice people running from gunfire pic.twitter.com/Di0gAnVzKd

— ✞ (@DrewOlley88) July 14, 2016
BREAKING: Panic in #Nice, France after #truck drives into crowd at promenade https://t.co/g4CNC7nYUu pic.twitter.com/uu0Jthjlfh

— RT (@RT_com) July 14, 2016
Pro #IslamicState Social Media Accounts Celebrating #Nice Attack. pic.twitter.com/lMr4ZktzmR

— Terrormonitor.org (@Terror_Monitor) July 15, 2016
Update: 10:27 EDT
#BREAKING: Nice attack death toll rises to 80: French interior minister

— AFP news agency (@AFP) July 15, 2016
Update: 10:17PM EDT
From Sputnik News:
The driver of the truck that killed at least 80 people in Nice on Thursday evening was a 31-year-old resident born in Tunisia, according to French newspaper Nice Matin.
Update 10:07PM EDT
BREAKING: French president Hollande says 77 people killed in Nice, including children, 20 gravely wounded.

— The Associated Press (@AP) July 15, 2016
On Fox News, Trump repeats statement that Clinton "created ISIS with her crazy policies"

— Holly Bailey (@hollybdc) July 14, 2016
Update 10:02PM EDT
Vocativ reports that ISIS supporters celebrate Nice attack:
ISIS is celebrating the apparent terrorist attack in Nice, France, on Thursday as retaliation for the death of Abu Omar al-Shishani—the terror group's so-called "minister of war"—who was killed earlier this year by coalition forces while fighting in Iraq.
Update 9:57PM EDT
#BREAKING: Identity papers of French-Tunisian found in Nice truck: police source

— AFP news agency (@AFP) July 15, 2016
https://twitter.com/CNBCnow/status/753769151332622336
Update 9:15PM EDT
We need wise and honest leadership in these uncertain times. This is a fight for Western civilization. I join everyone in prayers for #Nice

— Dave Brat VA 7th (@DaveBratVA7th) July 15, 2016
Update 9:08PM EDT
A fire nearby the Eiffel Tower earlier reported not to be related to terror attack.
Paris police: Smoke seen at the Eiffel Tower caused by a truck fire; not terror-related https://t.co/ueDGN53gg6

— BNO News (@BNONews) July 14, 2016
Update 8:53 PM EDT
#BREAKING: Truck in Nice attack loaded with 'heavy weapons': official

— AFP news agency (@AFP) July 15, 2016
#Nice Attack: truck driver got out of his vehicule and started shooting at crowd #BastilleDay https://t.co/zfHo1OFP2X

— FRANCE 24 English (@France24_en) July 14, 2016
Update 8:40PM EDT
CBS now reporting 77 dead in Bastille Day terror attack in Nice, France.
UPDATE: At least 77 dead in #BastilleDay terror attack, Nice mayor says in tweet https://t.co/Jy98ugBBBM pic.twitter.com/yrcOYqvAuN

— CBS News (@CBSNews) July 15, 2016
Update 8:24PM EDT
Death toll reaches 75.
.@BretBaier: "French authorities said the death toll now is at 75." #NiceFrance pic.twitter.com/h2lXcRcfpn

— Fox News (@FoxNews) July 15, 2016
Scene: AFP reporter describes screams and flying debris as he watched truck plough into crowd at full speed in #Nice https://t.co/Rrn97LCB9N

— AFP news agency (@AFP) July 14, 2016
Update 8:17PM EDT
AP confirms terror truck was loaded with arms and grenades.
Nice official says truck loaded with arms and grenades slammed into revelers; driver killed by police: https://t.co/BtposFOAJu

— The Associated Press (@AP) July 14, 2016
Update 8:02PM EDT
THE WHITE HOUSE
Office of the Press Secretary
FOR IMMEDIATE RELEASE
July 14, 2016
Statement by the President on the Attack in Nice, France
On behalf of the American people, I condemn in the strongest terms what appears to be a horrific terrorist attack in Nice, France, which killed and wounded dozens of innocent civilians. Our thoughts and prayers are with the families and other loved ones of those killed, and we wish a full recovery for the many wounded. I have directed my team to be in touch with French officials, and we have offered any assistance that they may need to investigate this attack and bring those responsible to justice. We stand in solidarity and partnership with France, our oldest ally, as they respond to and recover from this attack.
On this Bastille Day, we are reminded of the extraordinary resilience and democratic values that have made France an inspiration to the entire world, and we know that the character of the French Republic will endure long after this devastating and tragic loss of life.
Update 7:55PM EDT
UPDATE: French anti-terror police now in charge of Nice attack investigation, officials say https://t.co/ktc1edjeix pic.twitter.com/Fpy7RLUUx4

— CBS News (@CBSNews) July 14, 2016
ISIS has claimed responsibility for Nice attack, according to unconfirmed reports https://t.co/OJgZ7ukcDk

— Daily Mail Online (@MailOnline) July 14, 2016
Update 7:36PM EDT
Reuters reports the driver of the vehicle was killed by police.
Police shot and killed the driver, who drove at high speed for over 100 meters (yards) along the famed Promenade des Anglais seafront before hitting the mass of spectators, regional sub-prefect Sebastien Humbert told France Info radio.

Humbert described it as a clear criminal attack, although the driver was not yet identified. Residents of the Mediterranean city close to the Italian border were advised to stay indoors. There was no sign of any other attack.
Update 7:22PM EDT
Donald Trump postpones announcement of VP running mate due to France terror attack.
In light of the horrible attack in Nice, France, I have postponed tomorrow's news conference concerning my Vice Presidential announcement.

— Donald J. Trump (@realDonaldTrump) July 14, 2016
Update: 7:11PM EDT: Journalist Damien German has posted his account of being on the ground in Nice during the attack on the forum Medium in French. He recounts in part:
In the distance a noise. Shouts. My first thought: a delinquent wanted to fire his own little fireworks and has not mastered how to do it… But no. A split second later, a huge white truck was traveling at breakneck speed over people…

This truck of death passed a few meters from me and I did not realize it. I saw bodies flying like bowling pins in its path. Heard noises, screams that I will never forget. I was paralyzed. I did not move. I followed this hearse with me eyes. Around me, there was panic. People were running, screaming, crying. Then I realized. And I ran with them…

Blood. Groans. Sunbathers [on the beach near the promenade] were first at the scene. They brought water to the wounded and towels they filed where there was no hope. At this time, I lacked courage. I wanted to help, to be of service… in short to do something. But I did not succeed.
Update: 7:02PM EDT: Le Monde reports that the Interior Ministry cannot confirm rumors that grenades or explosives were found in the truck, which are circulating in French social media.
Update: 6:56PM EDT: According to the outlet Le Figaro, the current death toll stands at 73:
EN DIRECT – #Nice06 73 décès confirmés selon une source policière >> https://t.co/53NQMwpd2d pic.twitter.com/RtvTyW532o

— Le Figaro (@Le_Figaro) July 14, 2016
Update: 6:52PM EDT: A Facebook user uploaded a video that shows the moment the truck began driving through the crowd:
Update: 6:46PM EDT: Video of assailants shooting at police has now surfaced on Twitter (Warning: Graphic):
Nice France
nice06

Shooting !pic.twitter.com/GUXslNIXiF

— Rāfāʾēl (@70219) July 14, 2016
Update: 6:41PM EDT: French Interior Ministry spokesperson denies that an ongoing hostage situation is occurring.
MORE: No hostage situation at the moment in Nice attack – French interior ministry spokesman

— Reuters Top News (@Reuters) July 14, 2016
Update: 6:35PM EDT: France's iTele is now reporting that a man hiding in a restaurant nearby, believed to be involved in the attack, has been killed.
#Nice > Un homme retranché dans un restaurant du centre de Nice a été neutralisé (@iTELE)
>https://t.co/elDvxecHfy https://t.co/bameMSVB8r

— iTELE (@itele) July 14, 2016
Update: 6:35PM EDT: Witnesses are now confirming that they saw police shoot the driver dead after he ran out of the truck. The Daily Mail is reporting that there were multiple gunmen, and that some eyewitnesses say that hostages were dragged into various locations near the celebrations. The newspaper is citing the Meridien Hotel, the Hotel Negresco and the Buffalo Grill restaurant as hostage locales, though officials have not confirmed this.
Update: 6:22PM EDT: Nice's prosecutor's office has raised the death toll to 60, according to reports.
Update: 6:17PM EDT: France24 is reporting that the driver of the truck is dead, though it has not been specified whether he was killed by police or killed himself in the attack. Eyewitnesses say the driver ran out of the truck after plowing through the crowd and began shooting. ""Everyone was calling run, run, run there's an attack run, run, run. We heard some shots. We thought they were fireworks because it's the 14th of July," an eyewitness told France's BFM TV, according to a BBC translation.
A reporter on the ground says at least one shooter is still on the loose:
"Nice attack: at least 40 dead, a suspect shot and shooter on the run. Ongoing hostage taking, according to police" https://t.co/HRAvI5RMTu

— Nick Short (@PoliticalShort) July 14, 2016
The Telegraph adds that several eyewitnesses have confirmed that they also heard gunshots coming from the truck, confirming the nature of the incident. Various Twitter users have contributed photos of the truck allegedly involved in the incident. In an emergency press conference, Nice Mayor Philippe Pradal has confirmed that "tens" are dead, though he could not provide a more specific number at the moment.
Este es el camión que ha embestido a la multitud en Niza tras ser neutralizado.
(Via Nice Matin) pic.twitter.com/oaEOkPwvbh

— EL MUNDO (@elmundoes) July 14, 2016
Le camion qui a foncé sur la foule pic.twitter.com/h4QuBabJMx

— Nice-Matin (@Nice_Matin) July 14, 2016
Nice's Promenade des Anglais, where the attack took place, is known for its prominent Bastille Day celebrations
Photos are also beginning to surface of the aftermath of the incident. Bodies can be seen mangled and strewn across the street Warning: Graphic Images Below:
Update: Dozens killed after truck drove into crowd in #Nice during #BastilleDay celebration: Mayor of Nice pic.twitter.com/xtf1g0IJQs

— People's Daily,China (@PDChina) July 14, 2016
Les images de la Promenade des Anglais après les #AttaquesNice pic.twitter.com/d4kDjs72OB

— Nice-Matin (@Nice_Matin) July 14, 2016
Eyewitness tells me truck driver "mowed bodies over, accelerated as he hit them" #Nice #BastilleDay pic.twitter.com/gyavhEy5Ak

— Jim Sciutto (@jimsciutto) July 14, 2016
Terror in #Nice on #Bastille day. "There are people in blood, probably full of wounded," https://t.co/x8rtGNXO5f pic.twitter.com/DGNRE4xkEH

— Pamela Geller (@PamelaGeller) July 14, 2016
Extremely GRAPHIC VIDEO
#Nice pic.twitter.com/3D8IDlayxx

— News This Second (@NewsThisSecond) July 14, 2016
Picture from Nice, France, moments ago (a witness there sent me) – a truck driver appears to have run over people: pic.twitter.com/kNExFeiDdF

— Saeed Kamali Dehghan (@SaeedKD) July 14, 2016