Donald Trump has almost closed a national 12-point deficit with Hillary Clinton in the last seven days, leaving Clinton just one point ahead, at 46 percent to 45 percent, according to a new poll of 1,160 likely voters by ABC News and the Washington Post.
Libertarian Gary Johnson and Green Party candidate Jill Stein have 4 percent and 2 percent support, sharply down from polls in early October.
The poll was conducted from Oct. 25 to Oct. 28, in English and Spanish, before renewed attention to the FBI investigation of Clinton's email networks.
The FBI news may not switch voters from Clinton to Trump, but could amp up Trump's support among his supporters, said a press statement from pollster Gary Langer:
About a third of likely voters say they're less likely to support Clinton given FBI Director James Comey's disclosure Friday that the bureau is investigating more emails related to its probe of Clinton's use of a private email server while secretary of state. Given other considerations, 63 percent say it makes no difference.

Those who say the issue makes them less apt to back Clinton overwhelmingly back Trump in the first place. But what's key in a close contest is whether the disclosure give Trump supporters further motivation to turn out for him – and whether it demotivates reluctant Clinton backers…

In earlier ABC News tracking poll results, a broad 60 percent of likely voters disapproved of how Clinton has handled the email issue, including three in 10 of her own supporters – and 93 percent of Trump's. Nearly all of them disapproved strongly, and that was before Comey revived the issue Friday.

Today, a small number of Clinton's supporters, 7 percent, say the matter makes them less likely to support her. About one in seven in some of her key support groups, such as Democrats (13 percent) and liberals (15 percent), say so, rising much higher among groups already predisposed not to vote for her, including 47 percent among conservatives and 52 percent among Republicans and evangelical white Protestants alike.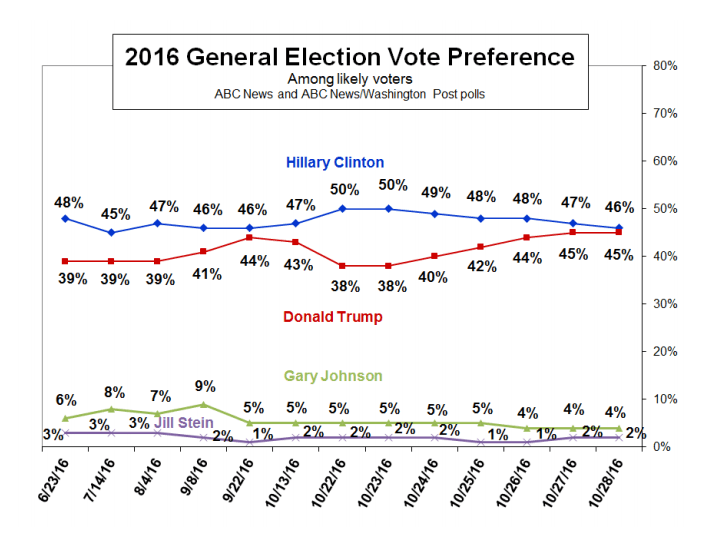 See full results here.