A freelancer for the Associated Press has drawn the ire of the GOP in New Hampshire after working her way into a "closed press" fundraiser last week and then falsely reporting on the event–all after it turns out that the so-called "reporter" is actually a hardcore leftwing activist.
Following the fundraiser, the Associated Press published a short story without a byline that was "grossly inaccurate," NHGOP adviser Patrick Hynes told local television outlet WMUR-9.
"President Donald Trump's counselor Kellyanne Conway has told supporters in New Hampshire they should 'just ignore' his critics and the incessant chatter about the scandals dogging him," the "reporter," later learned to be Melanie Plenda, wrote for the AP.
The report also said about 150 attended, and attendees were "largely friendly" to Conway, but "some people in attendance withheld applause when Conway let loose with snarky comments about Democrat Hillary Clinton."
"The Associated Press in New Hampshire appears to be engaged in leftwing activism rather than journalism," Hynes told Breitbart News. "And Melanie Plenda is a leftwing activist not a journalist."
"They conspired to sneak this leftwing activist into an event for which they were not credentialed and deliberately misreported on the attendance and the enthusiasm with which Kellyanne Conway was greeted," Hynes said.
"Republicans across the country should be aware that the AP cannot be trusted to be fair and balanced," Hynes said.
Breitbart News has obtained a screenshot of Plenda's Facebook page from Nov. 10, 2016–just days after Donald Trump won the presidential election–that shows her making an explicit call to action against the then-incoming Trump administration.
"No more crying from me," the woman who the AP thought could be a reporter wrote. "Now is the time for action. We need to remember this feeling, the pain in our hearts, the fire in our bellies, because we need it to fight. Not with guns and fists but with protests, with our thoughtful words and reasoned arguments, with factchecking and canvassing for midterm candidates and our votes for the same, for defending and supporting those targeted by our president elect. We need to support the ACLU, we need to run for office, we need to oppose legislation that seeks to hurt and further marginalize, we need to join advocacy groups, we need to not be silent. There are a lot of us–roughly more than half the country to be exact–who said Trump's vision of the future is not what we want our country to be. We are not powerless. We do not need to roll over or go back to sleep. We don't need to be obstructionist just for the sake, but we do need to peacefully fight for what is right. In that way we will preserve our system of checks and balances and take the teeth out of whatever Trump has planned for the country. Alright. Off I go."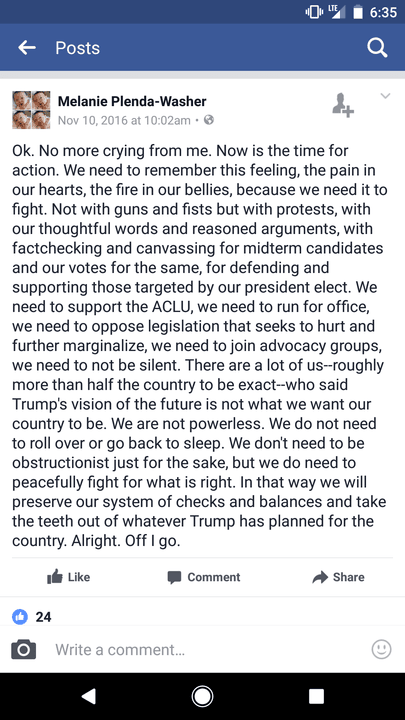 Off she went, to work as a freelance "reporter" for the Associated Press–a once venerable news wire service that now apparently hires leftist activists like Plenda to do their bidding on its platform. Basically everything Plenda wrote in that Facebook post is blatant progressive activism, from recruiting and canvassing specific candidates for office to using media fact-checking processes for their political gain to opposing legislation to backing various advocacy groups to calling for support for those "targeted by" Trump to publicly backing the ACLU and more.
Hynes also said a photo of the crowd posted on Facebook by party activist Michael Biundo shows that more than 400 people attended the event.
"Members of the media were not allowed to attend due to a 'mutually agreed upon' decision by The White House and the party," New Hampshire Republican Chairwoman Jeanie Forrester told WMUR-9.
The AP issued a two-sentence statement on the controversy:
"A freelancer covering the NHGOP fundraiser for AP was outside the event when she was invited in by a woman who appeared to be a part of the event," Lauren Easton, director of media relations for The AP, said in an email to WMUR-9. "AP stands by its reporting."
Plenda's LinkedIn account shows that she works for mostly liberal news outlets, including National Public Radio, The Daily Beast, Salon.com, and Politico.