Jen Paquette, executive director of the Green Beret Foundation (GBF), understands being passionate about one's cause. In her life, military service is considered the "family business" that's been practiced by generations on her side and that of her husband, Roland Paquette III, a Green Beret Special Forces Medic who lost both legs while serving in Operation Enduring Freedom.
She even understands National Football League (NFL) players' passionate belief that some African-Americans are treated unfairly in American society.
But she does not understand why NFL players have to express those feelings during the sacrosanct moment when the national anthem is played and Americans stand and place their hand over their heart to honor the country, its freedom, and the men and women who have served and even died to protect that freedom.
"It's not that [the protest] is happening, it's when they do it — everybody knows that, and they know that," Paquette told Breitbart News. "They disrespect the legacy of the men and women who have given their lives."
In fact, Paquette sees a bittersweet irony in the players taking a knee during the national anthem.
"Kneeling is not that difficult," Paquette said. "But dying — or being left behind when someone is killed — that is hard," Paquette said.
"Why not protest at another time?" Paquette said.
Paquette also weighed in on race and the U.S. military, which she said is extremely diverse.
"There is no color in the military when bullets are flying," Paquette said.
"The motto of the Green Berets is De Oppreso Liber, which means to free the oppressed," Paquette said. "This isn't just a motto, it's a way of life that takes our soldiers to every corner of the globe into dangerous situations to fight for those that are having a difficult time fighting for themselves."
"We don't export our values to foreign lands, we provide the local inhabitants the right to choose their own destiny rather than being forced through aggression and violence towards the inhabitants," Paquette said, noting that Green Berets are deployed to more than 100 countries around the world.
"To protest a flag and anthem that represents the very men who are willing to fight side by side with the underdog anywhere in the world is counterintuitive," Paquette said.
Paquette has served as executive director of the Green Beret Foundation since 2011, and she is also the founder of GBF's sorority, the Steel Mags.
But, according to her bio, those aren't her most important jobs.
Jen's number one and most important position is being the wife of SSG(R) Roland Paquette III who was an 18D (Special Forces Medic) and now an Emergency Room Physician Assistant and owner and operator of Med Training Group LLC. Roland was traumatically wounded by an IED blast while serving in Operation Enduring Freedom giving both legs above the knees.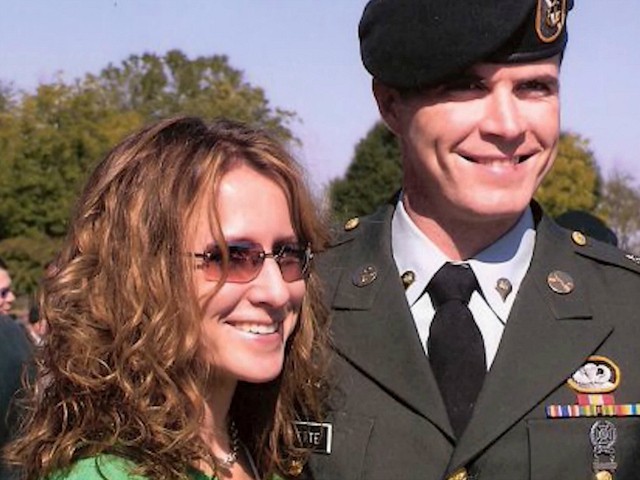 Jen and Roland Paquette
The
mission
of the GBF is to "answer the call of the Green Berets and their families so that they can succeed in their next mission."
Meanwhile, NFL Commissioner Roger Goodell said on Wednesday that "there has been no policy change" regarding players standing for the national anthem before games, according to the NFL Network.
Speaking with NFL Network's Nate Burleson in New York, Goodell addressed a claim made Wednesday morning by President Trump on Twitter that the NFL is "demanding" players stand for the anthem.
"What we've had is unprecedented dialogue over the last year with our players, our owners, with community leaders and law enforcement," Roger Goodell said. "What we plan to do is have a very in-depth discussion with the players and owners next week to make sure we truly understand the issues and also understand the approach we want to take together with the players to address these issues in our communities."