Ben Kew, President and founder of the Bristol Journalism Society that hosted Breitbart's very own technology editor Milo Yiannopoulos to speak, reports on how his much-publicised presence at the university is yet another victory for free speech over the 'campus crazies' that sought to censor it.
Last summer, whilst trawling through YouTube, I came across an incredibly attractive, charming and articulate homosexual verbally crucifying the likes of Tinchy Stryder, Will Young and Natasha Devon on multiple TV networks on issues from feminism to piracy.
I felt compelled to invite him to speak. I thought it would be fantastic to bring someone to campus so young and energetic to challenge the progressive university establishment, and so that's exactly what I did. I sent him an email that night and sure enough, he was back to me by the next morning.
"Yes – let's do it," he said. I asked him what he'd like to give a talk on. "Why feminism sucks of course?"
It was stupid of me to ask.
After the event, entitled "The Challenges of Gender Politics," was published on Facebook, it took Hannah Dualeh, a Bristol SU BME officer, just 14 minutes to kick-start the campaign of vitriol against our choice of speaker.
She shared her concerns with the feminist community, and they immediately responded with furious messages to our Facebook and Twitter feed and multiple reports to the university authorities. As a result, our Facebook page interaction went up by 4000%. I was so grateful.
Sadly for the 'no platform' brigade, as the event gained traction on social media, they started running into difficulty. A Bristol Post poll revealed that a conclusive 84% of people supported Milo's imminent visit, and as Milo's fan base drew in people from around the world, their arguments began to be ritually humiliated on the event page. So much so that we were asked to delete them.
It was, however, the most aggressive keyboard warrior of them all, Francesca Collins, the "University of Bristol Feminist Society Social Media Officer," who put the final nail in the coffin. In an online radio interview with NOTA, Collins bombed out of the discussion as the pressure cranked up.
"We didn't want him banned from an event, we just didn't want to give him a platform to speak." – Francesca Collins
https://www.youtube.com/watch?v=4OKTKaSh0pY
Whilst being grilled by the host on the implications of a 'Safe Space' policy for students, she put the phone down as she claimed to receive a text from the President of the University society telling her to stick to her original statement in terms of publicity. As the video racked up 150,000 views on YouTube, it was another bitter blow to the feminists campaign.
However, we were forced to make concessions. The talk was changed to a 'debate format,' where Milo was pitted against Telegraph columnist and feminist Rebecca Reid, after the two had a spat on Twitter as she offered to give those who boycotted the event an internship. This was coupled with strict conditions imposed by the Student Union that they inevitably hoped we would trip up on.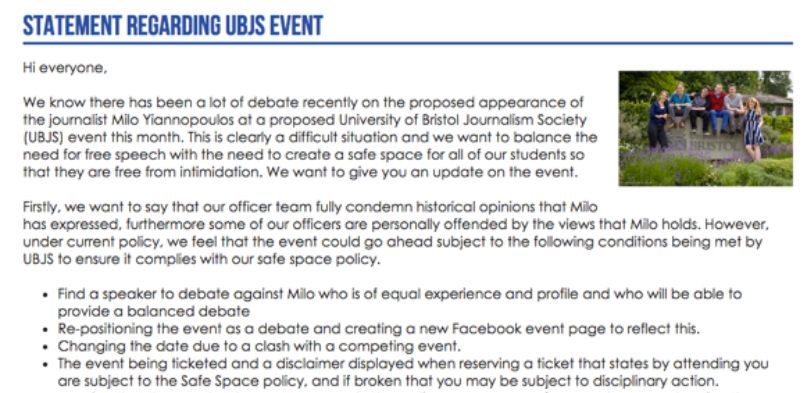 However, the event went ahead, and as I introduced the debate I reminded the audience of how the fact it was even happening was a "victory for free speech" and how debating society's most controversial issues was "essential to the student experience." Milo as usual owned the show, consistently calling Reid out on various facts and inconsistencies, as well as managing to manoeuvre around the Student Union 'Safe Space Policy' to ensure that we would not face disciplinary action.
Freedom of speech and open debate is being suppressed at universities all across the UK, and the likes of veteran feminist campaigner Germaine Greer, UKIP MP Douglas Carswell and even a man who fought against ISIS have all been told their insights are not welcome in order to "protect student safety."
But as a crowd of people surrounded Milo after the debate, (which was an enormous success and enjoyed by all,) shaking hands and taking photos, one got that feeling that the power to apply Stalinist style censorship by authoritarian and power hungry students is finally starting to crumble.
The debate between Milo Yiannopoulos and Rebecca Reid took place on the 27th November at Bristol University. You can watch the video of it here: