In the past week, there has been much discussion about the allegation that Facebook is censoring its "trending" news stories based on political ideology. However, advocates for curbing immigration into the United States say that this is just the tip of the iceberg.
The advocates claim that Facebook suppresses users who promote material which could undermine Facebook's lobbying efforts for expanding the admission of foreign labor. They say that Facebook has ceased to be an impartial communications facilitator, but is now a "political combatant."
The allegations raise difficult questions about the new media landscape, where multinational, multi-billion dollar corporations simultaneously exert extraordinary control over people's access to information and perception of world events, while at the same time lobbying for controversial changes to federal law that would expand their profits at the expense of the very people who use their service.
"Facebook is intentionally suppressing our traffic and hiding our stories in people's newsfeeds," said Patty McMurray, co-founder of the group 100% Fed Up. "[The censorship] has everything to do with immigration," McMurray said. "When we started covering immigration and began promoting reports from the Refugee Resettlement Watch, all of a sudden our [Facebook] engagement dropped even though our followers were growing by the day. We couldn't figure out why our page was crashing and burning."
"Facebook's usual mode of operation is to sandbag the communications of immigration reduction groups in a way that we can't [immediately] detect," said William Gheen, founder of the Americans for Legal Immigration PAC (ALIPAC) grassroots organization. "You can't defend yourself against censorship if you're not even aware of its taking place," he said.
In August, Facebook banned four reports demonstrating the impact mass migration has had on American jobs and wages. The reports, which were based on federal data, were authored by the nonpartisan Center for Immigration Studies (CIS). "[It's] disturbing that Facebook, owned by immigration-expansionist Mark Zuckerberg, has banned four reports published by the Center for Immigration Studies pertaining to jobs and immigration," CIS wrote at the time.
When reporters investigated the censorship, Facebook officials claimed the ban was "an error" and promised to lift it. But the nonpartisan research group remained skeptical about those claims. "Facebook has still not responded directly to the Center for Immigration Studies as to why four of our job studies were marked 'abusive' and blocked. They did, however, advise media outlets there was an error in their system," Marguerite Telford, a spokesperson for CIS, told Breitbart.
"It is interesting that of the many reports published by the Center, only the reports relating to immigration's impact on the U.S. job market were blocked by Facebook," the CIS spokesman said. "The government data showed that American workers are clearly impacted by high levels of immigration– information imperative to the immigration policy debate."
"Every time I threaten to take legal action [against Facebook's censorship], I get the same response: 'Glitch. Mistake. Sorry.'" said anti-amnesty filmmaker Dennis Michael Lynch. "It is total censorship, and there is no question it is an effort by those at Facebook who want to muffle the sounds of people like myself," Lynch said. "It's a total cover up."
While there is no evidence that the alleged censorship campaign is directed by the company's executives, the suppressed advocates of immigration enforcement believe that Facebook—which has repeatedly pushed for increased immigration—has fostered a company culture in which this campaign to silence speech that undermines its lobbying efforts has been able to flourish.
Facebook's billionaire founder Mark Zuckerberg is fronting a Silicon Valley lobbying coalition called FWD.us, which is pushing Congress to boost the current influx of lower-wage guest workers. His group's leadership includes many investors, plus CEOs from Microsoft, Google, and other tech companies, all of whom could stand to profit from an influx of cheaper foreign labor.
However, the push for expanded immigration has been torpedoed by the American public, most notably in 2007 and 2014.
Patty McMurray says that since her group began covering immigration on its Facebook page, her group's engagement numbers dropped by around 93 percent — even as her group continued to gain more followers.
"We were seeing engagement levels of 27-32 million people," she said. "We had 150,000 Facebook followers who were very active [and] if we posted something on our page, within an hour it would have 10,000 shares," she said. "Now we have more followers than ever before — over 400,000 — but now we're lucky if we can get an engagement level of 2 million people."
"We routinely get complaints and messages from our followers asking us what happened and why they don't see our content in their newsfeed anymore," McMurray said.
—
Reports note that some of Facebook's censorship is enacted by the company's unseen array of content-monitoring employees.
Facebook officials say little about its extensive monitoring effort.
When
Breitbart News
reached out to Facebook, a representative from Facebook acknowledged
Breitbart's
request. However, after multiple efforts to obtain comment from the company regarding its content monitoring, Facebook did not answer any of 
Breitbart's
questions. In the past, Facebook has "declined to discuss specifics" about the monitoring when confronted by 
Wired Magazine
, the 
New York Times
 and 
The Telegraph
.
But previous investigative reports have addressed the company's network of content monitors.
In 2012, Gawker reported that Facebook used a third party contractor with a "team of about 50 people from all over the third world—Mexico, Turkey, India and the Philippines— [who] work to moderate Facebook content."
The use of foreign monitors spilled out into the open when one of those monitors, a Moroccan worker who was paid $1 an hour, publicly accused Facebook of "exploiting the third world."
These outsourced monitors "allow large tech companies to save money," said Howard University's Ron Hira. "These are jobs Americans definitely would do, but can't do if they have to compete with a global labor pool that is able to work for $1 an hour," Hira said. Americans "can't afford to be paid that low of a wage… these outsourcing companies create a race to the bottom for American workers."
William Gheen says he believes these foreign monitors have a shared interest with Facebook's billionaire founder in suppressing U.S. advocacy against Zuckerberg's push for greater immigration.
Yet more broadly, the activists say that Facebook suppresses their groups in multiple ways: such as unsubscribing followers, hiding the groups' content from their followers' newsfeeds, deleting posts, and suspending the advocates' ability to post on their own Facebook pages.
For example, in the course of a single day anti-amnesty filmmaker Dennis Michael Lynch saw Facebook's monitors forcibly unsubscribe 4,000 Facebook users who had liked and followed the advocate's Facebook page.
The "Likes" were allegedly removed because they represented followers who had died or were no longer active, Lynch told Breitbart. However, Lynch says that could not be true because the deleted followers included "many of my personal friends, who actively seek out my content on a daily basis."
When Lynch threatened legal action following the deletion of his 4,000 followers, Facebook — in what Lynch described as an admission of guilt — returned the followers to his page.

Lynch said that one sales rep told him, "I have never seen any business account treated like yours. I have never seen 'Likes' be taken away and after a complaint they go back. I can't believe how many times they've done this to you."
Facebook also sometimes blocks the advocates from using the social network's advertising channels. For instance, Facebook allegedly denied Lynch's request for an ad to promote a post that illustrated how mass immigration has created pockets of radicalized communities, such as in Dearborn, Michigan.
McMurray says she was suspended from posting on her Facebook group's page for a whole month because another Facebook user published a post on her group's page. The outside post was critical of unassimilated Muslim migrants who push for the implementation of Sharia law in Western countries.
Locking advocates out of their accounts is another method Facebook employs to suppress speech, advocates claim. Since the Senate prepared to vote on its immigration expansion bill in "June of 2013, I have been locked out of my account at least half a dozen times," said activist James Neighbors, who founded the grassroots organization Overpasses For America.
"In fact, when I was trying to organize a rally against Obama's lawless 2014 executive amnesty, I was locked out of my account for three weeks prior to the protest," he said. "I have no doubt it was intentional– every time I try to hold a big event, I get locked out of my accounts," Neighbors said.
Advocates say Facebook sabotages their use of normal Facebook features.
Gheen, McMurray and Lynch all advertise with Facebook and have been given U.S.-based sales reps that are supposed to help them with any problems.
McMurray's sales rep told her that her Facebook page was strangely lacking "a core feature" that allowed her group's content from appearing in her followers' news feeds. This admission was captured in an email obtained by Breitbart. McMurray's sales rep told her that, "being as [your Facebook] page does not have the feature and it is a core feature to the page" it will require "some technical assistance on this issue… this could be a very extensive issue."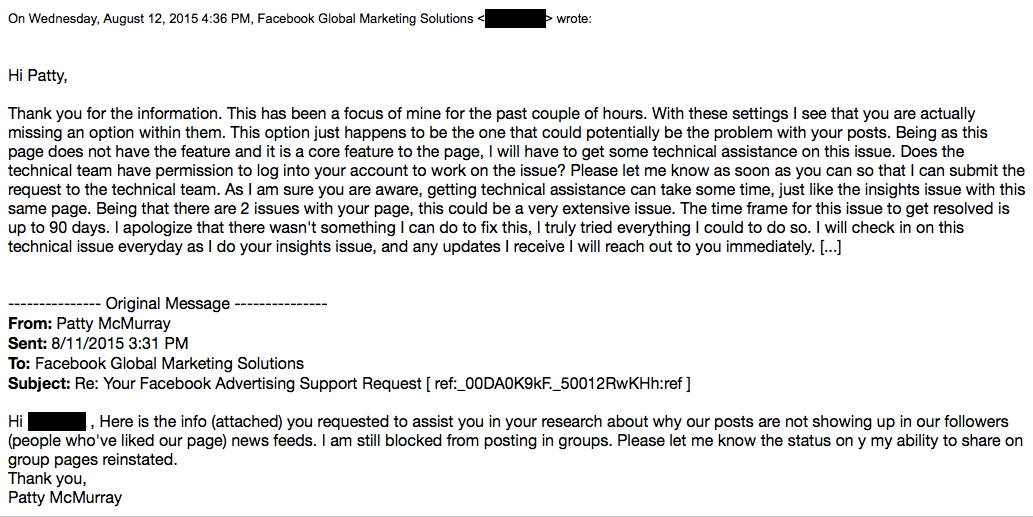 Yet when McMurray followed up, Facebook's help-desk told her it was not necessary that the feature be fixed, and refused to restore this core function to her group's Facebook page.
The advocates have also been hit by a deluge of hateful messages and threats of violence by Facebook users who oppose their political views. However, when the advocates report this behavior, Facebook dismisses their concerns.
"Last July when we were trying to organize a rally to protest unlawful amnesty, our event page came under fierce attack from trolls using overtly fake names, which according to Facebook's own terms and services is not allowed," Gheen told Breitbart.
"The trolls attacked anyone trying to join the event," he said. "Threats of violence, gross defamation, accusations of bestiality, and other pornographic assaults were hurled onto our Facebook followers… [the trolls] even tracked down information about the attendees and posted their home addresses on the web," he said.
"We reported these attacks over and over again to Facebook monitors, explaining that they had multiple violations for Facebook term's and services [but] Facebook responded by asserting that these trolls did not violate terms and services," he said. "Facebook monitors let them continue the attack. We were defenseless. Many of our followers who wanted to attend [our event], wound up not doing so because of these attacks."
Advocating against Facebook's desired increases in cheap labor "has brought its fair share of death threats [from Facebook users] and has put a target on my back," Neighbors said.
"I always report them to Facebook, but the monitors never do anything," he said.
"Someone literally threatened to shoot me in a Facebook post, and when I reported it to the Facebook, the monitors said that the post didn't violate their terms and services," Neighbors said.
Facebook users "have threatened to shoot me, to cut off my head, etc.– name a way that you can kill someone, and it's probably been communicated to me [via Facebook]. Some of them I have turned into the FBI and the threats have been investigated by the Fed, but never by Facebook," said Neighbors.
"An organization such as Facebook, which has become a major international avenue for facilitating communications among a huge and growing number of individuals, acts at its peril if and when it takes on the job of policing what attitudes and opinions are uttered over its communications facilities," said Harvey Silverglate, civil liberties litigator and co-founder of the Foundation for Individual Rights in Education (FIRE).
"There is a blurry but vital distinction between policing abuses of one's communications network, and censorship of unpopular (in the eyes of the censor, at least) ideas," Silverglate told Breitbart.
"At some point," Silverglate declared, "every private company like Facebook has to make a decision as to whether it is in the communications business, or is instead a warrior in the ideological conflicts raging in our nation and the world."
"Facebook engages in a type of sandbagging against immigration reductionists where they manipulate their audience," Gheen said. "The public doesn't know it's being manipulated [and] it is very clear that Facebook understands its power and is using its power to influence political and social movements."
"Facebook is a political combatant," Gheen added.
In 2015, Zuckerberg threw his support behind an immigration bill known as the Immigration Innovation Act, which would have allowed for a virtually unlimited expansion of Muslim migration. Rutgers University Professor Hal Salzman has also explained that the Zuckerberg-backed bill would flood the labor market with enough foreign workers that employers could fill at least 100 percent of their entry-level tech hires with foreign workers instead of American workers.
In the past, Zuckerberg's lobbying firm has sought to influence conservative voters who oppose Zuckerberg's immigration agenda. For instance, in 2013 an affiliate of Zuckerberg's decidedly pro-amnesty lobbying group ran an ad defending Paul Ryan and claiming that Ryan opposes "amnesty." Politico reported that "the spot from the FWD.us affiliate begins with a picture of Ryan and says, 'Amnesty? Not a chance,' and goes on to say the House budget chairman is looking at a 'conservative solution' to the issue of immigration." Zuckerberg's pro-amnesty group spent $350,000 on the ad-buy to convince conservative voters that Ryan does not support amnesty. Ryan, who supports giving citizenship to illegal immigrants, has a two-decade long history of pushing for open borders immigration policies.
The number of immigrants in the U.S. is currently at a record high of 42.4 million. Nearly 1 in 7 U.S. residents was born in a foreign country. In seven years time, the foreign born share of the U.S. population will reach an all-time high. Silicon Valley has celebrated the prospect of this new American century brought to bear by decades of record-high green card issuances. In fact, Google has launched a program called Code2040— whose name, USA Today writes, "refers to the year the population of minorities in the U.S. is expected to overtake whites."
If Silicon Valley's lobbying efforts—which have been aided by prominent Republicans like Marco Rubio and Paul Ryan—prove successful, immigration will continue climbing year after year, establishing new records never before witnessed in American history.