Breitbart Texas traveled to the Mexican States of Tamaulipas and Coahuila to recruit citizen journalists willing to risk their lives and expose the cartels silencing their communities.  The writers would face certain death at the hands of the various cartels that operate in those areas including the Gulf Cartel and Los Zetas if a pseudonym were not used. Breitbart Texas' Cartel Chronicles are published in both English and in their original Spanish. This article was written by Ciudad Victoria's MA Navarro.
TAMPICO, Tamaulipas — Two of Mexico's cruelest criminal organizations ended up making a statement about not tolerating unsanctioned crime in their territories.
While the Gulf Cartel and Los Zetas have been fierce rivals for years, last week the two criminal organizations ended up placing narco-banners along with tortured criminals in separate cases. In the border city of Nuevo Laredo Los Zetas left the remains of five men while in this port city the Gulf Cartel left two naked and humiliated men tied up with the banner.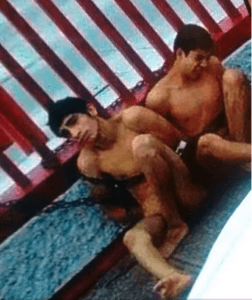 The banners come after common criminal activity across the border state of Tamaulipas has skyrocketed as drug cartels look for other ways to make money. The messages appear to be an effort to distance themselves from unsanctioned criminal activity even though the same criminal organizations have been responsible for a number of kidnappings, extortions, robberies and other violent acts.
In Nuevo Laredo, Los Zetas who are famous for their brutality dumped the bodies of five men near the Lauro Luis Longoria Bull Ring by the intersection of Monterrey Cruz Avenue and Taxco Street. The bodies of the five men had been bound and blindfolded and each had been shot in the head.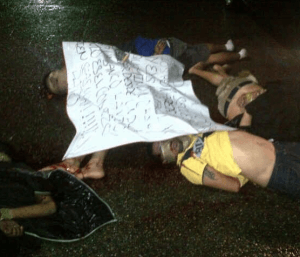 Next to the bodies, Los Zetas left a banner that stated.
"This goes to all the THIEVES, KIDNAPPERS, and THIEVES, do not make light of things because down this road there is no coming back, ROBBING from a piece of Candy to a Bank bring PROBLEMS, this is only the BEGINNING, whoever you are NO MERCY!!!"
In Tampico, the Gulf Cartel appears to have been more merciful than Los Zetas since they did not kill the two suspected criminals but simply tortured them and humiliated them.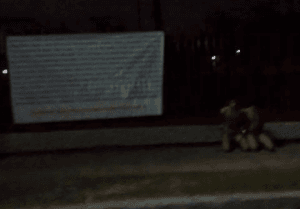 The banner claims that the two young men come from a wealthy family and while they are behind a rash of crimes, their status saved them from a gruesome death. The two men were left naked and shackled next to a door with a banner exposing them as petty criminals.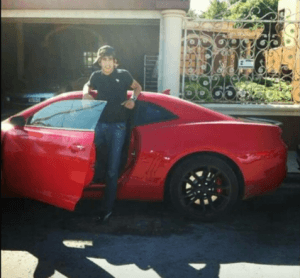 The full text of the banner appears below.
"Attention to all citizens here we leave 2 of the ones responsible for all of the robberies in homes, convenience stores, pharmacies, gas stations, express kidnappings and the self kidnappings of their own friends and school mates that have taken place in Tampico, Madero and Altamira. All of those self-kidnapping victims, your sons are acquaintances of these criminals Carlos ISrael Kemper and Ivan Salvador Kemper here we leave them so their parents relatives and all of society can see the type of people that are going to the best universities in Tampico here is the list of the other accomplices behind all of the robberies and all of the politicians sons, teachers doctors and attorneys and other prestigious families from Ciudad Madero, Tampico and Altamira they are:

Eduardo Ceballos, Manuel Anaya, Rodrigo Ruiz Hernandez, Aaron Velazquez Flores, Luis Alan Berman, Daniel Arnaval Juarez, Neto Gomez, Miguel Lopez, Maximiliano Marquez, Edwin Nava, Luis Cardenas, Julio Vicencio , Erick Medina.

They are the criminals responsible for all of the robberies in this city I invite you parents to meet your sons and their friends. This time they have been forgiven since they are students and part of this large and respectable community of Tampico, Madero and Altamira to all of the parents of these young men pay attention to your sons because this Plaza must be respected and there is no room for thieves, robbers, kidnappers and extortionists. Educate your sons because there will not be any second chances.

ATTE Gulf Cartel Tampico Plaza Rojos Group CDG