Breitbart Texas traveled to the Mexican States of Tamaulipas and Coahuila to recruit citizen journalists willing to risk their lives and expose the cartels silencing their communities.  The writers would face certain death at the hands of the various cartels that operate in those areas including the Gulf Cartel and Los Zetas if a pseudonym were not used. Breitbart Texas' Cartel Chronicles are published in both English and in their original Spanish. This article was written by Coahuila's "JM Martinez"
PIEDRAS NEGRAS, Coahuila — Mexican police officers killed a Los Zetas cartel gunman during a short clash in a rural area near this border city. While authorities found multiple Los Zetas gunmen, only one faced off against authorities while the rest fled into brush.
The fatal shootout took place recently in a rural road near the Centinela community when Coahuila's State Investigative Police were following up on information about gunmen being spotted in the area. When authorities arrived, they spotted various gunmen near a Ford Windstar and a Ford Mustang right outside of a residence.
When the police officers arrived, the gunmen fled into the brush area. One of the gunmen, later identified as Vicente Valente "La Burra" Vital, took position behind some large potted plants and began to shoot at police.
The state police officers had taken back-up with them in the form of an anti-kidnapping tactical team. One of the elite officers fired at the gunman's head  killing him instantly. Investigators with the state attorney general's office arrived to the scene and began to document the evidence.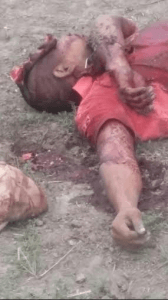 Authorities noted that less than 6 feet from where the Los Zetas gunmen had fallen, they found an AK-47 rifle commonly called "cuerno de chivo" or goat's horn as well as a .45 caliber handgun.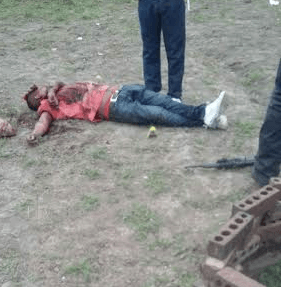 Authorities are working to see if Vital and his fellow gunmen took part in a double execution that took place earlier this month.
As previously reported by Breitbart Texas, authorities found the bodies of Gustavo Contreras Hurtado and Fernando Gonzalez Diaz earlier this month.
Investigators are also looking to identify the Zeta members that have been behind four beheadings that took place in recent days. Also previously reported by Breitbart Texas, four separate victims have been kidnapped by Los Zetas who then beheaded their victims and spread the bodies around town. Sources close to the investigation believe that the recent rash of executions is tied to the recent release of 9 police officers who had been convicted of working for Los Zetas but were mysteriously released by state judges.