Charitable Humans, self-described on LinkedIn as a 501(c)(3) nonprofit organization "dedicated to changing the world for the betterment of all living beings on planet Earth" has deleted its social media accounts after stating it would not help "any red state."
"[L]et them clean up their own mess," they tweeted.
Tweets from the now-removed Twitter account condemn the red state of Texas by saying, "Any state that elects a Republican needs to be incinerated, there have to be severe consequences."
Breitbart Texas made a call to Charitable Humans at its contact number. The gentlemen who answered denied knowing about the tweets and added, "Breitbart is the biggest misinformation machine on the planet."
A tweet from the 501(c)(3) Twitter account also stated, "It's not wise to be generous to sociopaths that will never return it in-kind. Red states screwed themselves."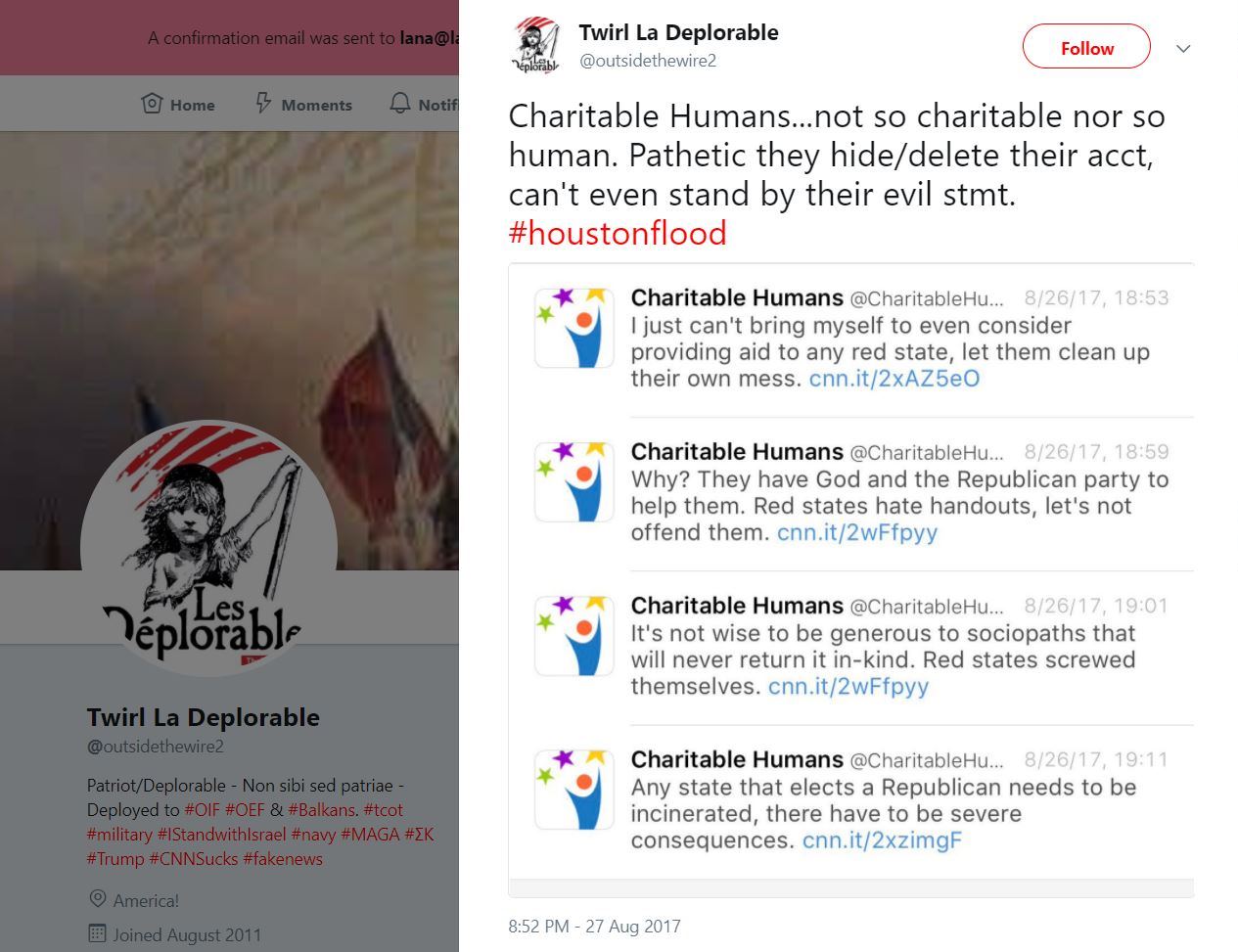 @CharitableHumans later asked – apparently in a response to a tweet to the organization – "Why? They have God and the Republican party to help them. Red states hate handouts, let's not offend them."
The Charitable Humans website states it "is an organization that depends upon the kindness of humans and cutting-edge technology to implement innovative solutions to the world's most dire problems." The fundraising thermometer graph on its home page shows its goal is to raise $2,500,000 but also represents that $0.00 has been raised to date.
Here is a screenshot of their LinkedIn page: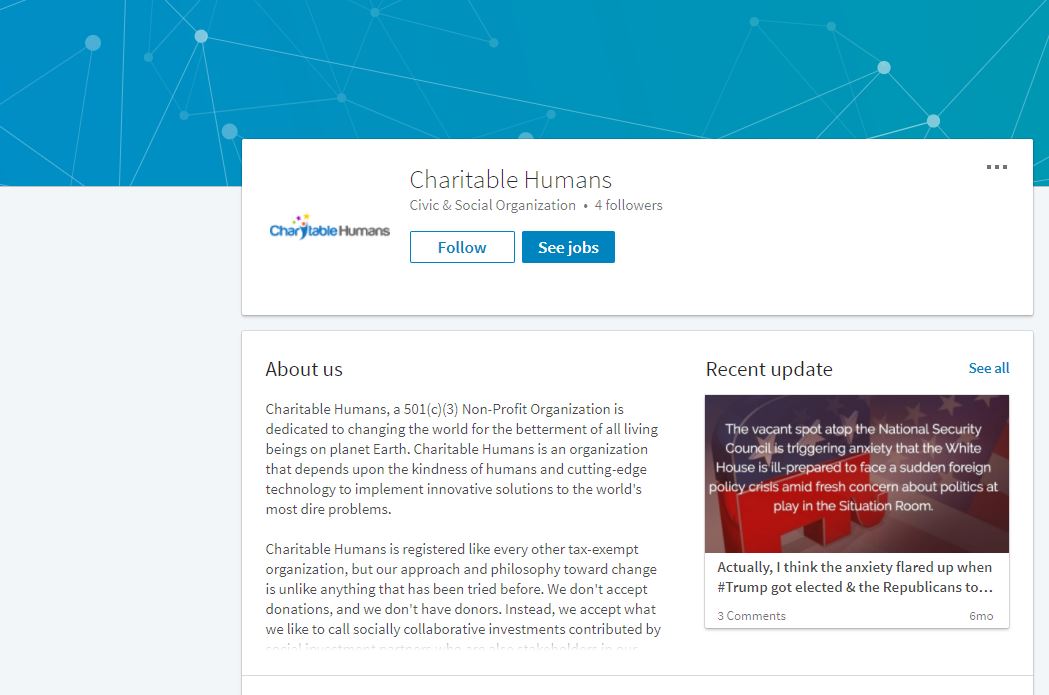 Every navigation link on the website for Charitable Humans also points to the same apology page about the social media flap–an apology that does not mention Texas.
A search for a Charitable Humans Facebook page revealed that "this content isn't available right now." The Twitter page for the organization is also down.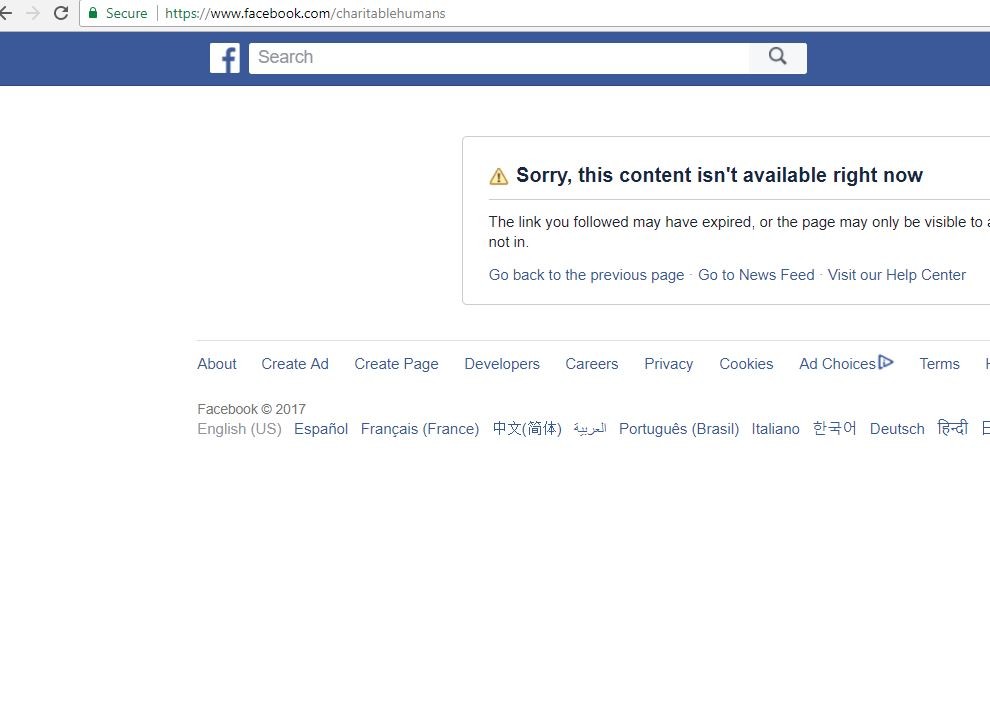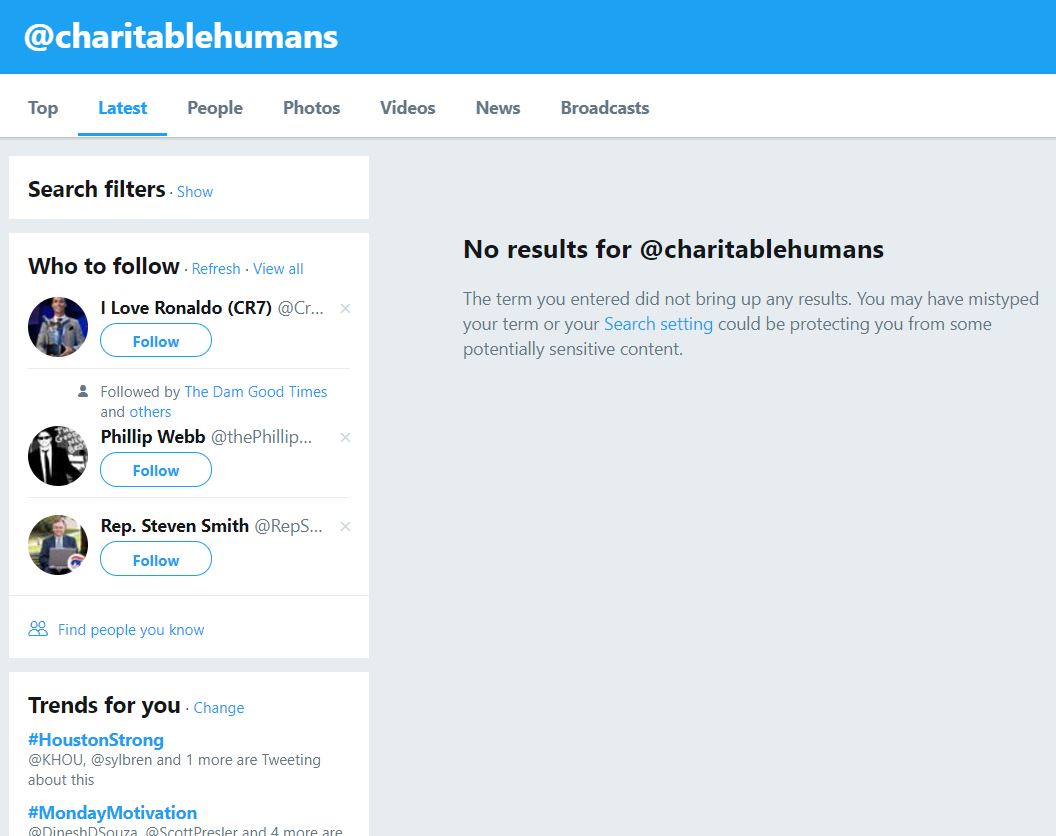 Hurricane Harvey has brought out the good in people and there have been many who have rushed to aid Texans, including agencies from outside of the state. As reported by Breitbart Texas, this rescue volunteer from Texas City, Texas, brought his boat and was prepared to launch it on a Houston freeway. The man told reporters who saw him, "I'm gonna go try to save some lives."
Follow complete coverage of Hurricane Harvey and Houston Floods on Breitbart Texas.
Lana Shadwick is a writer and legal analyst for Breitbart Texas. She has served as a prosecutor and associate judge in Texas. Follow her on GAB @lanashadwick and on Twitter @LanaShadwick2.