MATAMOROS, Tamaulipas — Fierce gun battles between the Mexican military and Gulf Cartel spread panic among local residents in this border city.
While Mexican authorities have not released any official information, unofficial accounts point to several gunmen being killed as well as the apparent capture of a mid-level cartel leader simply known as "Ciclon 53." Law enforcement sources confirmed to Breitbart Texas that a Mexican soldier was injured during the clash.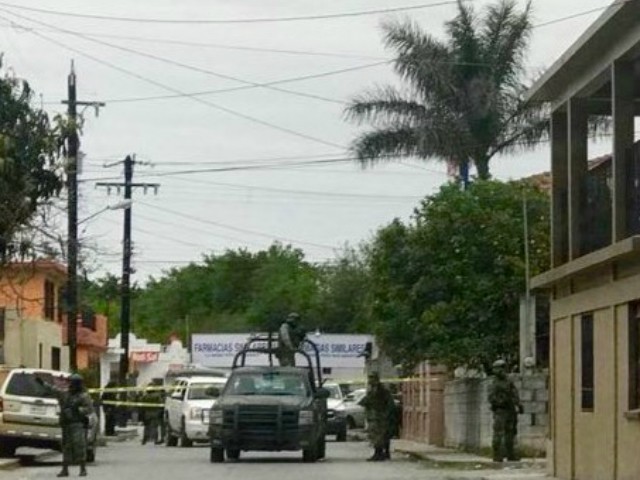 Matamoros is one of the main strongholds of the Gulf Cartel; the local enforcement wings are known as Los Ciclones and Escorpiones. The shootouts began on the city's west side in the Las Rusias neighborhood along the highway that connects to Reynosa.
The shootout turned into a rolling gun battle as cartel gunmen in various vehicles tried to flee, spreading the violence to other areas such as Obrera and Puerto Rico neighborhoods. The Mexican Navy deployed a helicopter to provide air support for the troops on the ground.
In recent months, members of the Gulf Cartel in Matamoros have been fighting with their counterparts in Reynosa for territorial control. Last month, Mexican authorities arrested the leader of the Matamoros faction of the Gulf Cartel during an intelligence operation. Mexican Marines targeted Jose Alfredo "El Contador" Cardenas and immediately took him out to the local airport to move him to Mexico City where he would face federal trafficking charges. As Breitbart Texas reported, the arrest was short-lived; three days after the initial operation, a judge ordered his release. The judge claimed that the arrest was illegal in nature because the Mexican military had various inconsistencies in the files presented in court.  
Editor's Note: Breitbart Texas traveled to the Mexican States of Tamaulipas, Coahuila, and Nuevo León to recruit citizen journalists willing to risk their lives and expose the cartels silencing their communities.  The writers would face certain death at the hands of the various cartels that operate in those areas including the Gulf Cartel and Los Zetas if a pseudonym were not used. Breitbart Texas' Cartel Chronicles are published in both English and in their original Spanish. This article was written by "J.A. Espinoza" from Tamaulipas.