California's Twin Rivers Unified School District paid nearly $10,000 for "LGBTQ Presentations."
The district, located in McClellan, California, paid $9,591 for the presentations, according to a list of contracts. The list of contracts notes the money was paid to the Gay, Lesbian, Straight Education Network (GLSEN). 
The contract list gives the start date as February 8 with the end date just two days later on February 10th.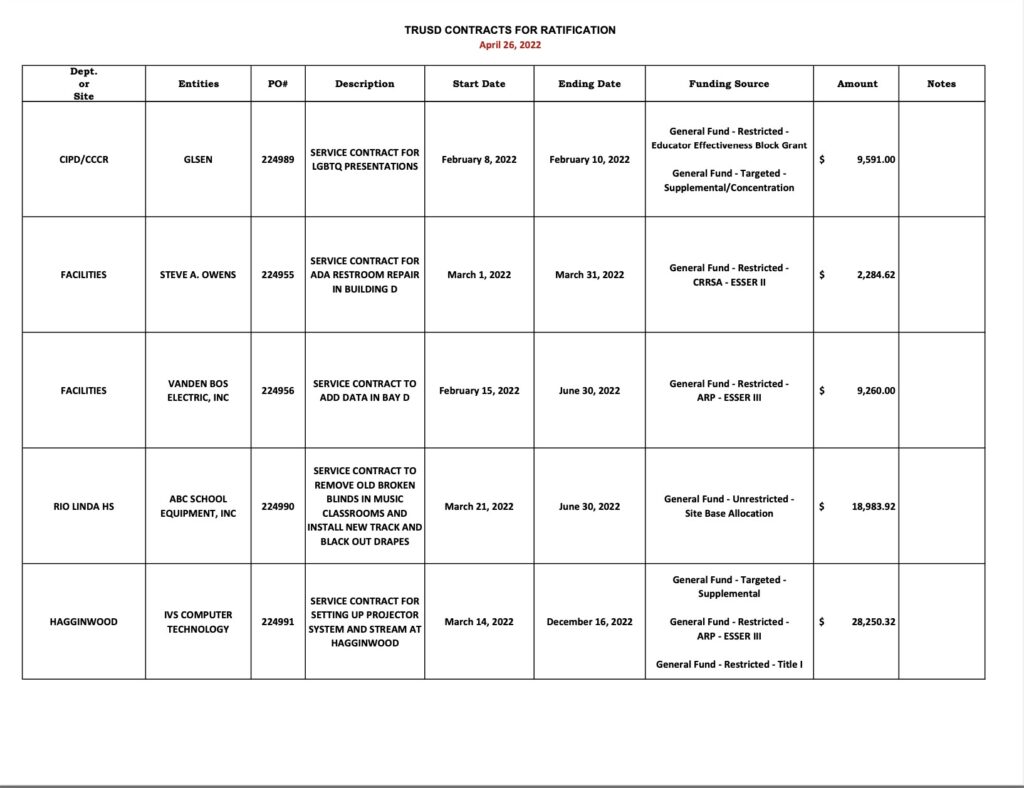 GLSEN is one of the primary drivers of gender ideology and queer theory in the education system. One of the organization's most notable projects is the "rainbow library," a program that sends pro-trans books to elementary and kindergarten classrooms. 
GLSEN has referred to the rainbow library as their "first step for getting in front of kids" and a "stepping stone for inclusive curriculum at the district or state level." Some of the books, such as "I am Jazz," endorse transgender identification among young children. Breitbart News revealed that the program has received financial support from General Motors.
How @GLSEN is using their 'Rainbow Library' program to covertly groom children and influence educational policy.

They provide K-12 educators books that put a 'major emphasis' on 'the voices of trans and non-binary people' and are a 'stepping stone' towards inclusive policy. pic.twitter.com/Bymx1uBiay

— Megan Brock (@MegEBrock) December 27, 2022
In addition, Breitbart News revealed in July that AmeriCorps, "the federal agency connecting individuals and organizations to tackle the nation's most pressing challenges,"  offered a stipend for a "22-23 GLSEN Student & Educator Outreach" position. The description of the role, archived here, explained that "The member will drive engagement with educators, school districts and gay-straight alliance/gender-sexuality alliance (GSA) clubs across the state," while also conducting trainings.
Meanwhile, ​​a report from Discover the Networks found that the organization engages in lobbying and political activism, and has offered "sexually explicit materials and information to young school children" at its conferences.
Several California school districts have pushed leftist gender theory on their students. San Francisco Unified School District, for example, teaches gender theory curriculum without parental consent. 
Los Angeles Unified School District promoted the "two-spirit" sexual identity and even hosted an LGBT club for four-year-olds. There were also other clubs for middle and high school students such as the "Middle School Trans & Gender Non Binary Group."
The district shared a video of a transgender activist on their Instagram account. The activist posts explicit pictures of himself online. Meanwhile, they also partnered with an organization that provides pro-trans books to elementary schools. 
In addition to promoting gender theory, districts in the state have also repeatedly advanced Critical Race Theory. San Rafael City Schools spent $30k for "racial equity training" with a consultant who mobilizes students as leftist activists for Critical Race Theory. The program, called "Student Leaders' Antiracist Movement (SLAM)" seeks to "not just … engage students in conversations about race, but to empower and mobilize them as catalysts for change through an anti-racist … youth movement."
Hayward Unified School District paid a group called "Woke Kindergarten" $57k to teach staff members how to "disrupt whiteness" and "white dominant/settler colonial narratives." 
The website of Riverside Unified School District previously promoted an essay called "Decentering Whiteness," which remarked that "attacking whiteness is not enough." The website featured an "Anti-Racist Reading List." District leadership also claimed that Critical Race Theory was not being taught despite hiring an education consulting group that uses the divisive theory.
Spencer Lindquist is a reporter for Breitbart News. Follow him on Twitter @SpencerLndqst and reach out at slindquist@breitbart.com.