Justin Bieber and a gaggle of friends entered one of the Biebs' favorite food joints on Monday night, hoping to catch a little grub, when they inadvertently crashed a meeting of the Los Angeles gay Republicans.
The Los Angeles chapter of the Log Cabin Republicans was reportedly hosting a mixer at the State Social House restaurant in West Hollywood, when Bieber and four friends entered and requested their usual spot, in a place called "The Attic."
The quintet was reportedly given a table inside the exclusive area, which had been cordoned off for the group's private event. Some of those in attendance took notice.
The group's Ben Coleman phoned Jillian Barberie and John Phillips' radio show on 790 KABC to discuss the event. He revealed that he initially didn't recognize Bieber, at first mistaking him for a girl.
"I was like, 'I don't see Justin Bieber, I see a bunch of pretty girls," Coleman said. He eventually spotted the singer and stated, "He looked like, kind of a butcher version of Miley Cyrus"
Coleman continued:
Like, literally he walked into our upstairs private lounge at State Social House and sat in the corner while Ronald Reagan's former personal assistant, Peggy Grande, finished her talk to us. Talk about epic.

"I tried to get a pic of the Biebs in front of the Log Cabin banner with Peggy and I, but the bodyguards said "no."

…they had guns. So that didn't happen. Otherwise it was a dream come true.
Biebs again made headlines Wednesday with an attempt to dispel a notion that his Calvin Klein photo session was photoshopped.
As previously reported, photos were released a week ago that allegedly show Bieber's CK photo shoot before the images were altered. Those images exhibit the singer may be less physically fit than viewers have been led to believe, and, well… less endowed.
He posted this to Instagram on Wednesday to set the record straight: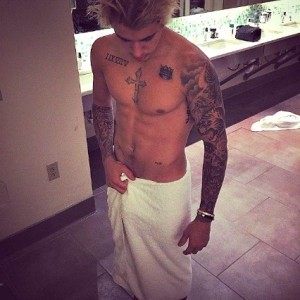 Instagram/Justin Bieber
***Update:
In related news, the gay porn website, men.com, has offered the singer $2 million to star alongside male performer "Johnny Rapid" in an X-rated scene.