Shanina Shaik thought she'd have a bit of fun by braiding her hair to attend the Coachella music festival this weekend, and shared a photo of her hairstyle on social media — but the model quickly came under fire as her followers and fans accused her of cultural appropriation.
"Looking right for the festival," the 26-year-old Australian model captioned the photo posted Thursday, just ahead of the annual Southern California music event headlined this year by Radiohead, Lady Gaga and Kendrick Lamar.
But fans quickly took the model to task for "appropriating" black culture with her hairstyle.
"NO. Those braids don't belong to your culture, stop," one user wrote.
"Tired of seeing this sh*t," wrote another.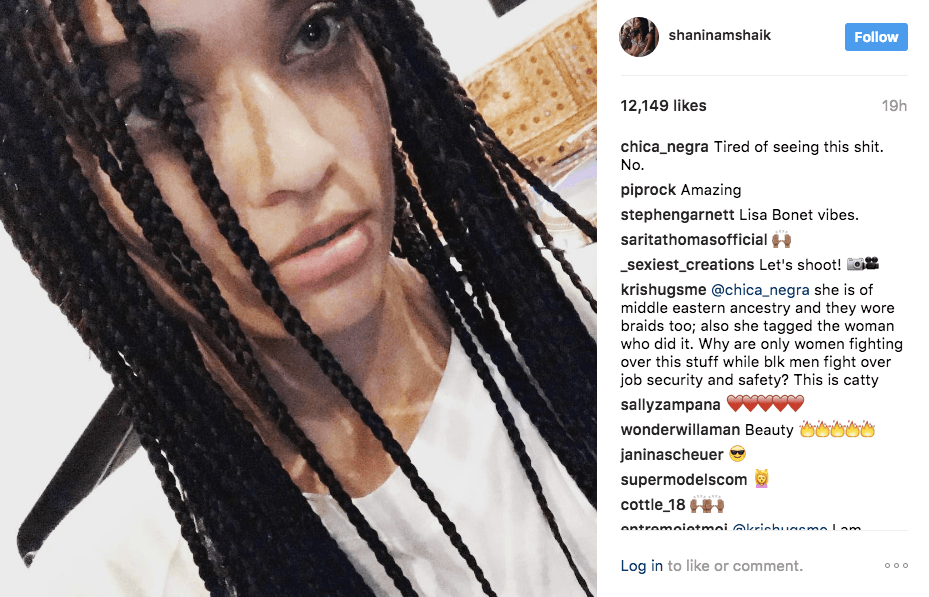 Yet another commenter wrote that those who couldn't see the problem with Shaik's hair were blinded by their "privilege."
"If your weren't privileged you would clearly understand why it's not okay. No that's not that's not my opinion that's the society's [sic]," wrote a user named yanizez.
The model posted a follow-up photo showing off her festival look on Friday afternoon, which appeared to show her hair still styled in braids.
Shaik is hardly the only celebrity to be accused of cultural appropriation, a term used primarily by social justice activists to refer to anyone who takes aspects of another's ethnic culture and uses it without knowledge.
Seemingly everyone from Justin Bieber to Justin Timberlake to J.K. Rowling has been accused of the practice.
In September, designer Marc Jacobs was accused of cultural appropriation after models Kendall Jenner and Gigi Hadid strode down the runway during his New York Fashion Week show wearing dreadlocks in their hair.
Jacobs initially fired back, calling out critics "who cry 'cultural appropriation' or whatever nonsense about any race or skin color wearing their hair in any particular style or manner."
"Funny how you don't criticize women of color for straightening their hair," Jacobs wrote in a since-deleted social media message. "I respect and am inspired by people and how they look. I don't see color or race — I see people."
After even more social media backlash, Jacobs apologized to all those offended.
In June, actress Vanessa Hudgens came under fire for wearing a dreamcatcher in her hair in a photograph posted to her Instagram account. Hudgens didn't apologize, and the image remains on her profile.
Follow Daniel Nussbaum on Twitter: @dznussbaum