The Bank of England has confirmed wages are being held down due to increasing levels of migration. The admission comes despite claims from politicians that the recent influx of foreign workers has benefited workers.
The bank's governor, Mark Carney, said the increase in foreign workers also threatened the economy as it meant those already in the country were not benefiting from recent growth. His comments came as figures showed one in 10 British workers are now foreign-born, up from just 3 per cent when Labour came to power in 1997.
Most of the recent influx came from the eight former Eastern Bloc countries that entered the European Union after the fall of the Soviet Union. They are some of the 500 million people now entitled to live, work and claim benefits in the UK.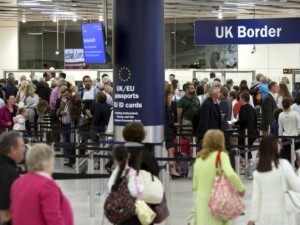 Gerwyn Davies, from the Chartered Institute of Personnel and Development, told the Daily Mail: "The increased supply of workers, especially older workers and EU migrants, means that employers are under little or no recruitment pressure to boost pay growth.
"Until this supply begins to diminish, employers will be under little pressure to increase starting salaries and, even then, we still have some way to go to see wages significantly exceed living costs.'
Alp Mehmet, of the campaign group MigrationWatch UK, said: "While some people have resisted the view that mass immigration exerts downward pressure on wages, the Bank of England report shows that such a view is neither extreme nor unjustified and that the impact of immigration is very likely affecting not just the lowest-paid. It is a key issue about which the government needs to be clear in its impending negotiations with the rest of the EU."
At the last election Nigel Farage warned that the minimum wage was becoming the "maximum wage" for many people as immigration was stopping increases in pay at the lower end of the econmic scale.