Comedian John Cleese has weighed into the FIFA scandal, tweeting that Sepp Blatter has 'given himself four months to destroy the evidence" after ex-FIFA executive Jack Warner named the Swiss in a television broadcast about the investigation for corruption.
The Fawlty Towers actor even said that former editor of The Sun, Rebekah Brooks, "can give him a hand" in a direct reference to the phone hacking scandal which Ms Brooks was arrested – and found not guilty – over.
Clever old Sepp ! He's given himself four months to destroy the evidence.Maybe Rebekah Brooks can give him a hand.3 million emails…not bad

— John Cleese (@JohnCleese) June 3, 2015
The FIFA President, who stepped down Tuesday after days of scandal following the arrest of 14 FIFA officials for corruption, saying he cherished FIFA "more than anything" will be questioned by Swiss investigators over the awarding of the 2018 and 2022 World Cup tournaments to Russia and Qatar respectively. But the new documentation Trinidad and Tobago politician Jack Warner claims to have looks to open Mr Blatter up to questioning over earlier tournaments including South Africa 2010.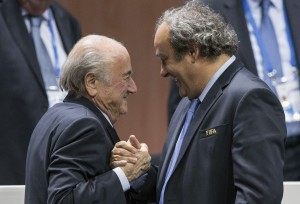 John Cleese clearly thinks Sepp Blatter is a very naughty boy
It comes as FIFA Fat Cat Chuck Blazer admitted to 'facilitating the acceptance of a bribe in conjunction with the selection of the host nation for the 1998 World Cup" before saying that he would be a mole in the camp to lead to corruption charges against top FIFA officials.
Mr. Blazer also told Judge Raymond J. Dearie that "I and others on the FIFA executive committee agreed to accept bribes in conjunction with the selection of South Africa as the host nation for the 2010 World Cup," and that he "and others agreed to accept bribes and kickbacks in conjunction with the broadcast and other rights" to several tournament and championships.
The redacted version of the plea hearing which was made public on Wednesday showed Mr Blazer had agreed to become a cooperating witness when faced with up to 20 years in prison for his part in the corruption.
Mr Blazer was not the only mole in the FIFA camp with Daryan and Daryll Warner, sons of Jack Warner, also pleading guilty to the corruption charges. The two men agreed to participate in undercover activities, hand over documents, regularly meet with prosecutors and testify when requested. In return, prosecutors would ask for usual sentencing guidelines to be left to one side, suggesting little or no prison in return for their assistance.
Their father has said he is in fear for his life and will reveal an "avalanche" of secrets including claiming he has proof of a link between the governing body and the 2010 national elections in Trinidad and Tobago, the Guardian reports.
Warner is the subject of an Interpol red notice and was held overnight in jail last Wednesday but later released on bail. He initially said he had done nothing wrong and was "afforded no due process" but in an astonishing television broadcast later claimed he had key documentation proving interference and corruption.
"I will no longer keep secrets for them," he said, alleging the documents  "also deal with my knowledge of transactions at Fifa, including – but not limited to – its president, Mr Sepp Blatter".
The revelations were the death blow to Mr Blatter, who had been re-elected President of football's governing body via unwavering support from African and Asian voters.
According to court papers, the Morocco bid committee offered someone identified as co-conspirator No. 1, whose biographical details match those of Jack Warner, $1 million for his vote for the 2010 World Cup when he and Mr. Blazer were visiting that country, before South Africa stepped in with a higher offer.
Mr Blatter has yet to respond to the allegations and Warner is yet to produce any documentation to support his allegations. But he has apologised for not admitting his knowledge of the links prior to the arrests and the international scandal.
"Not even death will stop the avalanche that is coming" he said. "The die is cast. There can be no turning back. Let the chips fall where they fall."