BUDAPEST, Hungary
—

Taking to the streets of the Hungarian capital of Budapest, it becomes clear that the vast majority of the populace overwhelmingly support of Prime Minister Viktor Orban's anti-mass migration policy.

Sunday October 2nd is referendum day for the Hungarian people as they could potentially be the catalyst to a major shake-up in the European Union's policy toward mass migration and the distribution of migrants across the political bloc.

The consensus has long been that a victory for Viktor Orban is inevitable, but walking the streets of Budapest and talking with the locals shows the scale of support for the maverick leader.
The referendum question asks the Hungarians: "Do you want the European Union to be able to mandate the obligatory resettlement of non-Hungarian citizens into Hungary even without the approval of the National Assembly?" the answer that Viktor Orban and his ruling Fidesz party want is a resounding "No," or in Hungarian "Nem."
Down the main street of Rákóczi Avenue there are many signs by bus stations and banners advertising for the "no" campaign.
While the street posts were lined with banners for the No campaign, there was very little presence at all of any opposition from a "Yes" campaign. The only other visible opposition to the campaign was in the form of a satirical party called the Two Tailed Dog Party who mounted a sticker campaign on some of the signs and threw up their own slogans mocking the referendum.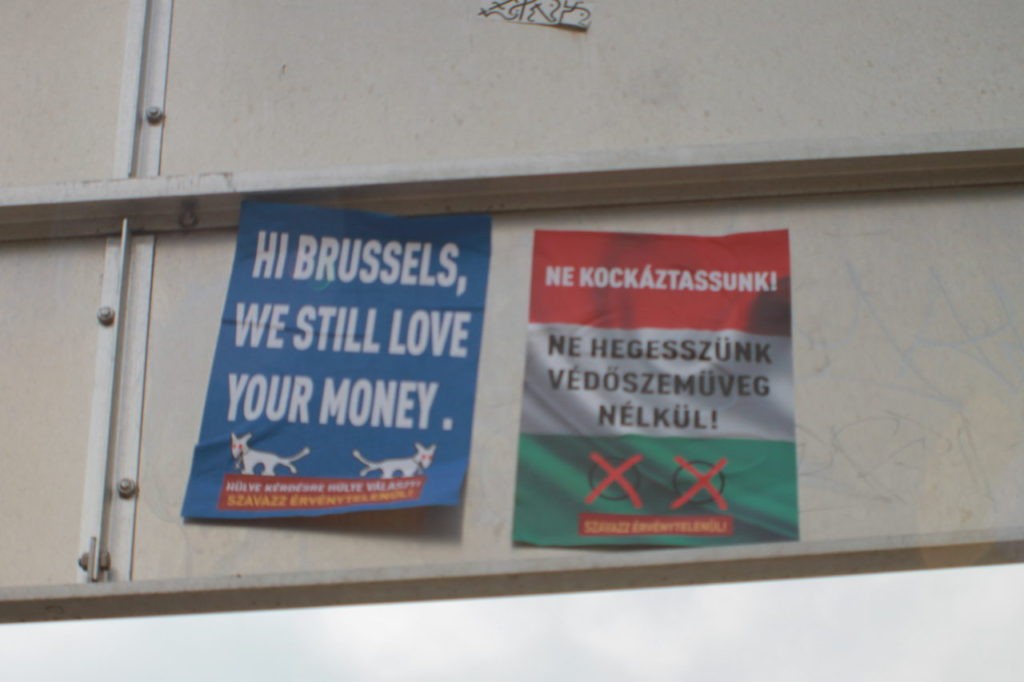 As the referendum takes place on a Sunday, with Hungary still being a traditionally Catholic nation, few Hungarians were out in the centre of the city. The majority of voices that could be heard were English, German or some other non-native language. There were, however, some Hungarians in the city, the workers of the multitude of hotels and bars that line the area.
When asked about the referendum these workers unanimously said that they supported Viktor Orban and that he was doing the right thing by preventing migrants coming into the country en masse. Some expressed doubts over whether or not Orban would be able to mobilize the required 50
Some expressed doubts over whether or not Orban would be able to mobilize the required 50 per cent of voters to validate the election. One cafe worker told Breitbart London that he had recently moved to the city from Romania and wished that he could help get to that 50 per cent by voting No but was unfortunately unable.
On the streets, right wing populist supporters placed their own stickers over the satirical Two Head Dog ones with the phrase "Refugees not Welcome." A  similar slogan "Rapefugees Not Welcome" got PEGIDA founder Lutz Bachmann into trouble earlier in the year after he posted a picture of himself wearing it on a t-shirt.
The referendum result is expected late on Sunday.