Many Christmas markets are closed in Germany today and police in the UK, France, Norway, Austria, Denmark, Italy, and other European nations are tightening security at festive events, with the terror threat at its highest level across much of the continent.
At least 12 people died and dozens more were injured after a truck smashed its way through a Christmas market in Berlin, Germany, last night in a suspected terror attack.
A similar attack in Nice, France, in July saw 86 killed. Since then, security experts warned that Christmas markets were easy, soft targets with added symbolic value for jihadists.
Just weeks before the Berlin attack the U.S. government warned its citizens in Europe it had "credible information" Islamic State and al-Qaeda were planning to attack Christmas celebrations on the continent.
"We are increasing patrols in places where large crowds gather, including the Christmas market in Spikersuppa," Oslo police operations manager Cathrine Sylju told broadcaster NRK this morning.
Similarly, Copenhagen Police said: "We have further increased our presence at Christmas markets and on Strøget after Berlin. We are closely following the situation," in a tweet today.
In Italy, security in Rome, Milan, and Florence has already been stepped up. The Interior Minister Marco Minniti said he was working with police chiefs to coordinate a response to the attack and the country's anti-terrorism commission (CASA) met to evaluate the country's threat level.
In the UK, patrols were increased at a market in Manchester and concrete barriers have been erected around the market in Birmingham to stop trucks or cars entering. A total of 200 undercover SAS elite soldiers are also due to be deployed to crowded town centres, the Daily Express reports.
A total of eleven UK forces are deploying armed officers, and London police are currently "reviewing" their approach. "The Metropolitan Police has detailed plans for protecting public events over the Christmas and New Year period," London police told Reuters in a statement Tuesday morning.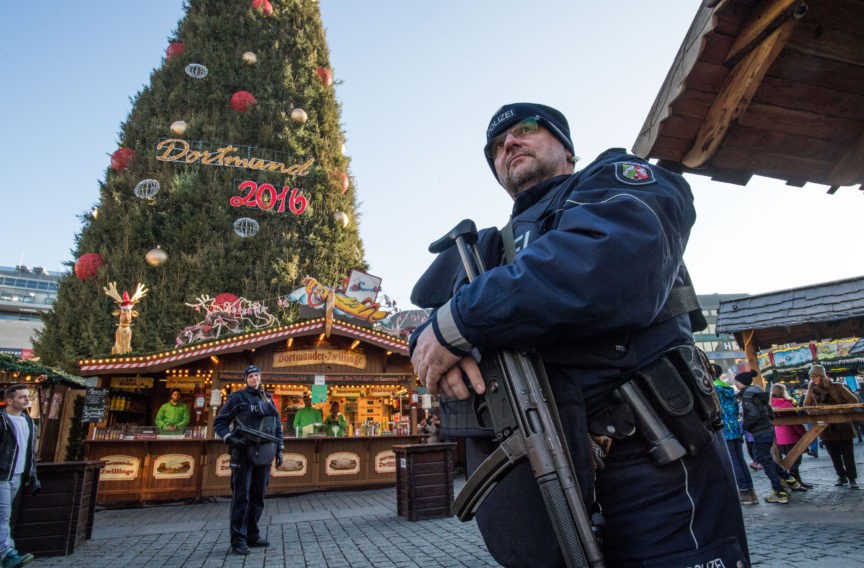 In Germany, of course, police are already acting to keep citizens safe. At a press conference in Berlin today, Andreas Geisel, Berlin's interior senator, said Christmas markets across the country would be closed today and New Year's Eve events would be affected.
"We will increase the police presence in Berlin. I have asked the operators of the 15 or so Christmas markets to not open today, but we have no legal means to force them. They will open again in the next few days.
"I had a telephone conference with the other interior ministers of Germany and they agreed to aid Berlin with more police from their respective counties. This will also affect the security situation for the New Year's Eve celebrations, the plans for which will be revisited."
Meanwhile, in Sweden, Interior Minister Anders Ygeman told his citizens to carry on as normal and not let "hate" effect their lives.
"I believe we must continue to live our lives as we wish, and not let threats, hate or attacks change our way of living," he told Swedish news agency TT. "Then we would have already started to give the terrorists an important part of a victory."