A gang of migrants attempted to hijack lories near Calais as the 'Jungle' camp descended in 'Guerrilla warfare' over night. They threw logs and rocks at moving trucks, brandishing batons and potentially, knives.
The BBC first reported the attempted lorry jacking as night fell. Migrants held up the trucks on the motorway by placing large objects in the road and throwing missiles at vehicle.
Cars were reportedly forced to stop by the side of the road, some with smashed windscreens, others with burst tyres.
Images show the migrants brandishing offensive weapons, and one witness said some were carrying knives.
"It was like a scene from guerrilla warfare, they were stoning the cars. They came towards us pointing knives," an unnamed woman told Europe1 radio.
Lorry drivers, just going about their business, are confronted by weapon-wielding thugs (AKA Migrants) at Calais. pic.twitter.com/iO5NQWHIn5

— Man in Black (@69mib) March 1, 2016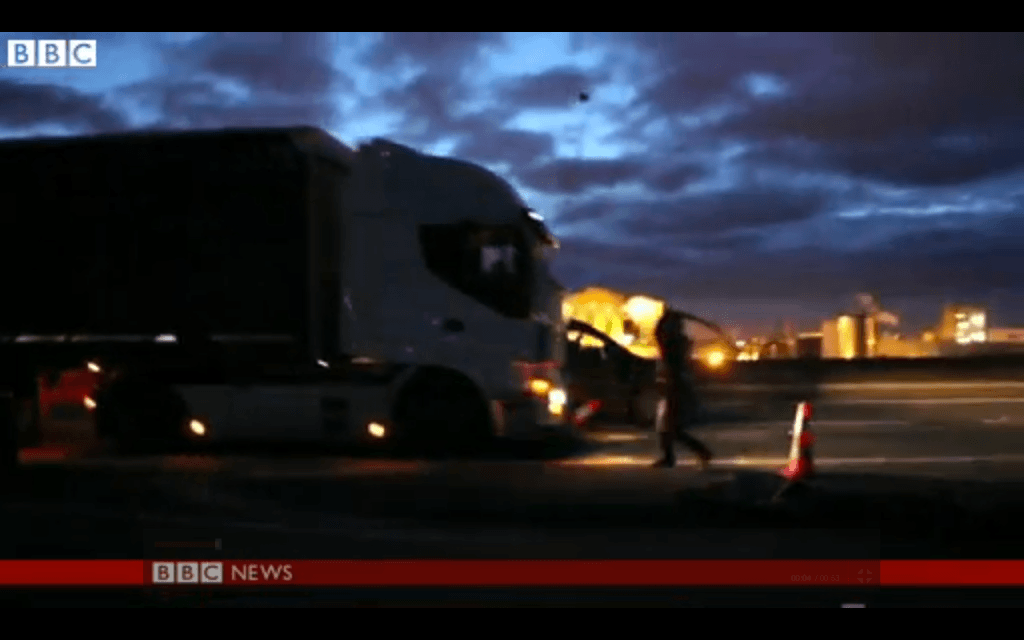 Demolition teams began their "gentle" and "gradual" destruction of the burgeoning shanty-town yesterday. About 100 shacks were dismantled and at least 12 shelters were set ablaze.
Groups of migrants threw rock and refusing the leave the rooftops of their huts. Police responded with tear gas and water cannon. At least four people, including activists from the UK-based No Borders group, were arrested during the unrest, police say.
Last week a French judge approved plans to evict hundreds of migrants and demolish the southern side of the camp. The northern side, meanwhile, containing shops, a mosque, and the new permanent accommodation built by the authorities, was spared.
"We are carrying out our orders so that the migrants leave the camp and we will continue this work this morning… so that the destruction work can continue calmly and that the migrants are not under pressure from the No Borders activists," said local authority head Fabienne Buccio on Monday.
VIDEO: Clashes between police and refugees in 'Jungle' camp in #Calais – @SofiaBettizapic.twitter.com/wAIzNO1LEm

— Conflict News (@Conflicts) February 29, 2016
She also accused No Borders activists of threatening staff who had been sent to the camp on Friday to convince migrants to leave the camp for official shelters. The British left-wingers have planned an "emergency demonstration" at 7:30 tonight.
Pro-migrant activists claimed 3,500 people would be displaced. The authority, however, insisted that the number would be less than 1000.
Official accommodation for hundreds of migrants has recently been built on the northern side of the camp out of shipping containers. The homes have proven unpopular because cooking fires are not allowed.