Japanese Prime Minister Shinzo Abe invoked the ire of many in China last December for visiting the Yasukuni Shrine, a monument in honor of WWII generals, many of whom committed war crimes. In this Abe has something in common with Canadian personality Justin Bieber, who apologized Thursday for visiting and praying at the shrine.
Bieber inadvertently took sides in one of the most sensitive debates between Japan and China on Instagram Wednesday, posting a photo of himself in apparent prayer before the shrine with the caption, "thank you for your blessings."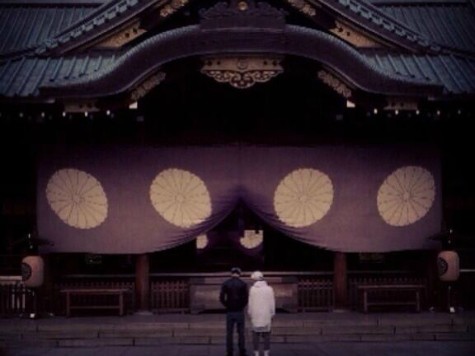 Image via @sanverde.
The image did not specify what Bieber was doing at the shrine – he is in Japan on a publicity tour – but his tacit approval of such a monument angered thousands of Chinese fans, who took to correcting him on social media. 
Also offended by Bieber's presence at a monument that honors 1,000 soldiers officially designated war criminals was the Chinese government itself. Chinese Foreign Ministry spokesman Qin Gang responded with a statement that seemed to predict Bieber's crime was one of ignorance, not malice: "I hope this Canadian singer, after his visit, can have some knowledge of the Japanese militaristic history of external aggression and their militaristic thinking."
Bieber has since taken the photo down and posted an apology on Instagram affixed to a screengrab of a Time article about his visit:
"While in Japan I asked my driver to pull over for which I saw a beautiful shrine. I was mislead [sic] to think the Shrines were only a place of prayer. To anyone I have offended I am extremely sorry. I love you China and I love you Japan"
Bieber's visit follows a controversy that continues to rage in China over Japanese Prime Minister Abe's visit to the shrine. Just one day before the Bieber incident, Chinese state medium Xinhua published an editorial suggesting that Abe's visit to the shrine proves that this "right wing" government is "more assertive about autonomy and less apologetic about the country's villainous past than predecessors, [and] has become nothing but a negative asset to Obama's Asia rebalancing blueprint." Xinhua also calls senior Japanese officials "capricious and indocile."
This instance of Bieber involving himself in controversial World War II history is, astonishingly, not the first time that Bieber has inadvertently offended the victims of the atrocities of that war. Last year, Bieber visited the Anne Frank House museum in Amsterdam. In an attempt to possibly relate to Frank, Bieber claimed that Frank "would have been a Belieber" had she not been killed by the Nazis. The comment also prompted a swift apology from the singer for being glib towards one of the greatest atrocities in the history of humanity.