Russian President Vladimir Putin told his country that Turkey could face more sanctions as a consequence for its forces shooting down a Russian warplane over Syria on November 24.
"We are not planning to engage in military saber-rattling (with Turkey)," he declared. "But if anyone thinks that having committed this awful war crime, the murder of our people, that they are going to get away with some measures concerning their tomatoes or some limits on construction and other sectors, they are sorely mistaken."
He added, "It appears that Allah decided to punish the ruling clique of Turkey by depriving them of wisdom and judgment."
After he spoke, Russian Energy Minister Alexander Novak stated that "Russia was halting talks with Ankara on the Turkish Stream gas pipeline, a symbolic move designed to emphasize the strength of Kremlin anger."
A day after the attack, Russian Prime Minister Dmitry Medvedev warned that many joint projects between the two countries could be in danger, including the TurkStream pipeline project from Gazprom.
Russia took many steps to punish Ukraine after their pro-West Parliament ousted Russia-backed President Viktor Yanukovych on February 22, 2014. One of the steps included abandoning the Ukrainian pipelines to flow natural gas to Europe. In December 2014, Gazprom, which is headed by Alexei Miller and Turkish company Botaş Petroleum Pipeline Corporation, signed an agreement to construct "an offshore gas pipeline from Russia to Turkey across the Black Sea."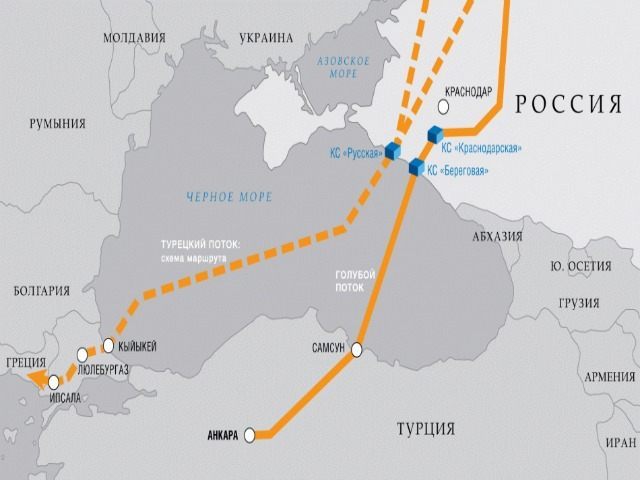 Miller confirmed that his company fully gave up on South Stream, the pipeline that bypassed Ukraine through the Black Sea to Serbia, Hungary, and Slovenia. The pipeline received backlash due to noncompliance obstacles from Bulgaria and the EU.
Gazprom told the EU that none of the countries would receive their gas via Ukraine after the contract expires in 2019. But the EU fired back that companies involved in the contract will not be eager to receive their gas from Turkey.
"I would be very surprised if companies working with long-term contracts which go well beyond 2019 will just tomorrow swap all their demand to Turkey (from Ukraine) and would be happy to do so," said Oliver Koch, head of unit in the European Commission's energy department.
However, Gazprom raised eyebrows when the company bought shares of companies involved in the South Steam pipeline. One company included Eni's subsidiary Saipem, "who has a license to lay pipes under the Black Sea for South Stream." Novak signed a contract with Greece in June "to create a joint enterprise" for the Greek expansion of the pipeline called the South European.
Gazprom started construction on TurkStream, but faced problems this year. Gazprom Deputy Chairman Alexander Medvedev (no relation to the Prime Minister) announced delays in construction meant the company could not guarantee to open it in December 2016.
Putin officially enacted sanctions on November 28 due to "national security" concerns and to protect "the national interests of the Russian Federation." The Turkish government "commissioned Russia's state-owned Rosatom in 2013 to build four 1,200-megawatt reactors in a project worth $20 billion."
"There are a lot of Turkish companies operating in the construction business in the Russian market; there is cooperation in the tourism sector," stated Dmitry Abzalov, the vice president of the Center for Strategic Communications. "The termination of relations with Moscow on these issues will be negative for the Turkish economy, and it will hit the national currency, the lira."
The Russian Ministry of Agriculture also declared its sector "would strengthen control over food supplies" and "perform additional border and production checks." The Kremlin did not include Turkey in its Western food ban in 2014 in retaliation for the West's sanctions on Russia following its aggression towards Ukraine.
"About 15 percent of Turkish agricultural products on average do not meet Russian standards," said Minister of Agriculture Alexander Tkachev.
At the same time, Ukraine announced it is ready to move into the Turkish economic markets due to the sanctions. Market analyst group UkrAgroConsult determined that "Ukrainian wheat in the Turkish market has declined by 50 percent over the last five years to only 2.7 percent in the 2014/15 season." The report also stated that Turkey cut the Ukraine corn market by 75 percent since 2010. This could now all change, however, as Turkey seeks new business partners to offset the losses from Russian sanctions.