As President Obama stalls for time on making a decision about Syria, he has time to meet with National Basketball Association Hall of Famer and part-Los Angeles Dodgers owner Magic Johnson about Obamacare. On Thursday evening, Johnson posted on Twitter that he had met with the President, and Magic clearly felt the magic: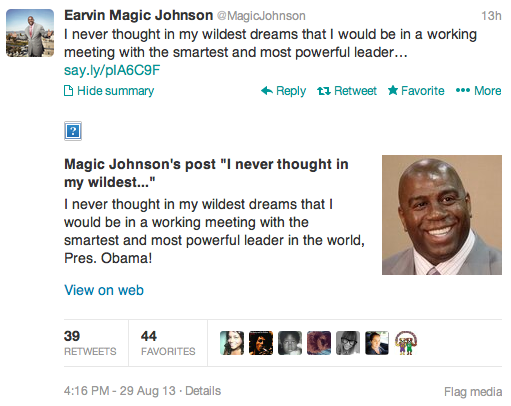 President Obama is slated to head to Los Angeles on September 9 for a fundraiser with the Democratic National Committee and held by Friends co-creator Marta Kauffman. He will also be meeting with labor leaders at the AFL-CIO, along with Thomas Perez, his Labor Secretary.
Ben Shapiro is Editor-At-Large of Breitbart News and author of the New York Times bestseller "Bullies: How the Left's Culture of Fear and Intimidation Silences America" (Threshold Editions, January 8, 2013).