President Obama's imminent trip to Kenya continues to spark controversy. First came promises from the student body at the University of Nairobi of mass suicides and urinating on a tree he once planted there if he fails to visit their campus this time. Now he faces the prospect of "5,000 totally naked men and women" marching against his "open and aggressive support for homosexuality".
White House Spokesman, Joshua Earnest, said last week that President Obama plans to address the issue of gay rights during the visit to Kenya. In response a letter sent on Monday informed the Administration Police Commandant in Nairobi of a "peaceful procession" intended to greet Obama in Kenya.
The letter was sent from the Republican Liberty Party, a conservative political group identified as one of Kenya's most vocal anti-LGBT organisations. Party leader Kidala Vincent explained the scale and aims of the protest, writing:
"The procession shall be carried out by approximately 5,000 totally naked men and women to protest President Barack Obama's open and aggressive support for Homosexuality.

"The party's main objective is for him to understand the difference between a man and a woman."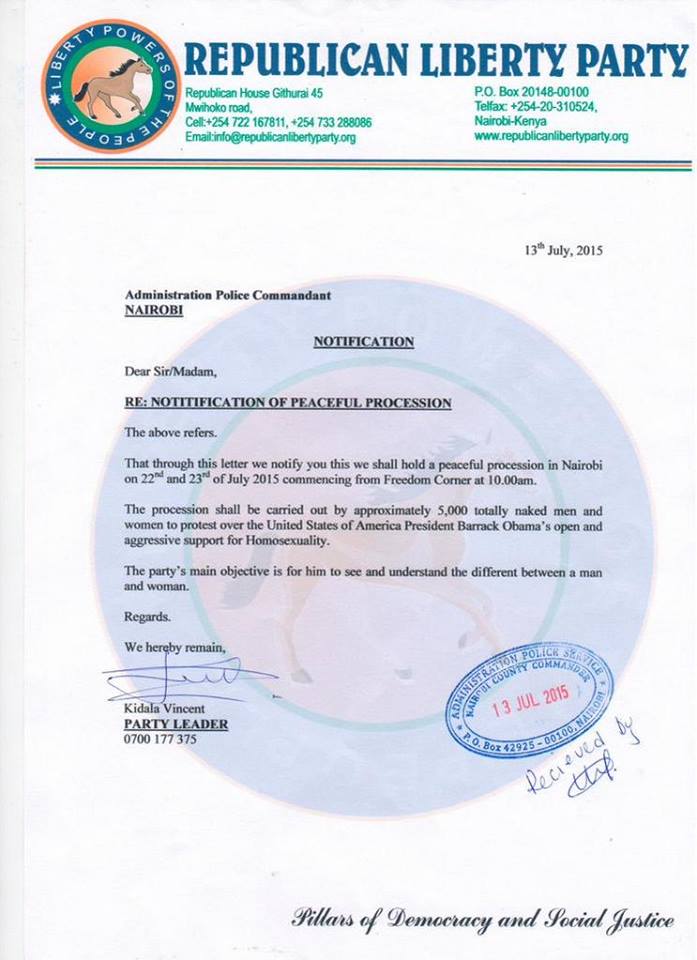 Nigerian news website, The Punch, reports "at least 1,000 commercial sex workers from Nairobi alone have confirmed their participation in the nude protest march". This follows Kidala's promise to hire a "network of prostitutes" to reach the 5,000 total as for some reason very few women agreed to march.
Pink News reports Kidala claims the prostitutes agreed to participate free of charge. He explained this is for fear they will "lose customers" if homosexuality is legalised.
Another party feeling let down by the itinerary of President Obama in Kenya is his half brother, Malik Abon'go Obama. Bloomberg reports Malik, who was best man at Obama's wedding, was not informed of the trip to Kenya saying: "He should have at least informed us as his family."
Follow Sarkis Zeronian on Twitter:

Follow @SarkisZ

or e-mail to: szeronian@breitbart.com