Vice President Joe Biden slammed Republican presidential nominee Donald Trump on Saturday, accusing him of "sexual assault" for comments Trump made over a decade ago, in which he joked privately with a TV anchor about groping women.
Biden tweeted: "The words are demeaning. Such behavior is an abuse of power. It's not lewd. It's sexual assault. –Joe."
The words are demeaning. Such behavior is an abuse of power. It's not lewd. It's sexual assault. –Joe

— Joe Biden (@JoeBiden) October 8, 2016
An "assault" requires immediate apprehension of offensive bodily contact, so it is not clear who was assaulted by a joke secretly recorded on a live mic.
However, since Biden is something of an authority on groping, perhaps his definition of sexual assault should be considered.
By his own definition, Biden is a serial sexual assault perpetrator.
On the campaign trail in 2012, Biden groped a woman in Ohio — and her companions were not amused.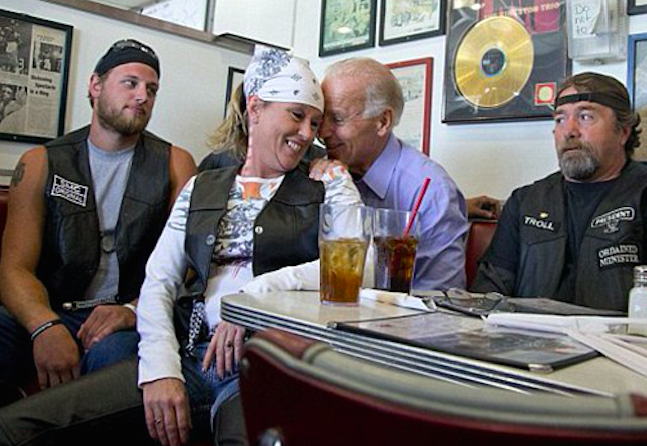 Biden seemed especially "hands-on" at a Christmas party in 2013: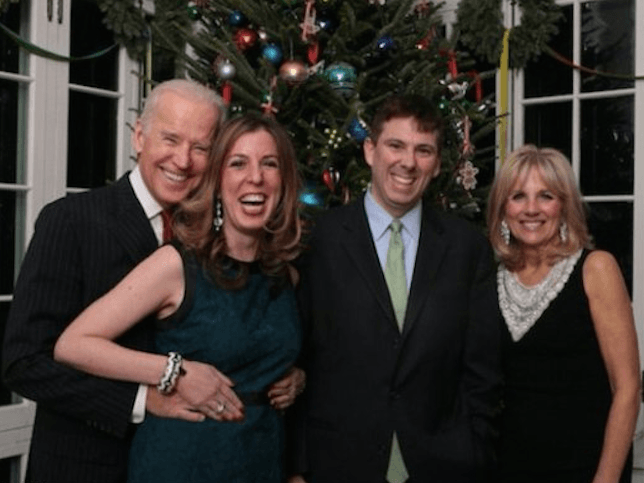 And more: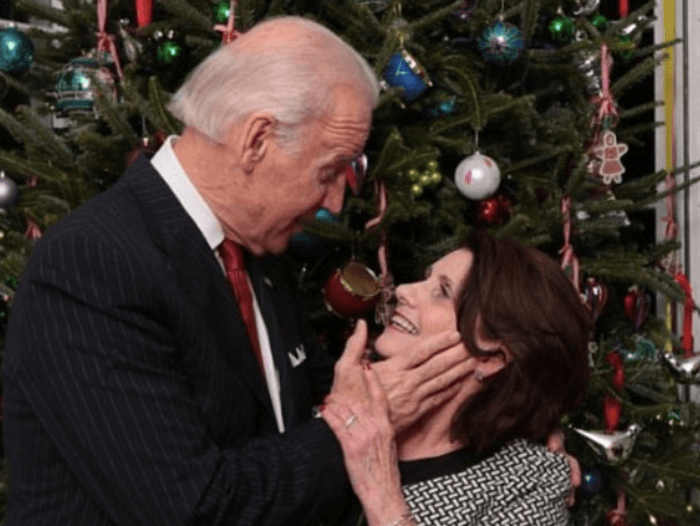 Here he is grasping a reluctant Margaret Coons, the daughter of Sen. Chris Coons (D-DE), who holds Biden's old Senate seat.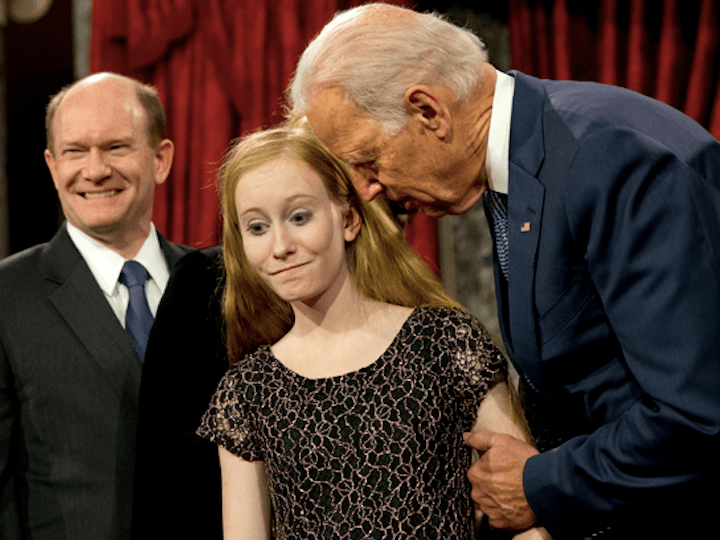 And here is Biden with Stephanie Carter, the wife of Secretary of Defense Ashton Carter, at his swearing-in in February 2015.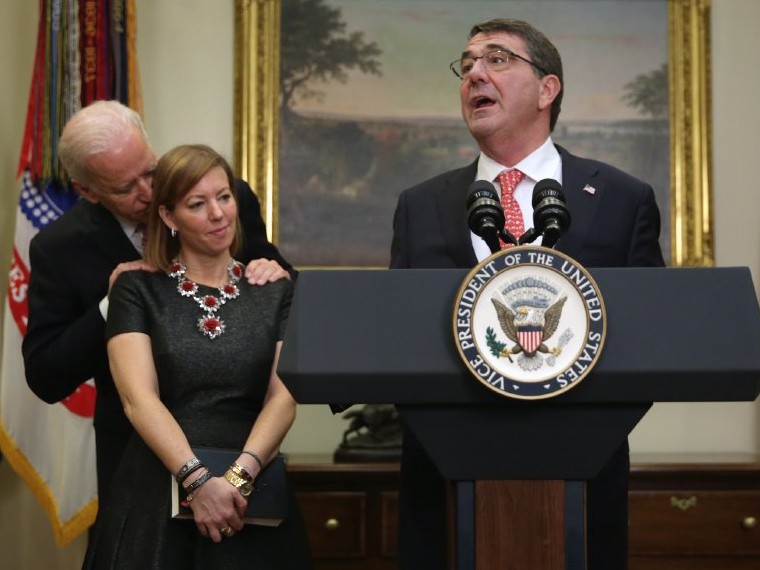 Children are not safe, either, as a niece of Senate Majority Leader Mitch McConnell (R-KY) found out in January 2015.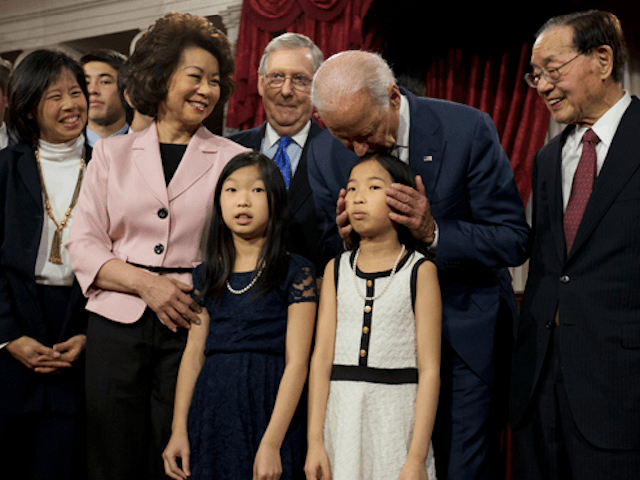 Ever the "progressive" leader, Biden has been known to grope a few men, too — here at a police memorial in 2010: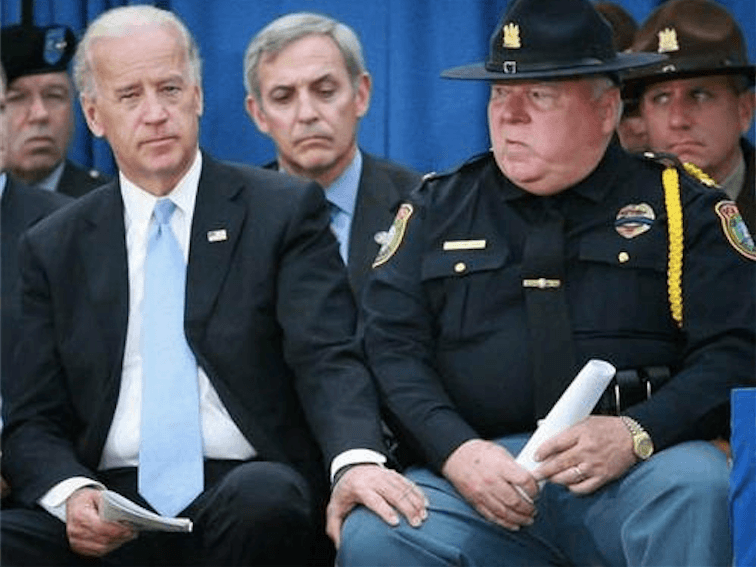 And no one knows Biden's habits better than Democratic presidential nominee Hillary Clinton herself: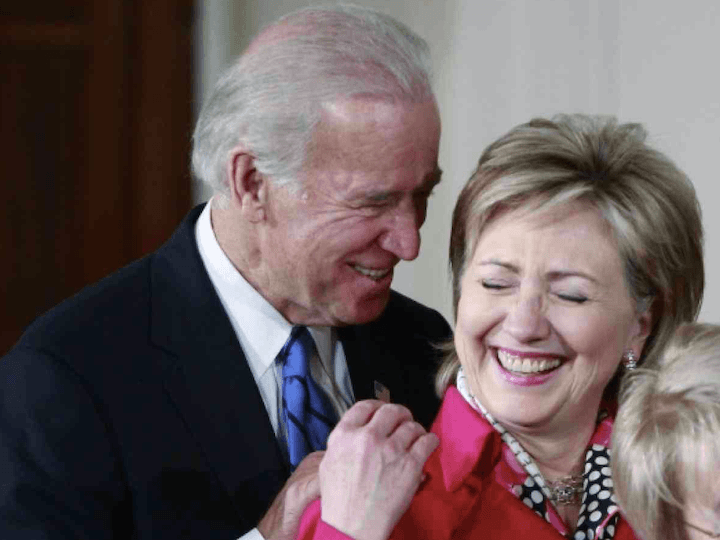 Even a few liberal outlets have noted Biden's habits. New York magazine called Biden "the president of Awkwardly Whispering in Women's Ears." And Gawker said: "Joe Biden, We Need to Talk About the Way You Touch Women."
But perhaps it would be best simply to hold Biden to his own standard: he is a chronic sex offender. Lock him up.
Joel B. Pollak is Senior Editor-at-Large at Breitbart News. His new book, See No Evil: 19 Hard Truths the Left Can't Handle, is available from Regnery through Amazon. Follow him on Twitter at @joelpollak.