The "West Wing Democrats" in the White House are eager to sacrifice President Donald Trump's top campaign promise in exchange for Democratic approval of the tax cuts sought by wealthy donors and business interests, according to an article in Politico.
In an August 23 article about Trump's push to get funding for an extended border wall, Politico described the lack of support for the wall among his business-affiliated aides:
Few staff members in the West Wing are as concerned about it [as the President], senior administration officials said.

Some in the White House have urged Trump not to focus as much on the wall, try to pass a clean debt-ceiling bill and move to tax reform. "You have barely anyone here saying, 'Wall, wall, we have to get the wall at all costs,'" one White House official said.

…

Two people who have spoken to Trump said he sees not building the wall as a personal embarrassment — and that he has shown more interest in building the wall than in other issues, like the upcoming budget negotiations. "You don't want a government shutdown," the White House official said. "He is told that. He says, 'I want money for the wall.'"
The same emphasis on tax cuts for the elite before immigration reform for voters was also cited by Axios on August 20, in an article which claimed to explain why top staff chose to stay in the White House amid elite hatred of his populist, wage-boosting, pro-American priorities. Axios reported:
We talked to a half dozen senior administration officials, who range from dismayed but certain to stay, to disgusted and likely soon to leave. They all work closely with Trump and his senior team so, of course, wouldn't talk on the record. Instead, they agreed to let us distill their thinking/rationale:

"You have no idea how much crazy stuff we kill": The most common response centers on the urgent importance of having smart, sane people around Trump to fight his worst impulses. If they weren't there, they say, we would have a trade war with China, massive deportations, and a government shutdown to force construction of a Southern wall.

"General Mattis needs us": Many talk about their reluctance to bolt on their friends and colleagues who are fighting the good fight to force better Trump behavior/decisions. They rightly point out that together, they have learned how to ignore Trump's rhetoric and, at times, collectively steer him to more conventional policy responses.
This situation leaves Trump dependent on a few aides — such as immigration reformer Steve Miller — and his supporters at his rallies to help fend off the insistent demands by his globalist aides for a back-room surrender of his presidential goals.
That surrender would help his aides win Democratic support for their goals — but it would leave Trump with few friends heading into the 2018 midterm elections and the crucial 2020 reelection, says D.C. insiders. For example, the pro-American immigration reformers who backed Trump in the election fear his globalist aides will push Trump to accept and establish former President Barack Obama's DACA amnesty in exchange for minor concessions, such as a modest amount of funds to build a short distance of border wall.
"If [Trump's aides] are left to their own devices, they would exchange this for a few trinkets," so violating Trump's campaign promise before the 2018 and 2020 elections, said Ira Mehlman, a spokesman for FAIR, the Federation for American Immigration Reform.
The suggested deal was outlined in a Tuesday article by Anita Kumar, a reporter for the McClatchy news service. She uses the Democrats' term — 'dreamers' – to describe the 800,000 DACA illegals as she wrote:
White House officials want Trump to strike an ambitious deal with Congress that offers Dreamers protection in exchange for legislation that pays for a border wall and more detention facilities, curbs legal immigration and implements E-verify, an online system that allows businesses to check immigration status, according to a half-dozen people familiar with situation, most involved with the negotiations.

The group includes former and current White House chiefs of staff, Reince Priebus and John Kelly, the president's daughter, Ivanka Trump, and her husband, Jared Kushner, who both serve as presidential advisers, they said. Others who have not been as vocal publicly about their stance but are thought to agree include Vice President Mike Pence, who as a congressman worked on a failed immigration deal that called for citizenship, National Security Adviser H.R. McMaster and Gary Cohn, a Democrat who serves as director of the National Economic Council.
There is no evidence that Democrats will accept that ambitious deal before the 2018 election, and much evidence that Trump's aides will quickly give up wall funding and the popular RAISE Act to win Democratic support for tax cuts. So far, top Democrats have responded that they would not offer anything as they demand a permanent DACA amnesty.
However, Trump's determination to resist his aides is likely boosted by the cheering he gets at rallies when he promises to build the wall.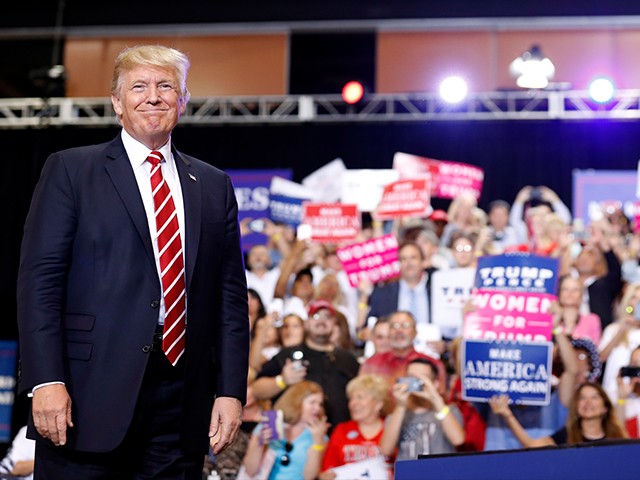 "We are building a wall on the southern border, which is absolutely necessary," he told roughly 30,000 cheering supporters at an August 22 rally in Phoenix, Ariz. "The obstructionist Democrats would like us not to do it, believe me, [but] if we have to close down our government, we are building that wall … We're going to have our wall. We're going to get our wall."
There you have it, @realDonaldTrump! Your own 30k focus-group. LIKE: deportations, a wall, jobs; DON'T LIKE: Media, Afghan War & tax cuts.

— Ann Coulter (@AnnCoulter) August 23, 2017
Trump later thanked the crowd.
Phoenix crowd last night was amazing – a packed house. I love the Great State of Arizona. Not a fan of Jeff Flake, weak on crime & border!

— Donald J. Trump (@realDonaldTrump) August 23, 2017
Read the Axios article here, and the Politico article here.
Under current immigration policy, the federal government accepts 1 million legal immigrants each year, even though 4 million young Americans enter the workforce to look for decent jobs. Each year, the government also hands out almost 3 million short-term work permits to foreign workers. These permits include roughly 330,000 one-year OPT permits for foreign graduates of U.S. colleges, roughly 200,000 three-year H-1B visas for foreign white-collar professionals, and 400,000 two-year permits to DACA illegals.
The current annual flood of foreign labor spikes profits and Wall Street values by cutting salaries for manual and skilled labor offered by blue-collar and white-collar employees. It also drives up real estate prices, widens wealth-gaps, reduces high-tech investment, increases state and local tax burdens, hurts kids' schools and college education, pushes Americans away from high-tech careers, and sidelines at least 5 million marginalized Americans and their families.
Many polls show that Americans are very generous, they do welcome individual immigrants, and they do want to like the idea of immigration. But the polls also show that most Americans are increasingly worried that large-scale legal immigration will change their country and disadvantage themselves and their children. Trump's "Buy American, Hire American" policies are also extremely popular, including among Democratic-leaning voters.