An expansive amnesty plan by Sen. Jeff Flake (R-AZ), Sen. Lindsey Graham (R-SC), and Sen. Dick Durbin (D-IL) is "not a serious solution," White House Deputy Press Secretary Hogan Gidley says.
In a statement after Senate Democrats caved and voted to reopen the government, which they had originally shut down because the spending bill did not include amnesty for illegal aliens, the White House fired back against the "Gang of Six" amnesty plan led by Flake, Graham, and Durbin, noting that it would give amnesty to at least eight million illegal aliens, including those enrolled and eligible for the President Obama-created Deferred Action for Childhood Arrivals (DACA) program and their illegal alien parents. The statement said:
The Flake-Graham-Durbin proposal is not a serious solution to protect the American people but a giant step in the wrong direction," Gidley said. "The President was clear in a bipartisan bicameral public meeting that national security must include four issues: border security, ending chain migration, stopping the visa lottery and a responsible solution to DACA.
For months the Trump administration has made their pro-American immigration agenda clear: Any deal on DACA amnesty would need to include an end to the process of "chain migration," whereby newly naturalized citizens can bring an unlimited number of foreign relatives to the U.S.; an end to the Diversity Visa Lottery program, which randomly selects 50,000 foreign nationals to import to the U.S. every year; and full funding for a wall along the U.S.-Mexico border.
Despite knowing these terms for months, the Flake-Graham-Durbin amnesty — which they crafted with Sen. Cory Gardner (R-CO), Sen. Michael Bennet (D-CO), and Sen. Robert Menendez (D-NJ) — does not only not meet any of these required immigration reforms, but it expands the DACA amnesty to include more chain migration and more permanent legal status for foreign nationals living in the U.S.
Gidley's statement continued:
Their proposal provides a path to citizenship or legalization to at least 8 million unlawful immigrants: "dreamers", their siblings and their parents. Flake-Graham-Durbin want to leave extended-family chain migration in place which means millions more relatives in foreign countries would be able to come to America, bringing the total covered population past 10 million. [Emphasis added]

Their plan totally fails to secure the border, and includes no legal authorities to stop illegal immigration which ensures a massive wave of new illegal immigration and new chain migration. The bill also maintains the visa lottery as another backdoor amnesty and chain migration program.

The Flake-Graham-Durbin proposal embodies every reason Americans do not trust Washington. It puts people who are in this country unlawfully ahead of our own American citizens. The Trump Administration remains committed to bipartisan responsible immigration reform that truly secures the border and puts the interests of the American people first.
Flake-Graham-Durbin-Gardner amnesty plan would give pathway to U.S. citizenship for 25K foreign nationals who were in the country on temporary refugee status. Also gives amnesty to millions of illegal aliens. https://t.co/AobmqNscU6

— John Binder 👽 (@JxhnBinder) January 20, 2018
As an explosive Breitbart News report revealed, chain migration, if not ended, is expected to add between seven and eight million new foreign-born voters to the U.S. electorate – a scheme that favors Democrats, as immigrants, specifically Hispanics and Asians, vote 2-to-1 for Democrats over Republicans.
Since 2005, chain migration has imported more than nine million foreign nationals to the U.S., making it the largest driver of immigration —  more than 70 percent of all legal immigration. As Breitbart News reported, five years of chain migration to the U.S. adds more people to the country than one year of American births.
MUST WATCH: What you need to know about #ChainMigration pic.twitter.com/obBgkm3lxl

— FAIR (@FAIRImmigration) January 17, 2018
While Graham has claimed that White House senior adviser Stephen Miller is an "outlier" on the issue of immigration, Trump's pro-American immigration reforms that Miller helped author are wildly popular with American likely voters.
A new poll by Pulse Opinion Research shows that nearly 60 percent of likely voters want to see chain migration ended, while 60 percent also want to see the Visa Lottery program ended. That same poll showed that 60 percent of likely voters said legal immigration levels should be reduced to 500,000 admissions a year or even less – a plan that Trump, Sen. Tom Cotton (R-AR), and Sen. David Perdue (R-GA) have championed since August 2017.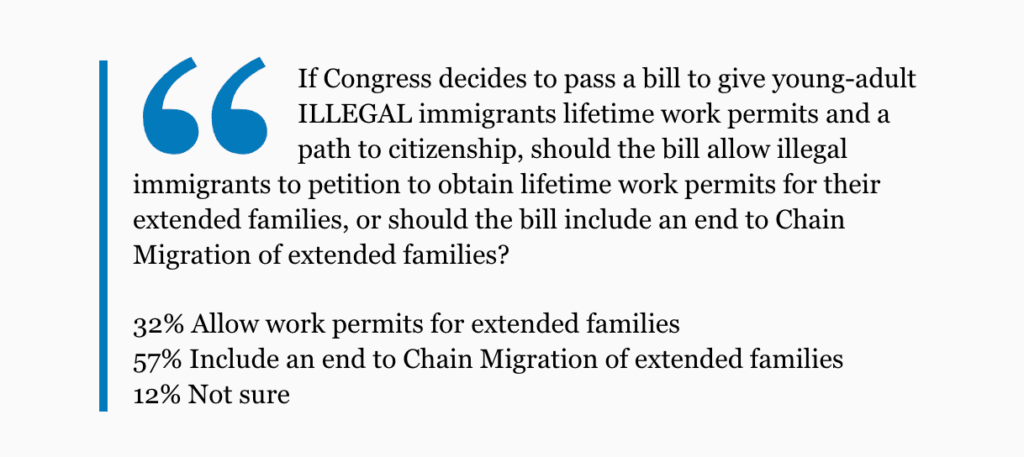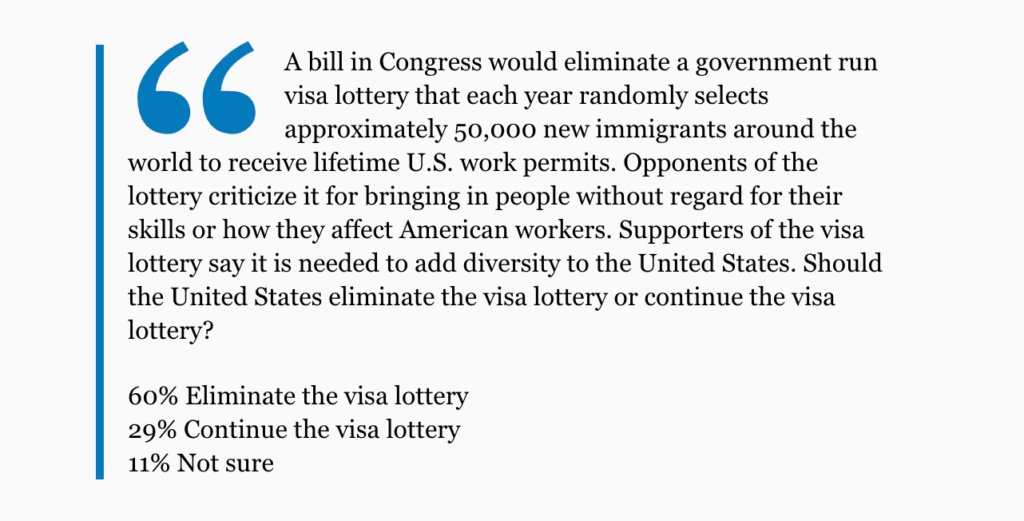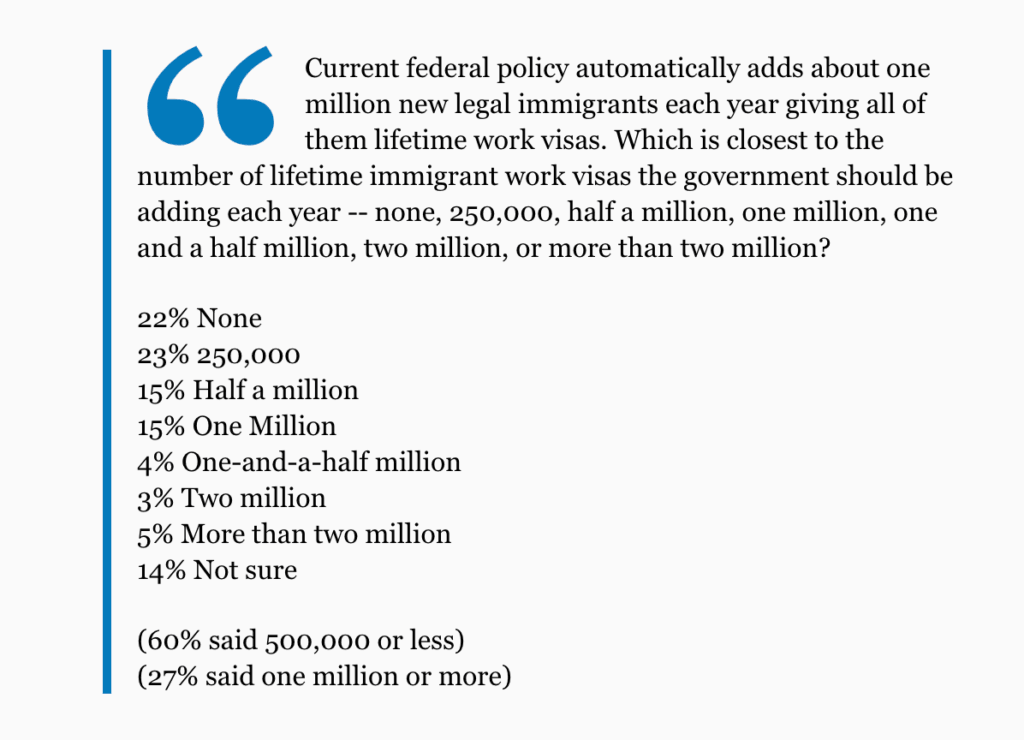 Flake and Graham, who voted with Senate Democrats to shut down the federal government over amnesty for illegal aliens, changed their votes on Monday after the Trump administration made clear that immigration would not be negotiated while the government was shut down.
Attorney General Jeff Sessions, as well as Department of Homeland Security (DHS) Secretary Kirstjen Nielsen, have said the Flake-Graham-Durbin amnesty is a non-starter, with Sessions calling the plan "totally unjustifiable."
Every year, the U.S. admits more than 1.5 foreign nationals, with the vast majority deriving from family-based chain migration. In 2016, the legal and illegal immigrant population reached a record high of 43.7 million. By 2023, the Center for Immigration Studies estimates that the legal and illegal immigrant population of the U.S. will make up nearly 15 percent of the entire U.S. population. Mass immigration to the U.S. has kept American wages stagnant, while depressing job prospects for poor, working, and middle-class communities.