Left-wing activists held small rallies on Thursday in support of Christine Blasey Ford, the psychology professor who has emerged to accuse Supreme Court nominee Judge Brett Kavanaugh of groping her at a high school party over 35 years ago.
In Palo Alto, California, about two dozen activists, mostly women, marched to Dr. Ford's house, carrying signs such as "We Support We Believe," "Grateful 4 Christine," and "Stand for Sexual Peace."
Photos: Palo Alto moms rally in support of Christine Blasey Ford https://t.co/Ag9BXEpGG7 pic.twitter.com/HZtH5PX9oq

— East Bay Times (@EastBayTimes) September 20, 2018
CBS San Francisco reported:
About two dozen neighbors of Ford marched to her Palo Alto home and stood in the driveway in a symbolic show of support and protection.

"We've got her back. Her story is our story. She is one of us," said neighbor Kristen Podulka.

At the same time, an airplane — reportedly hired by a different group of activists from back east — was flying above Palo Alto towing the message, "Thank you Christine, we have your back."

"She's getting death threats. The trolls of the world are not afraid to have their voice spoken," said Poduika. "So we are trying to drown them out with our voice of love and encouragement and support."
Palo Alto Mayor Liz Kniss encouraged Dr. Ford to testify before the Senate Judiciary Committee, though Dr. Ford's lawyer is insisting on a number of conditions before she does so, including that she be allowed to testify after Kavanaugh.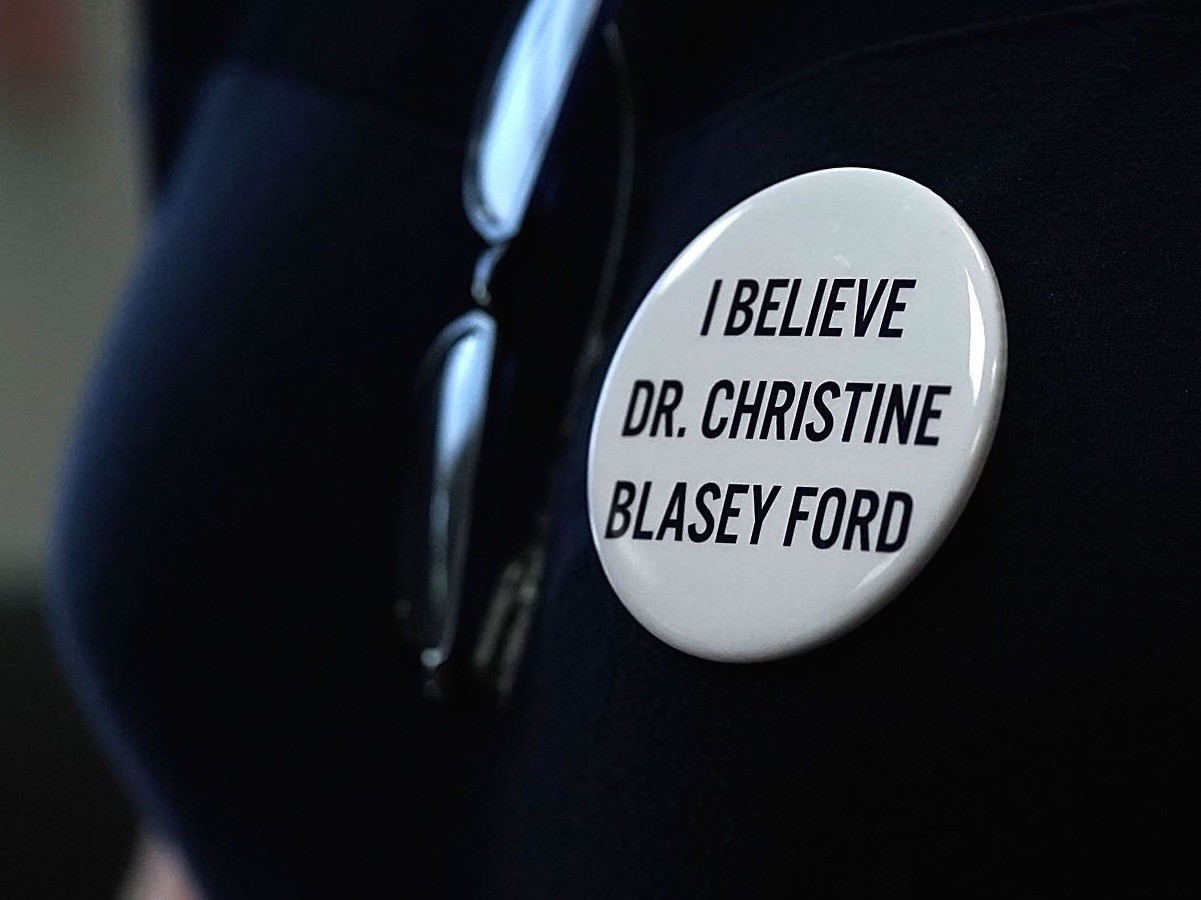 In Washington, DC, activists gathered in the Hart Senate Office Building to protest against Kavanaugh. Wearing buttons that read, "I believe Dr. Christine Blasey Ford," they cheered Democrat Sens. Mazie Hirono (D-HI) and Kirsten Gillibrand (D-NY).
Joel B. Pollak is Senior Editor-at-Large at Breitbart News. He is a winner of the 2018 Robert Novak Journalism Alumni Fellowship. He is also the co-author of How Trump Won: The Inside Story of a Revolution, which is available from Regnery. Follow him on Twitter at @joelpollak.