After taking a serious blow to the head during the ABC Supply 500 at Pocono Raceway on Sunday, INDYCAR driver Justin Wilson ended up in the hospital in a coma. But by Monday evening Wilson's family confirmed that he died from his injuries.
Immediately after the accident INDYCAR issued an official statement late on Sunday evening saying that their thoughts and prayers were with Wilson and his family.
On Sunday the driver was airlifted out of the speedway after he was hit in the head by a piece of flying debris.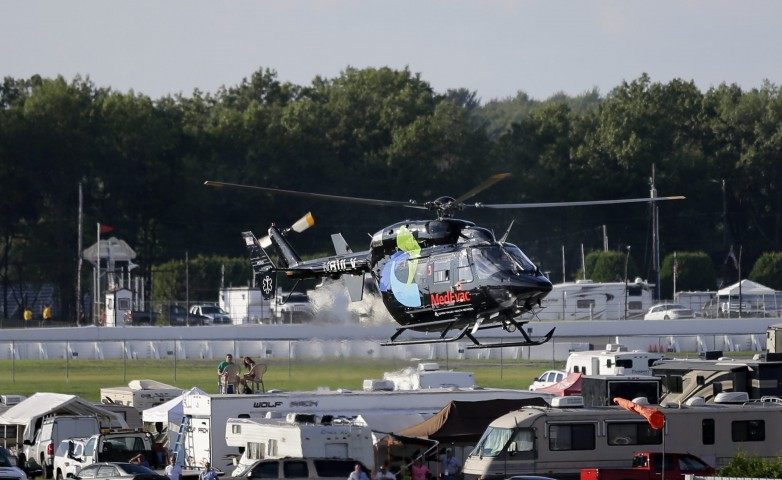 The debris came from opposing driver Sage Karam's car.
"Our thoughts and prayers are with Justin right now. We're going to see. Hopefully, he's OK," said Michael Andretti, car owner for both Wilson and race winner Ryan Hunter-Reay.
Wilson's brother, Stefan, reported on Sunday evening that the family had no further info and officials were warning against "speculating" about Wilson's condition. But it didn't look good for the driver and less than 24 hours later he was gone.
"This is a monumentally sad day for INDYCAR and the motorsports community as a whole," INDYCAR official Mark Miles said on Monday. "Justin's elite ability to drive a race car was matched by his unwavering kindness, character and humility — which is what made him one of the most respected members of the paddock. As we know, the racing industry is one big family, and our efforts moving forward will be focused on rallying around Justin's family to ensure they get the support they need during this unbelievably difficult time."
Wilson is survived by wife Julia and daughters Jane and Jessica.
Follow Warner Todd Huston on Twitter @warnerthuston or email the author at igcolonel@hotmail.com