The New York Yacht Club entry Comanche (pictured) has been declared official line honours winner of the 71st Sydney to Hobart yacht race in Australia.
The 100-foot super maxi completed the 630-nautical mile open ocean course in two days, eight hours, 58 minutes, and 30 seconds. Fellow U.S. entry Rambler 88 was third over the line.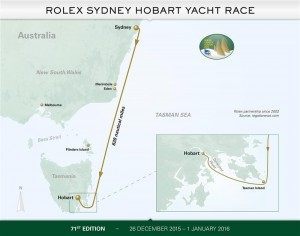 Comanche is the first international line honours champion in the annual event since 2009 and the first American yacht to be first across the line since the Larry Ellison-owned Sayonara in 1998. She is owned by Texas billionaire Jim Clark, a co-founder of Netscape.
Mr Clark told ABC New he had faith his crew could pull through the difficult race after early damage to a rudder blade almost caused the yacht's withdrawal on the first night.
"As soon as I heard that they were going to keep going I knew that … this racing crew would not stop unless they could [not] keep going," he said.
Skipper Ken Read confirmed his crew were pushed to the limit. He said:
This is a hard race. You guys have a hard race here. That's one hard, hard body of water.
I've sailed around the world two and a half times and I thought I'd seen it all but that is one really tough body of water.
The people who have done this race something like 25 times, God bless 'em, either they're the dumbest people on earth or the hardest people on earth.
Probably a combination of the two.
A string of yachts retired on the first night of the Bluewater Classic, after intense weather forced a number of the leaders to turn back, including eight-time line honours winner and defending Australian champion Wild Oats Eleven.
There were 32 retirements overall from a fleet of 108 starters. The Sydney to Hobart stands alongside the Fastnet race in the U.K and the Newport to Bermuda race in the U.S. as one of the major challenges for offshore sailors on the international circuit.
The race starts inside Sydney Harbour on the east coast of the Australian mainland and finishes deep inside the famous Roaring Forties in the Tasmania state capital Hobart.
Follow Simon Kent on Twitter:

Follow @SunSimonKent

or e-mail to: skent@breitbart.com