How corrupt is boxing? No alphabet-soup sanctioning organization recognizes the lineal middleweight champion as its titlist.
The Mexico City-based WBC forced Saul "Canelo" Alvarez to vacate his middleweight belt yesterday. The sanctioning organization imposed a negotiating deadline on a potential Alvarez-Gennady Golovkin fight. That deadline came less than three weeks after Alvarez knocked Amir Khan into unconsciousness. The Golovkin fight makes sense. The deadline doesn't. So, in the bizarre world of boxing, where nothing makes sense, we get the deadline stripping the legitimate champion of his belt but not, at least so far, the fight everyone wants to see.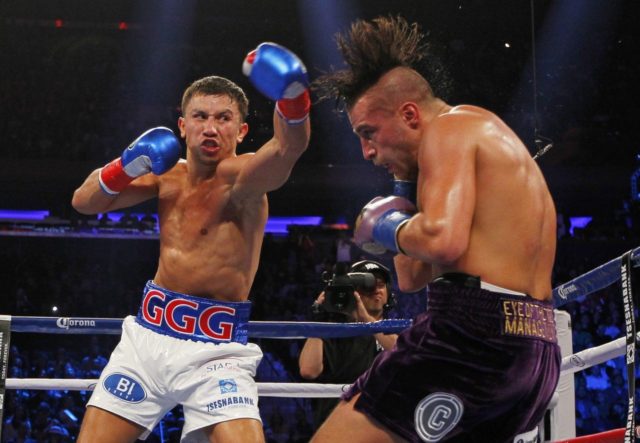 Triple-G won Canelo's belt in a boardroom rather than a boxing ring. They treat championships with more respect in the WWE.
The heavy-handed Mexican issued this statement:
After much consideration, today, I instructed my team at Golden Boy Promotions to continue negotiating a fight with Gennady 'GGG' Golovkin and to finalize a deal as quickly as possible. I also informed the WBC that I will vacate its title. For the entirety of my career, I have taken the fights that no one wanted because I fear no man. Never has that been more true than today. I will fight 'GGG,' and I will beat 'GGG' but I will not be forced into the ring by artificial deadlines. I am hopeful that by putting aside this ticking clock, the two teams can now negotiate this fight, and 'GGG' and I can get in the ring as soon as possible and give the fans the fight they want to see.
Alvarez beat the man who beat the man who beat the man. He defeated Miguel Cotto, who defeated Sergio Martinez, who defeated Kelly Pavlik. He owns the title once boasted by Bernard Hopkins, Marvelous Marvin Hagler, and Carlos Monzon. Currently, he just doesn't own a belt (and needn't pay the extortionate sanctioning fees associated with that belt). That's messed up, particularly given the fact that he just defended the belt earlier this month and expressed an eagerness to fight Golovkin. Why wouldn't he? It's the biggest money fight in a post-Mayweather boxing ring.
With Mayweather and Pacquiao retired, Alvarez now reigns as money champion of boxing. Bookies should favor the undefeated Golovkin when setting the odds. The promoters should not favor him when divvying up the purse. Golovkin may mean "knockout" in Kazakh. Alvarez means box office in every language.
"There is no denying that Canelo is the biggest star in the sport of boxing," Oscar De La Hoya, speaking Truth rather than Promoter here, explains. "He is eager to get in the ring with 'GGG' to show the world that he is also the best pound for pound fighter in the sport, but we won't negotiate under a forced deadline. Now that the WBC title is off the table, I am hopeful that 'GGG' and his promoter K2 Promotions will come to the table in good faith and get this deal done."