Breitbart Texas traveled to the Mexican border cities of Reynosa and Matamoros to recruit citizen journalists willing to risk their lives and expose the cartels silencing their communities.  The writers would face certain death at the hands of the Gulf Cartel if a pseudonym were not used. Breitbart Texas' Cartel Chronicles are published in both English and in their original Spanish. This article was written by "JA Espinoza" from Matamoros
MATAMOROS, Tamaulipas – With security conditions in Mexico growing worse, the Mexican army is facing yet another major challenge in seeking to maintain the integrity of its troops, particularly those who leave the military life to join the civilian workforce.
Jose Felipe Padilla Castaneda, commander of the 8th Motorized Cavalry Regiment in Matamoros, recently acknowledged that although each year new recruits are added to build up the ranks, there are also highly skilled soldiers who choose to leave military life for civilian employment. In some cases, they may turn to organized crime.
That is why Castaneda said the government has implemented a "tracking" system for former troops who have left the Mexican army, as a way to diminish the risk of having well-trained soldiers turned into operatives for organized crime.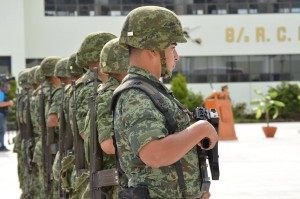 "Unfortunately, to talk about an individual with military training, it represents a risk outside of the military, because they have a military instruction and outside of the institution they can join [organized crime] groups," he said.
He acknowledged that those who decide to leave the military do so mainly to seek better employment opportunities, leaving the military for police work, private security firms, or other gainful employment.
Because of the risk posed by trained individuals switching sides to organized crime, the military has kept track of where individuals who legally retire from the armed forces are employed. However, the same cannot be said for those who desert the service – their whereabouts remain unknown.
"Today there are former soldiers that have joined the ranks of the new vetted police units, as well as several private security companies, where we are able to keep track of the individual," Castaneda said.
Unfortunately, the military commander acknowledged that all over the world, there some who will "make the erroneous choice about their future. Since we are a family of more than 200 thousand soldiers nationwide, the risk is always there that this situation could arise."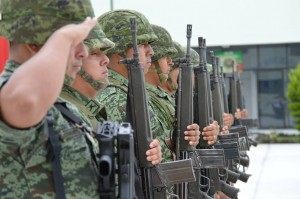 "It is a risk that we are exposed to, we keep track of our people so we know where they are, and when someone is missing we start an exhaustive search knowing that there is the possibility that a former soldier could have been kidnapped," he said.
Mexican government records from 2006 to 2012 reveal several members and leaders of drug cartels previously belonged to the Mexican military.
One of the most famous examples is Heriberto Lazcano, who belonged to a special forces group known as GAFES. After seven years of duty, he deserted the military and became one of the founders of Los Zetas.