CIUDAD VICTORIA —

  Dozens of Los Zetas cartel members escaped from the state prison in Ciudad Victoria escaped after setting 

fires and starting riots since earlier this week. The cartel-connected inmates escaped through a tunnel. Inside the prison, inmates continued running a clandestine flea market.
On Friday, shortly after 11 p.m., inmates at the state prison began to riot and torching ruble inside the facility. The fire began to spread rapidly causing panic amongst local residents. Multiple sources in law enforcement claimed that state officials were trying to confirm if a second breakout had taken place as inmates were seen jumping the walls of the facility. The fire and the riots were controlled by 1:30 a.m. on Saturday when authorities began searching the prison grounds and doing another head count to determine if any more inmates had escaped.
Tamaulipas state officials confirmed that three inmates died during Friday night's riots. Another inmate sustained multiple injuries.
That riot comes just one day after another riot and a brazen escape where dozens of Los Zetas escaped from the prison through a tunnel. As Breitbart Texas reported, early Thursday morning a large group of Los Zetas cartel members were able to escape from the state prison in Ciudad Victoria by crawling through a 120 foot long tunnel that they had been digging for a several weeks. During the escape, the cartel members murdered a passing motorist to steal his vehicle.
During a subsequent raid of the prison, authorities discovered a series of wooden shacks where inmates had established a clandestine flea market, information provided to Breitbart Texas by Tamaulipas officials revealed. The prisoners used wooden shelters as an illegal flea market for the sale of snacks, beer, liquor, drugs, and weapons. As authorities went to tear down the shacks, they discovered various edged weapons left behind by the inmates.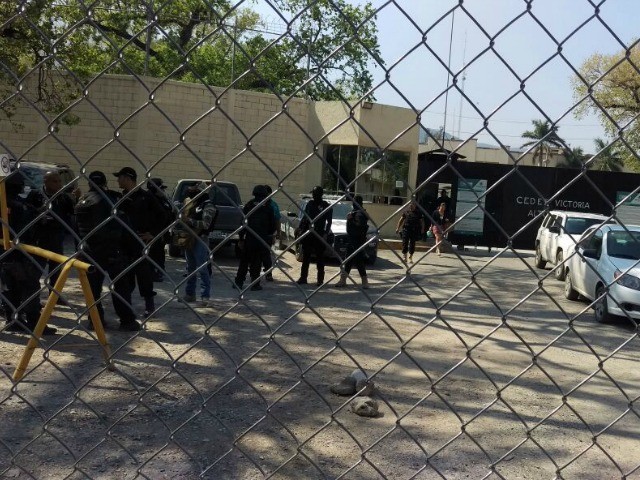 As officials continued to raid the numerous areas of the prison, inmates started a riot on Thursday afternoon that went on for hours. According to Tamaulipas authorities, during the riot, inmates used "some weapons and set bedsheets on fire." A series of videos taken by a citizen journalist points to what appear to be barrages of gunfire going off inside the prison.

The Tamaulipas government revealed that 29 inmates escaped. However, sources within Mexican law enforcement stated that number might go even higher. Authorities continue to conduct head counts to determine how many inmates are missing.
The prison escape comes at a time when rival factions of the Los Zetas cartel have been fighting for control of Ciudad Victoria and key drug trafficking routes in the state. As Breitbart Texas has reported, the fighting has led to almost daily kidnappings, drive-by shootings, gun battles and gory executions.
The state built the aging prison facility in an outlaying neighborhood of Ciudad Victoria. However, as the city has grown, that area became heavily populated. A statement from the Tamaulipas government revealed officials have been looking into relocating the facility and are working to obtain the necessary funding to build the facility.
Ildefonso Ortiz is an award-winning journalist with Breitbart Texas. He co-founded the Cartel Chronicles project with Brandon Darby and Stephen K. Bannon.  You can follow him on Twitter and Facebook.
"M.A. Navarro" and J".A. Espinoza"  from the Cartel Chronicles project contributed to this report.